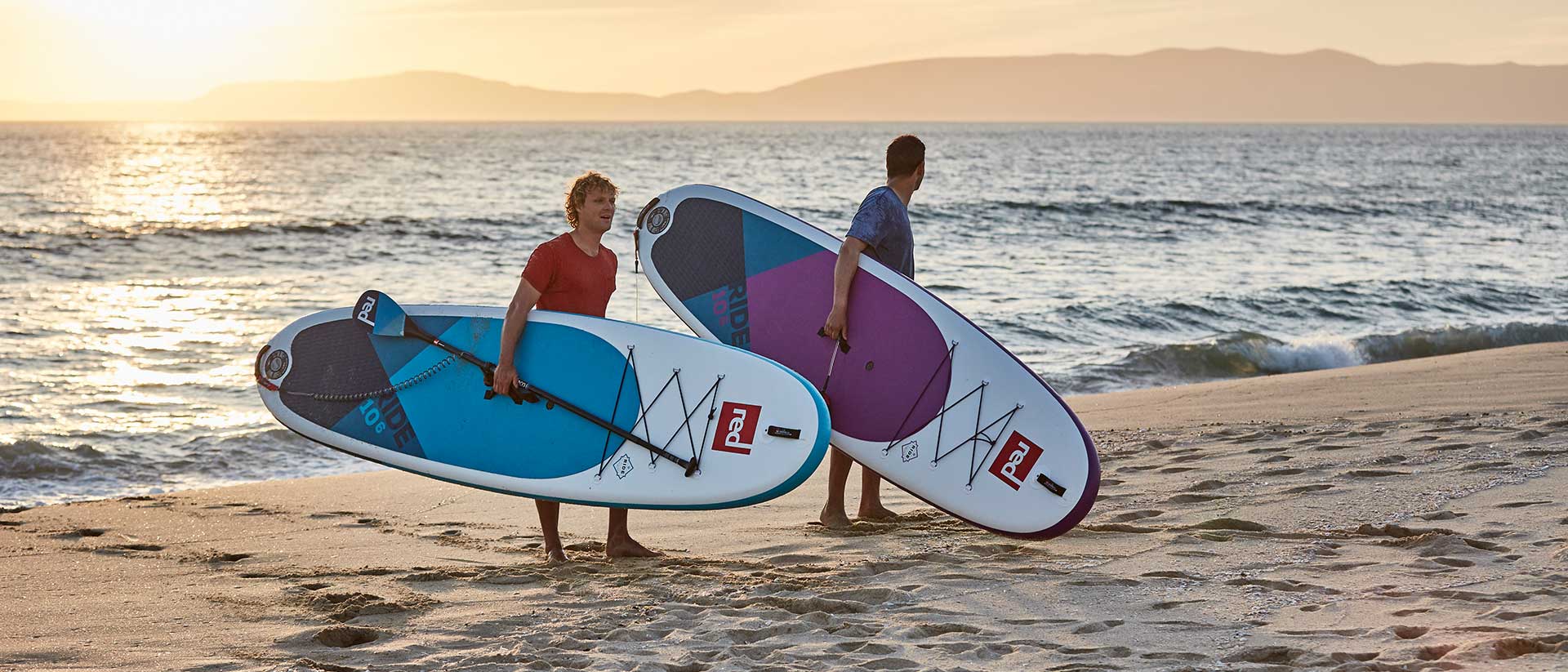 HOW TO CHOOSE

FIND THE RIGHT RED PADDLE CO SUP FOR YOU
Choosing a paddle board is about making sure it's right for you. The good news is there are a few fundamental factors to consider when looking for a paddle board and most of them are easily determined by your own personal measurements and requirements, such as your weight and the style of paddling you intend to do.
Using just a few key factors we can help guide you in the right direction and find the perfect match.
While it is relatively simple for us to define the most suitable board, it is not always very clear WHY these factors are important. We outline the key options and considerations below to help you make the right choice.
If you have any questions or need any guidance feel free to contact our customer service team who are on hand to help you 7 days a week.
THE IMPORTANCE OF RIDER WEIGHT WHEN BUYING A PADDLE BOARD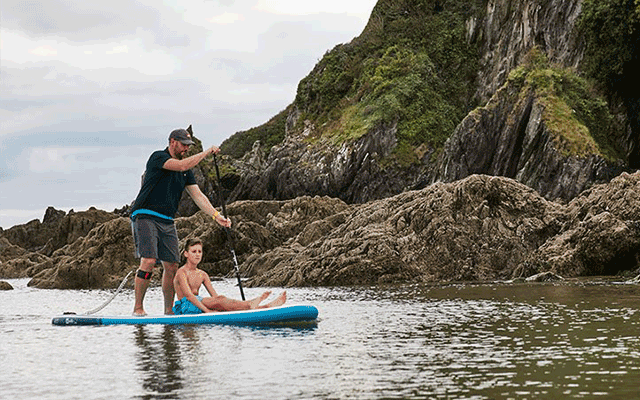 THE IMPORTANCE OF RIDER WEIGHT WHEN BUYING A PADDLE BOARD
When speaking to new customers one of the first questions we will ask is: How much do you weigh?
The reason for this is we need to know if the board you are looking at buying can carry your weight. All Red Paddle Co boards come with specific rider weights assigned to them. This means that you can be confident the advised weight is true to form and will offer the very best performance on the water.
TOP TIP: The maximum weight capacity is a good starting point for helping narrow down which board is better suited to you.
WHAT PREVIOUS EXPERIENCE DO YOU HAVE AND WHAT 'STYLE' OF PADDLING DO YOU INTEND TO DO?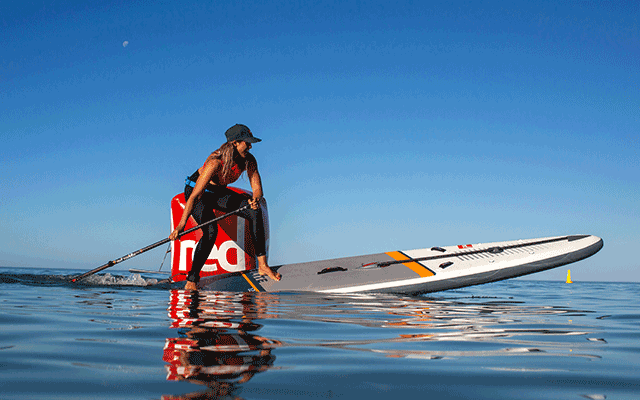 WHAT PREVIOUS EXPERIENCE DO YOU HAVE AND WHAT 'STYLE' OF PADDLING DO YOU INTEND TO DO?
Understanding how much paddling you have done in the past will help determine how stable you need the board to be and in turn will help define the type of board you need. The less experience you have, the more stable you will want the board to be as you build confidence and experience.
Stability comes from width, length, thickness and the volume of air the board has in it. There are also some other key factors to consider related to how you'll use the board. Perhaps you plan to paddle for longer distances or just want to paddle with your family on the beach every so often.
There are a variety of styles of paddle boards for different uses, let's break it down below.
The Ride Range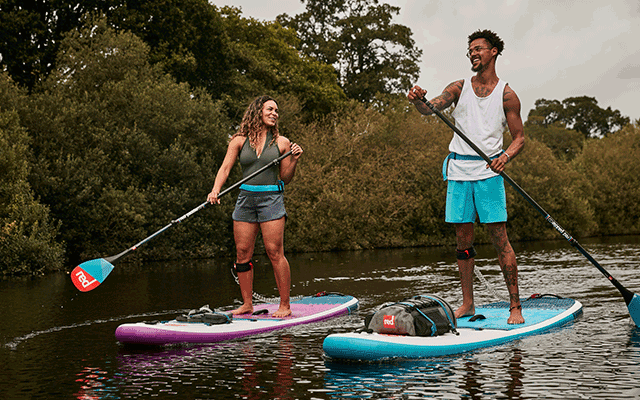 The Ride Range
The most popular type of paddle board, all-round boards are a great option for beginners but are equally as fun and versatile for more experienced paddlers too. All-round boards are stable and perform well in a variety of conditions and waterways.
They range from 9 – 11ft in length and are wider (32"- 34") and sightly thinner (4" – 4.7") than their touring counterparts to deliver a more stable paddling experience.
THE COMPACT RANGE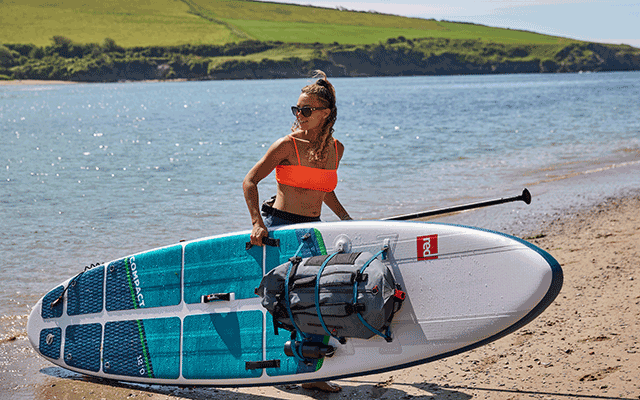 THE COMPACT RANGE
Half the size means double the adventure! A range of boards that combine the convenience of an all-in-one package with the high performance and stylish features that Red Paddle Co boards are famous for. These boards are ideal for paddlers who want to travel and explore without limitation!
The Compact boards push the boundaries of what an inflatable board can be…It makes the sport more convenient and more accessible than ever before.
THE VOYAGER RANGE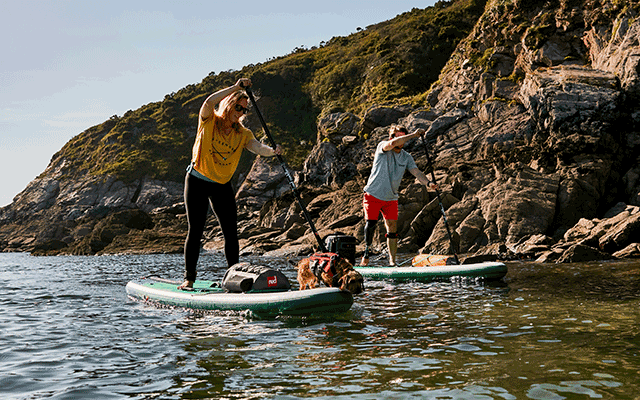 THE VOYAGER RANGE
If you're heading off on a multi-day trip or are just looking to go a bit further with a heap of kit, these are the boards for you. Its increased length and thickness compared to an all-round board make it an ideal board for longer outings and for taller, larger paddlers.
The extra length also means it can easily handle a child or dog on the front while you paddle, and you can use the extensive cargo areas for camping or picnic gear. You'll feel extra confident paddling out on these board, knowing that it offers extra stability in all conditions.
THE SPORT RANGE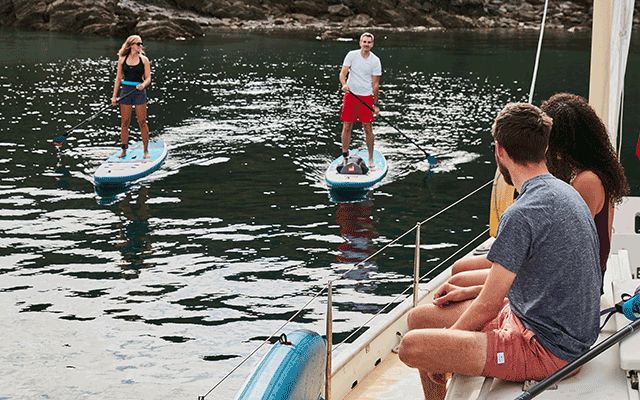 THE SPORT RANGE
The drop-top roadster of our SUP range, the Sport inflatable paddle boards are built for speed and performance. It's ideal for paddlers looking to up their paddling game - perfect to progress onto from an all-round board, like the 10'6" Ride.
The Sports SUP have been designed for the more experienced paddler, with a focus on speed and dynamic performance (although it's not a race board).The sleek shape and the drawn out nose gives maximum glide across the water, meaning you can paddle futher for longer.
Speciality Boards
Tailored to deliver unrivalled performance when you need it most, our diverse range of speciality paddle boards are purpose-built to suit different water requirements and conditions. Our speciality range is incredibly versatile, with inflatable paddle boards for windsurfers, yoga enthusiasts, kids, and more!
WHICH PADDLE IS RIGHT FOR YOU
HYBRID TOUGH
PRIME LIGHTWEIGHT
ULTIMATE ULTRA LIGHTWEIGHT
There is no product data to show, or this item is currently unavailable
Prime Lightweight SUP Paddle (Blue)
This performance paddle uses a carbon weave for greater strength whilst keeping the paddle super light and responsive. The blade shape is a teardrop design with a single dihedral blade face. This allows water to flow evenly off each side creating a smooth and stable stroke, whilst the double concave offers the user to really put the power down. The stylish design has been laser etched into the paddle so it will never fade.
New for 2022 – Bungee Connection System, designed to keep blade and mid section tethered together for convenience and easy set up. It's straightforward and makes our three piece paddles even easier to assemble.
New for 2022 - Interference Fit Hardware, All paddles are now composed of non-glued components meaning every piece of your paddle is both replaceable and recyclable.
More Information
There is no product data to show, or this item is currently unavailable