Return to blog
5 Key Features Of Red Paddle Co's Inflatable Rescue Board
Posted by Alex Clasper
Red Paddle Co's specialist rescue division, Red Rescue, have used over a decade of design and construction experience to deliver the world's safest, most durable and portable rescue boards. Using our background in delivering innovative inflatable paddle board technologies, we've worked in partnership with leading lifesaving authorities (RNLI, RLSS and SLSNZ) to develop an inflatable surf rescue board that enhances safety and performance for professional lifesavers in pressurised conditions. Available in 10'4" or 10'6", these are the key features that make the Red inflatable rescue board unrivalled in safety and performance:
Ultra Portable & Compact
One of the major benefits of our inflatable rescue board is its ability to be deflated and packed down compactly. This is really important if your company struggles for storage space, as you can fit a total of 8 Red boards in place of 1 traditional hardboard. The ability to pack down compactly, also makes it much easier to travel around with a Red rescue board. You can store the board, fins and pump in one compact backpack to take with you anywhere in the world. This is really beneficial if you're delivering lifeguard training all over the world, or need to attend events in different locations.
Durable & Ding Free
Stony shores, rocks and shore drops are no longer an issue with the Red inflatable rescue board. Where hardboards can damage easily when they come into contact with rocks in the surf, a Red board simply bounces off and continues performing as normal. This is all thanks to our use of industry leading MSL technology that ensures our boards are built to endure the harshest of environments. Each Red rescue board takes 72 hours to make using our exclusive high definition drop-stitch that's checked under rigorous quality control conditions. All 13 handles on our boards are reinforced to ensure they remain secure in the most powerful surf and rescue conditions.
Enhanced Speed & Control
In emergency situations, it's essential that lifesavers can get to casualties as quickly as possible. That's why we've dedicated a lot of time to ensuring the design of our lifeguard rescue board optimises speed in the surf. The use of our patented Rocker Stiffening System (RSS) enhances the board's rigidity by 40%, ensuring it performs with the same rigidity as a hardboard. This is supported by a pulled in nose, narrow widepoint and tailored rocker that creates the ultimate outline for speed. Although this is a high performance surf rescue paddle board, it also performs exceptionally well in flatwater conditions. We've ensured the board is versatile to perform in varying conditions, and can be easily used for towing using the integrated D-ring on the tail.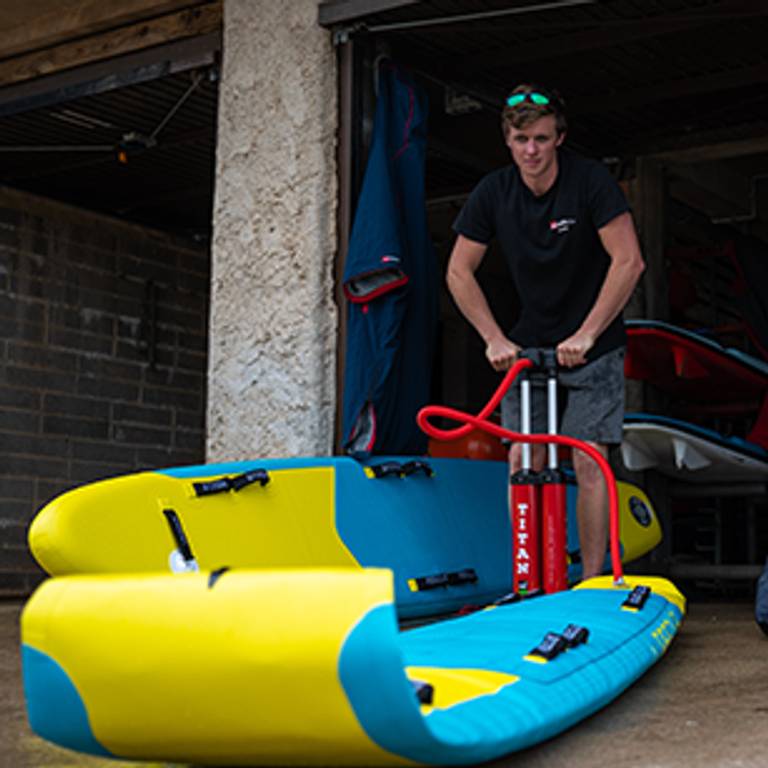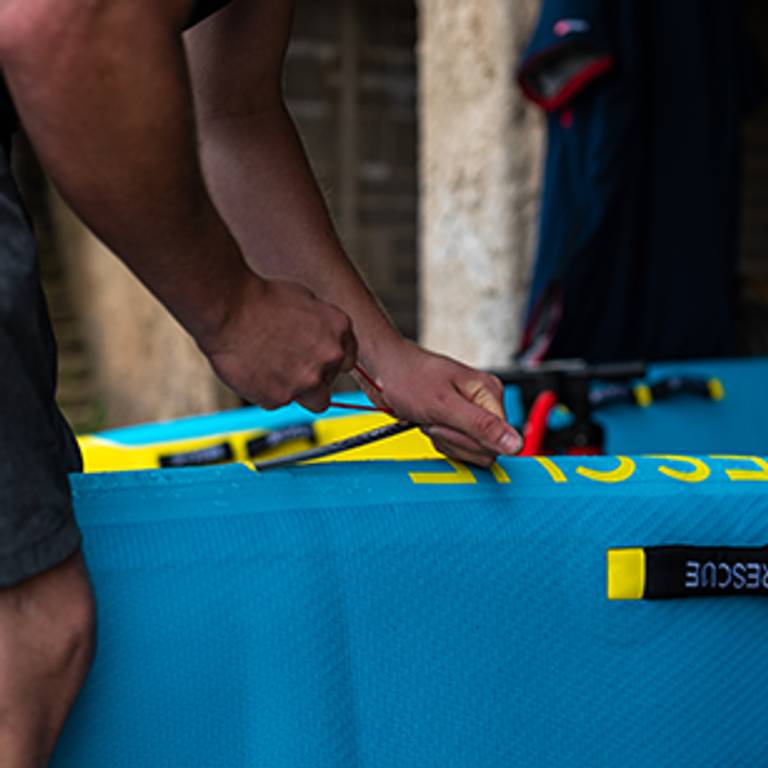 Perfect For Training Purposes
The lighter weight of an inflatable rescue board in comparison to traditional hardboards makes it much more suitable for training purposes. The light weight makes it easy to handle, and there are numerous features that ensure comfort for lifesavers. This includes our Seriously Smooth Rails (SSR) that are designed to prevent chafing, and strategically placed twin grab handles that ensure the board can be easily straddled without rubbing. Red rescue boards are cheaper than most hardboards, however require fewer repairs and less storage space, enabling you to save money to put towards other areas of your lifesaving service.
Increased Safety
The design of Red's inflatable rescue board has been optimised to improve safety for both lifesavers and casualties. Aside from improving the ability to get to casualties faster, an EVA embossed deck pad keeps the life saver in position whilst a casualty glide area at the front of the deck allows for easy positioning and onboarding of those requiring assistance. An inflatable, lightweight design reduces the risk of injury if impact is made with casualties, other lifesavers or other water users. We chose the colours of the rescue board to be blue and yellow to ensure it is striking and quickly identifiable. If you're wondering why we didn't choose red and yellow, this is because red quickly fades to pink when exposed to UV light, which can mean visibility is rapidly reduced after a few uses. Blue on the other hand remains vibrant for years.
For more details on the Red inflatable rescue board, including guidance on how to buy multiple boards, please don't hesitate to get in touch with us.