Return to blog
6 Perfect Presents for Outdoorsy Dogs and Dog Lovers from Katie Owen and her Cockapoos Fudge and Honey
Dogs
Gift Guide
Outdoor
Paddle Boarding
Red Original
Posted by Lydia Burdett
by Katie Owen @cockapoofudgeandkatie
If you're anything like me you'll have your dog, or maybe your dog-loving friend or family member, on your Christmas shopping list. Well, Fudge and I are here to hopefully help you out with some tried and tested pieces that we think should be at the top of that shopping list.
Red Original Dog Buoyancy Aid
We wouldn't head onto the water without a PFD or buoyancy aid, so it's only right that we have the best to keep our four-legged friends safe too. We love using ours for both SUP and swimming, from a couple of hours at a time to full days on the water SUP touring, it's fair to say our Red Original Dog Buoyancy Aid really holds its own for both comfort and performance. The lead attachment is great for when we're portaging/getting to and from the water, the four grab handles are great for helping him back on the board when needed and Fudge will happily curl up whilst wearing his to chill on the board. An all-round awesome (and essential!) piece of kit for water dogs!
Equafleece
Cool evenings camping, SUP adventures and cold, wet walks - our Equafleece dog suit is our winter dog wardrobe essential. Fudge can get as filthy and as wet as he likes on our walks wearing his equafleece, then when we get home and take it off - he's nice and clean and dry underneath and I just throw the fleece in the wash ready to go again! He also wears his fleece for warmth on all our UK winter paddles now and it keeps him nice and toasty warm whilst on the board. Fudge doesn't (intentionally) go in the water at this time of year and as they're not designed to keep them fully dry when submerged, I always pack a spare in our dry bag, just in case he does go for a swim.
You can get dog suits (with four legs) like Fudge's or there are also jumpers and coats in a range of sizes and colours on their website.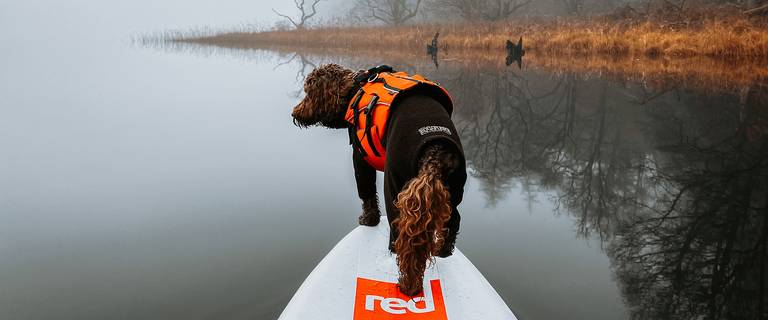 Henry Wag Alpine Travel Snuggle Bed
I originally bought our Henry Wag bed for an overnight SUP trip for Fudge but hiking, camping, lunch at the pub - you name it, we pack our travel bed for all trips. It's a fantastic, lightweight, machine washable mat and due to its waterproof base, we make the most of using it out and about on wet ground too. Admittedly we might share it on picnic stops because it's big enough for both of us to sit on - why pack two mats when you can keep cosy and share?
You can purchase the travel bed from many retailers and it also comes in a handy outer carry bag.
Ruffwear Home Trail Hip Pack
When we're not going too far or for long enough to need a backpack, I found on walks through the summer that I had less pockets to carry all Fudge's essentials (treats, poo bags, ball ect) and in the winter I didn't use Fudge's favourite stinky high value treats because I didn't want my pockets to smell after. Now that I use the Ruffwear Home Trail Hip Pack I can fit all Fudge's essentials, as well as my phone, keys and all the stinky favourite treats in for every walk. There are two zip pocket sections - the bigger one has a pocket for either treats or dirty tennis balls and the smaller is big enough for my keys and a tick remover. There's also a quick access phone pocket and poo bag stow section.
I wouldn't go on any of our walks without it now and Fudge knows exactly what's going on when I get it out ready. You can order yours from their largest European partner Mountain Dog.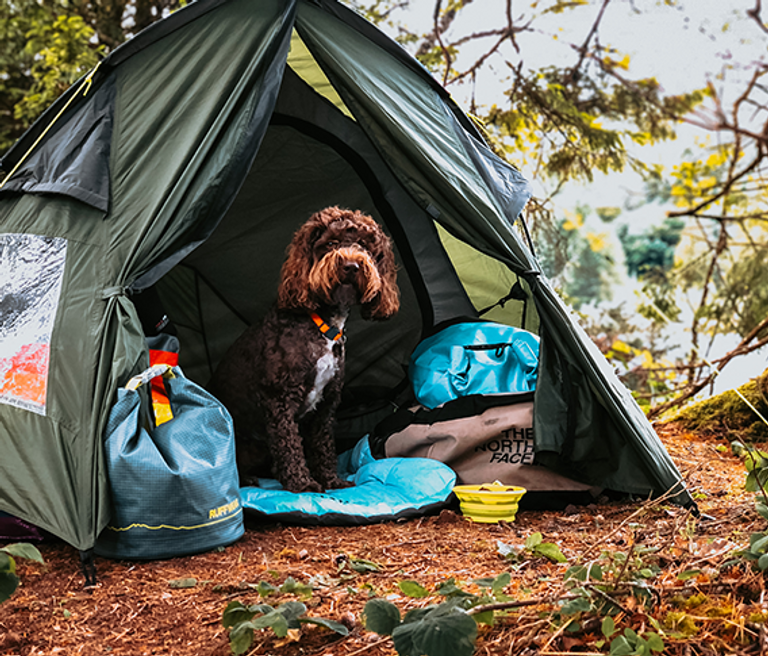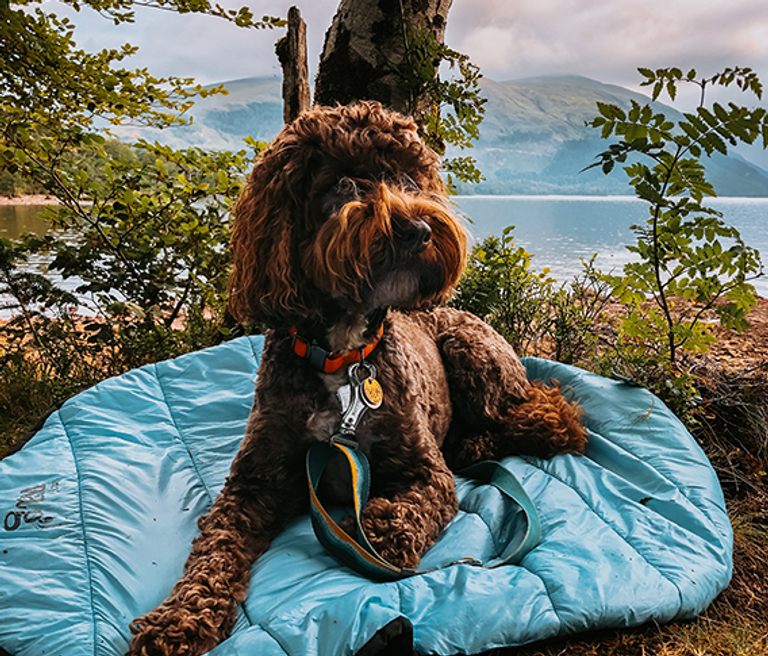 Red Original Microfibre Towel
We spend a lot of time both on and in the water so it's no wonder we've added a towel to our kit. It's awesome how small the Red Microfibre Towel packs down and how quickly it dries. I love kit that doubles up for both of us and although this towel is big enough to wrap around me, it's the packability that makes it so handy to bring for Fudge. It's always in our bag ready to go and the grey colour is quite forgiving for all the less-than-clean puddles he dunks in!
Tag and Tailor Dog Tags
Adventure dogs should have a tag that reflects their lifestyle right? All Fudge's tags are from Tag and Tailor dog wear because we love the designs that Cheryl creates and they absolutely withstand everything that Fudge drags them through whilst still looking flawless. The tags are laser engraved on 2mm thick brass or stainless steel and you can order completely custom designs or choose from the range of adventure inspired pre-made tags. You could even order a matching one as a keyring for yourself!
You can order from Tag and Tailor's small business through their Etsy page or direct through their Instagram @tagandtailordogwear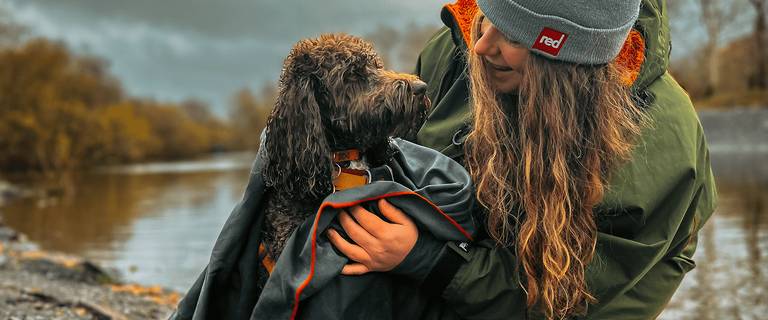 Katie is a Red Ambassador and adventures in North Wales with her two cockapoos, Fudge and Honey. You can follow their adventures on Instagram