Return to blog
7 Adventurous Beach Activities For Kids & Adults
Kids
Outdoor
Paddle Boarding
Posted by Luke Green
Finally, summer has arrived! Now's the time to start heading to the beach and enjoying some much needed fun in the sun. If you're looking for some inspiration to make your next beach trip the best one yet then you've come to the right place. There's a lot more to do on the beach than just making sandcastles and eating ice cream (as enjoyable as this is!). Below are just a few of our favourite beach activities for kids and adults who love an adventure. Let's take a look at what made it onto the list...
Olympics On The Sand
Get all the family involved in a bit of healthy competition by hosting a mini sports tournament at the beach. Spend the day doing a series of activities like rounders, beach tennis and skittles and keep track of the score for each round or go more classic with long jump, sprint races and shot put with stones. It's a great way to keep the kids occupied for the whole day and fun for everyone to get involved with.
Beach Treasure Hunt
Treasure hunts are always great fun for the kids and they're even more exciting when they're on the beach! There are lots of great hiding places at the beach, making it the perfect location to host the most epic treasure hunt for the family. Use the items you have on the beach as treasure (shells, driftwood, rocks etc.) and give the kids a list of the items to search for and a bucket to collect them in. This is one of our favourite beach activities for kids, and one that's actually good fun for the adults to set up and oversee. You can even take it to the next level and get them to create a picture in the sand with the items they have collected, your very own Art Attack!
Fly A Kite
Kite flying is one of those old school beach activities for kids that you don't see a huge amount of anymore. We think this is a shame as it's such a simple activity that the kids find absolutely fascinating. You can buy a simple kite from most toy stores. It won't cost you a lot of money and the challenge of launching the kite and watching it fly in the sea breeze is bound to keep everyone occupied for a good while.
Rock Pooling
Rock pooling is a great way for kids to connect with nature and the outdoors. Looking for various beach creatures creates hours of fun and it's a great sense of achievement when they manage to spot something in their nets. All you need is a net and a bucket and you've got one of the most fun beach activities for kids sorted in no time.
Water Bucket Relay
This is one of our favourite beach activities for kids but one that is really good fun for all the family to get involved in. Kids love a relay race, and to make it beach-friendly all you need to do is replace the egg and spoon with a cup and water. Set up next to a water source (rockpool or stream for example) and get the kids to run and fill up their cups with water and bring them back to the bucket without spilling any. Whoever gets the most water in the bucket at the end of the time is the winner!
Surfing Or Paddle Boarding
Depending on how old your kids are, this one might be just for the adults, but a list of the best beach activities wouldn't be complete without mentioning a few watersports. There are some great beaches in the UK to paddleboard and surf, and if you've not tried either before then summer is the perfect time to start. Why not go out with a friend or join a beginners session?
Beach Volleyball
It's a summertime classic but one that never fails to deliver on fun. It's one of the best beach activities for adults, but you can also make it child-friendly by substituting the volleyball for an inflatable beach ball and swapping the net for a makeshift barrier, such as a rolled-up towel or paddle board flipped on its side.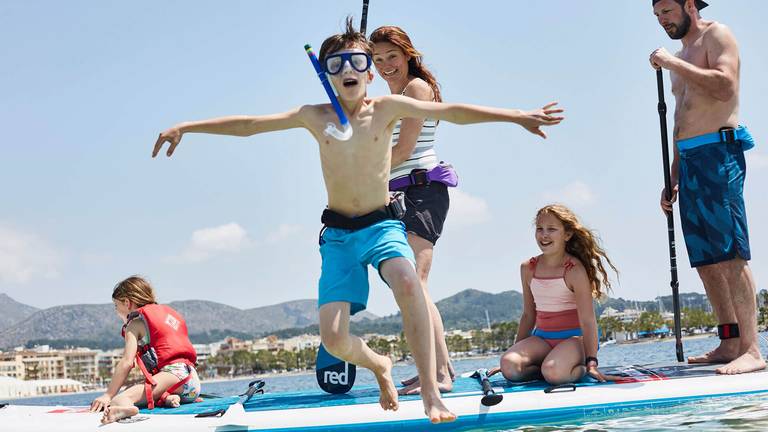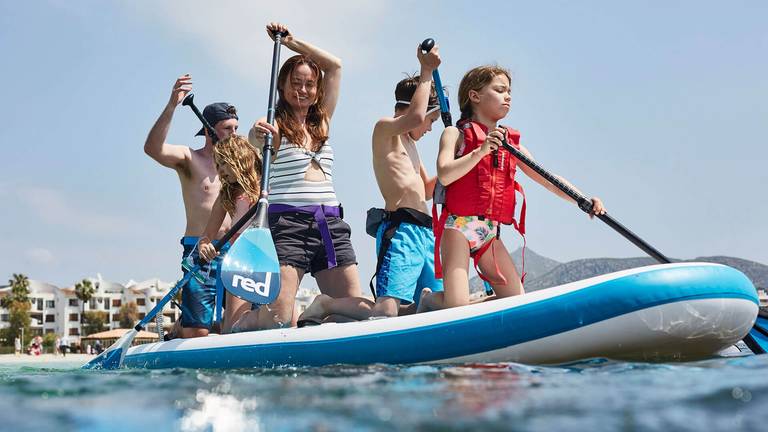 Make life easy for yourself…
Taking the kids to the beach doesn't need to be a hassle if you've got the right gear with you. Our poncho-style Kids' towelling robes make changing out of wet kit a breeze, whilst keeping the kids warm and dry. Don't forget to bring plenty of snacks and drinks to keep them fuelled throughout the day. The Red Original, waterproof cooler backpack is perfect for carrying supplies down to the beach comfortably and hands-free without lugging around multiple bags.
We hope you enjoy these adventurous beach activities for kids & adults and have the best day in the sunshine!