Return to blog
Airbelt Vs Buoyancy Aid - Which Is Better For Paddle Boarding?
Products
Safety
Posted by Ross Montandon
We wouldn't drive a car without a seatbelt or ride a bike without a helmet; and we shouldn't hit the water without suitable a personal floatation device. Whilst wearing a leash whilst paddle boarding it's always good practice to have a back up for those just in case moments that we hope never occur.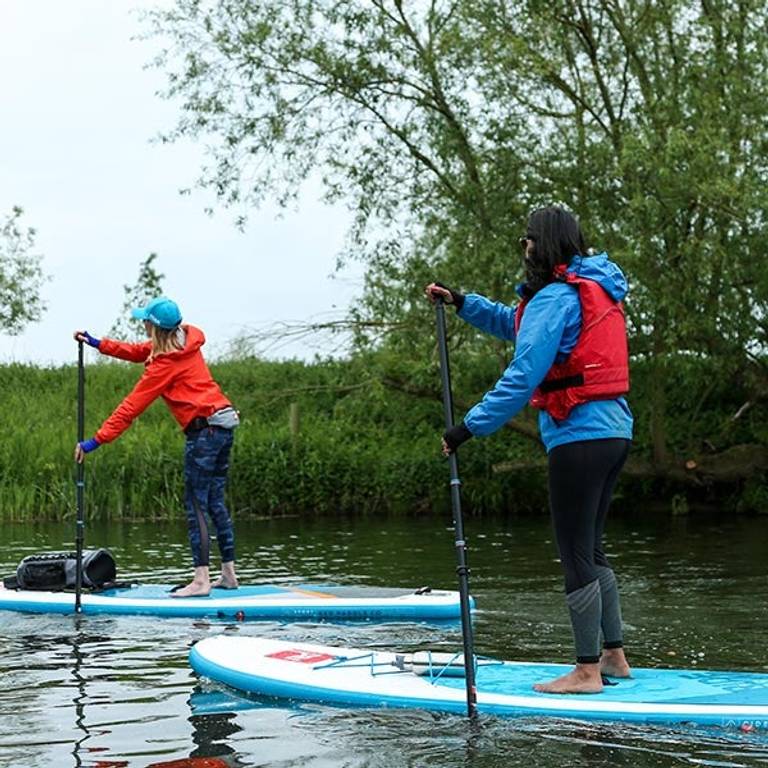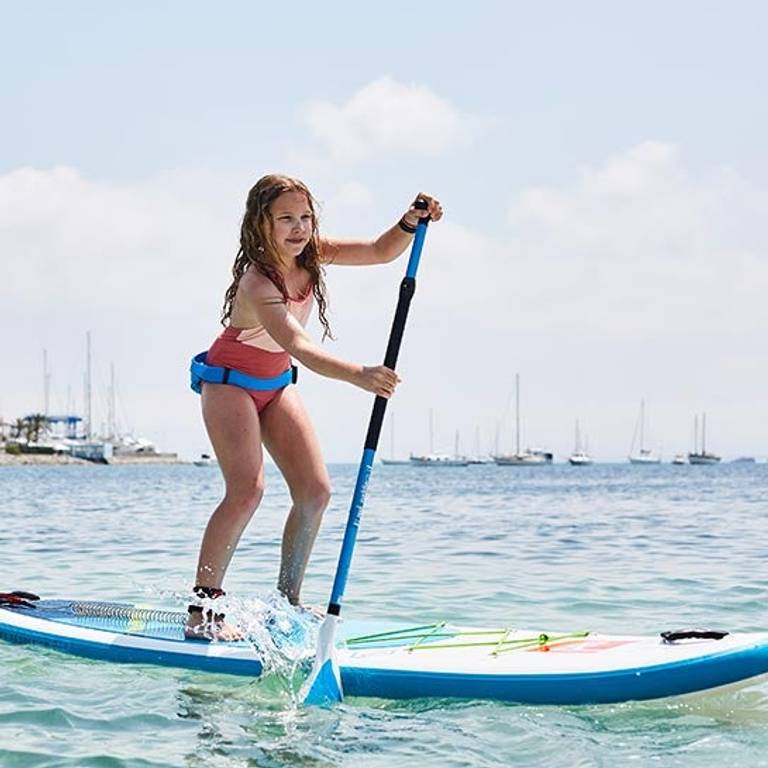 Which is better for SUP – An Airbelt PFD Or Buoyancy Aid?
Both Airbelt and Buoyancy Aids will be comfortable and safe for paddle boarding and some users may sway towards one over the other depending on the needs and preferences. If easy to fit and comfort when paddling the Airbelt excels in every way. With one clip to fit around the waist and you're good to go, no restrictions no hot sweaty back from wearing a bulky buoyancy aid all day in the summer sun along with a full range of movement for paddle boarding swimming and enjoying all the activities that go alongside a day out on the water. The none restrictive waistbelt allows you to simply keep it on even when on land or whilst taking a break on a beach. The front water-resistant pocket allows for quick and easy access for ice cream money, lip balm and a few on the water essentials. The replaceable co2 cartridge can be purchased online and easily fitted should you need to.
I am wearing a leash do I really need a PFD or Buoyancy Aid?
Wearing a leash whilst on the water is not only good practice it's essential. Leashes are only one form of protection whilst out on the water. Even when attached to your board having some assistance if injured or struggling to get back on your board can prevent you from getting into a sticky situation. Not to mention if you come unattached from your board. So having a backup is not only practical it makes sense whilst out on the water.
The Air Belt PFD
The Air Belt PFD sits around the waist of the user allowing a quick one clip system, minimising the time getting tangled in straps. Unlike Buoyancy Aids the Air belt can support a range of paddlers from 40-130kgs. This comes in handy for when you want to chop and change or lend to a friend for that extra security whilst paddling.
Unlike Buoyancy Aids the Airbelt doesn't hinder in the paddling performance increasing the range of movement getting on and off the board as well as paddling. The Air Belt is hopefully a safety item that you will never have to use. Should you need to, you can simply pull the tag on the waist belt place the ISO Certified bladder over your neck and inflate with the replaceable co2 cartridge. The Airbelt similar to a lifejacket supports the neck and keeps the head above water. Ideal if there is an injury or perhaps someone who isn't fully water-confident.
Buoyancy Aids
Not to be confused with lifejackets which can be identified by a collar which sits around the neck more commonly used as a rescue aid or emergency precaution as it allows the neck support keeps the air way and head above water if unconscious.
Buoyancy aids come in all shapes and sizes and with many additional features such as pockets and even hydration packs for those longer paddles. The buoyancy aid fits either by zipping it up and the front or over the head and can be tightened using the shoulder straps and waist straps. Whilst Buoyancy Aids have to reach the required testing, they come in a range of sizes which allow a slightly personal choice, this is to optimise the fit and also to make sure that there is the correct number of newtons to keep you afloat. It's essential you find one that fits and is comfortable as we all come in different shapes and sizes.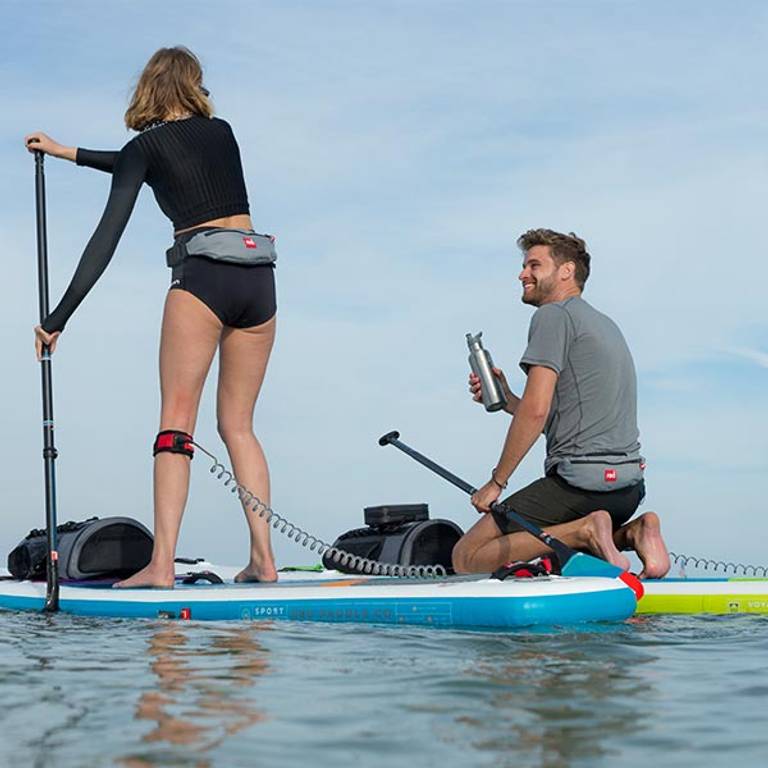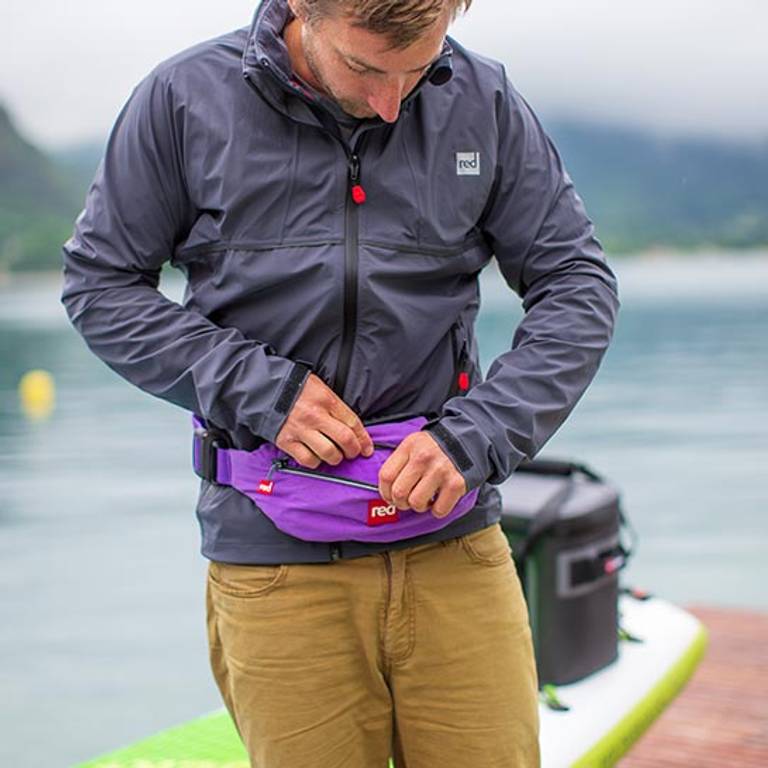 Can an Air Belt fit a child?
If the child is above 40kg then the Airbelt PFD will support the child when in the water. We advise if being used on a child to make sure he or she is happy with how the item works can be implemented when in the water. Most kids will find this lots of fun as the bladder inflates around them.
Is one safer than the other?
No, both Air belts and Buoyancy Aids are to provide you with assistance to stay afloat when in the water. That said like all items they need to be looked after and maintained to optimise performance. The Airbelt should be dried when wet and Buoyancy Aids will need replacing over time as the buoyancy foam does deteriorate over the years.