Return to blog
An Adventure In The Scottish Highlands with Anna Blackwell and Bilbo The Dog
Dogs
Outdoors
Paddle Boarding
Posted by Lydia Burdett
Words: Anna Blackwell @annablackwell
Images: Matt Buckley @mattbuckleyphoto
Standing in the shallows of Loch Morar, I patted the deck of my board and called my dog over. Bilbo trotted across the bank, splashed through the water and hopped onto the board, gracefully climbing over the two large waterproof kit bags strapped securely in place. Happily situated at the front, he looked up at me as if telling me he was ready to go.
I was in the Scottish Highlands with Bilbo and my friend and photographer Matt Buckley. We had spent the last few months planning an epic adventure, spending a week paddling the length of the nearly 20 km-long Loch Morar, the deepest freshwater body in the British Isles, and wild camping as we went. Unfortunately, back-to-back storms had rendered this plan impossible. However, we were still determined to get out for at least one full day of paddling on and exploring this beautiful loch. Luckily, after several days of waiting, the clouds cleared and we were treated to a stunning day.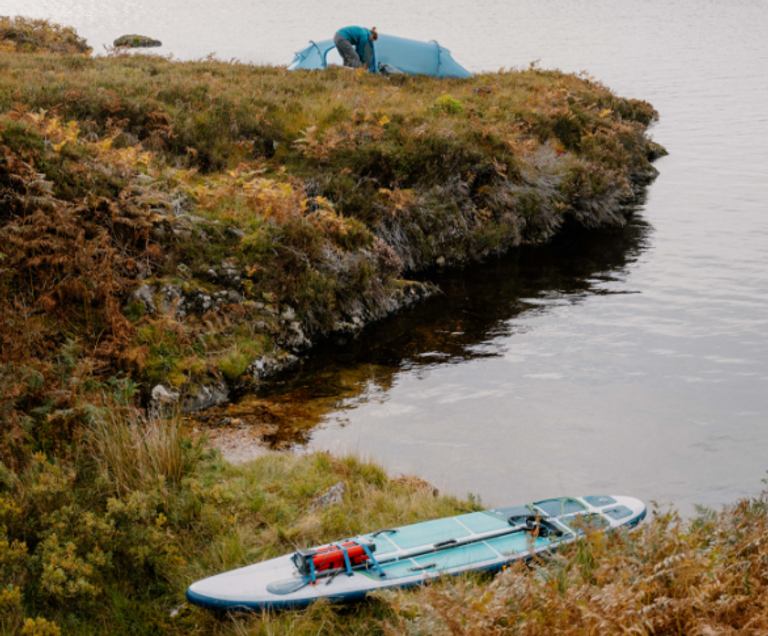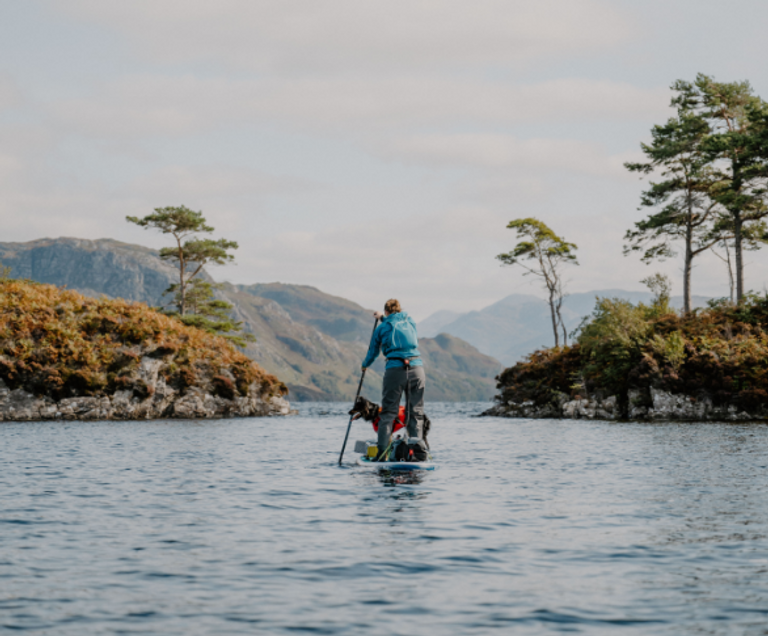 This was my first time taking Bilbo out with a fully-packed board. Even though we knew it was unlikely that we'd do even one night in the tent, I had still packed all my camping gear: my tent, sleeping bag, stove, plenty of food, plus all my other camping detritus was stashed in my two waterproof deck bags. Knowing that I will definitely attempt more multi-day paddling adventures, I decided this was a great opportunity to test out my board at max capacity. It was also ideal for getting Bilbo more familiar with paddleboarding after only being introduced to it some six months ago.
I was so impressed that even with the weight of me and all my kit, and a dog who doesn't stay still for more than 90 seconds, my board still felt incredibly sturdy. When the swell and wind picked up on our paddle back, I didn't feel the need to drop to my knees for more stability, which is saying something!
Loch Morar is an incredibly beautiful and varied loch. The western end, where we were, is characterised by shallower waters, gentler hills lining the shores, and a small archipelago of densely wooded islands. Heading east, the mountains rise in height and steepness, until you reach the remote and almost inaccessible shores at the far end.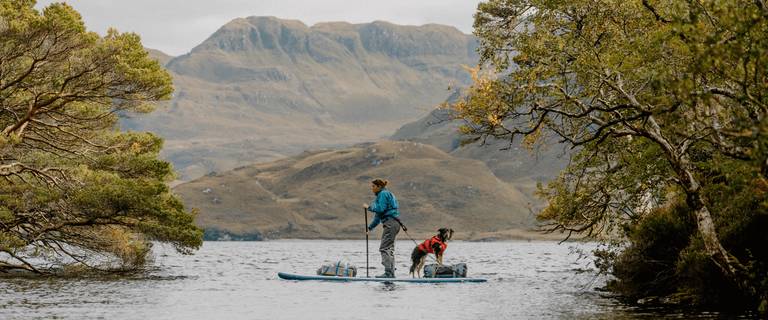 Knowing the wind was forecast to pick up significantly later that day and not wanting to get stranded, we kept reasonably close to where we'd parked. We opted to take our time exploring the islands, paddling through the small inlets between them and enjoying lunch and snack breaks on the rocky shores of those which were accessible.
Wanting to make the most of every moment of daylight, towards the end of the day we found a suitable spot to pitch the tent - not to sleep in, but to use as shelter so we could cook some dinner in the warmth and out of the wind. Sitting in my cosy jacket, Bilbo snoozing by my side, I was tempted to suggest to Matt we camp out after all. But even as the thought entered my mind, a gust of wind tore past, taking the idea with it. It may feel reasonably calm now, but I knew that from tonight and for the next few days, it would be anything but that.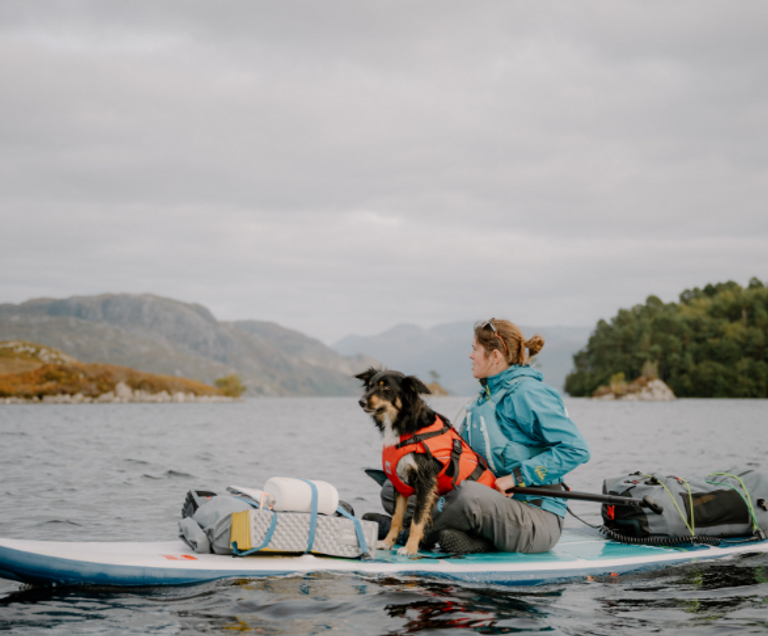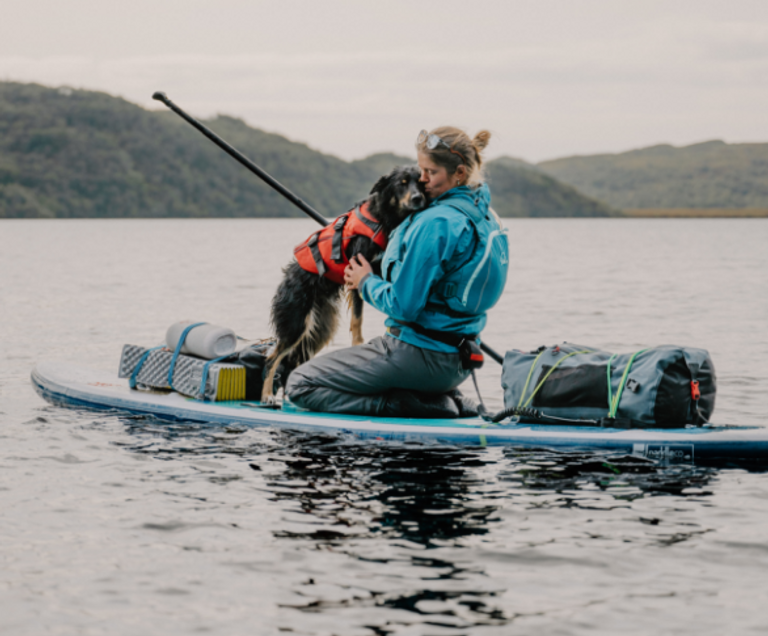 Reluctantly, we packed down the tent and carried the kit back over to our boards, which we'd pulled up onto the boggy shoreline. It took just a few short moments to strap everything back in place, then it was time to push off onto the loch and return to the vans. I had to focus much more on my paddling and keeping balanced now, as the wind was whipping up waves that threatened to send me or Bilbo overboard.
As we paddled into the shelter of the final cove, I sat down on my board. Bilbo hopped straight in my lap, and we spent a few minutes gently bobbing around. Though this was not the adventure I had come up here for, it had still been incredibly rewarding and beautiful. It's only a matter of time before me and my board head north again to give it another whirl.
Words: Anna Blackwell @annablackwell
Images: Matt Buckley @mattbuckleyphoto