Return to blog
Life on The Sunshine Coast with Dolf Vermeulen
Posted by Lydia Burdett
Dolf Vermeulen is a photographer and videographer in the Sunshine Coast, Canada who loves adventure and the outdoors. On recent excursions Dolf has been using Red's Compact paddleboards, which have adapted perfectly into his lifestyle and work life.
We interviewed Dolf to find out more about him and his incredible work behind the camera.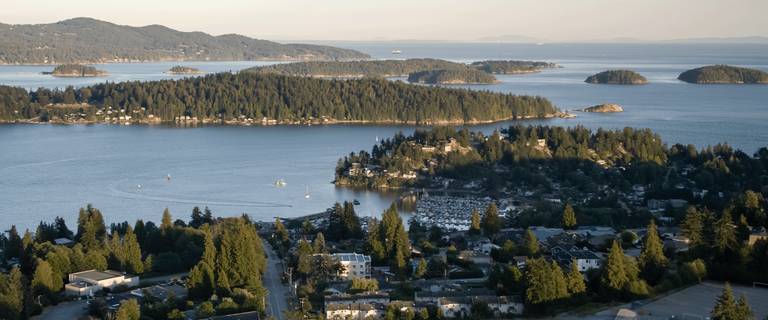 Dolf, how did you get into photography and what was your inspiration?
I'd definitely have to credit our beautiful natural world as my inspiration for photography. It all started with getting into the outdoors and trying to capture the magic of it, initially using my iPhone 3S. I had a close friend that must have seen something in that, he was taking a photography course as part of his journalism program and nudged me to consider getting a DSLR. This idea came to fruition on my 20th birthday when my parents offered to go halfers on an entry level camera package. There was definitely an initial interest but I didn't really get excited about it until a semester abroad in New Zealand. A year later I would graduate university and decided to get a job fighting forest fires in order to fund a gap year between graduation and finding a corporate job. My first destination was a solo adventure in Iceland and I decided to invest into a better camera two days before I left… I still remember the sheer excitement of putting it to use while experiencing the northern lights for the first time; in this moment the passion exploded! 8 years later my 'gap-year' continues and I'm still trying to do justice the incredible beauty that can be experienced in the natural world. I'm not sure I'll ever succeed in doing so, but happy to keep on trying!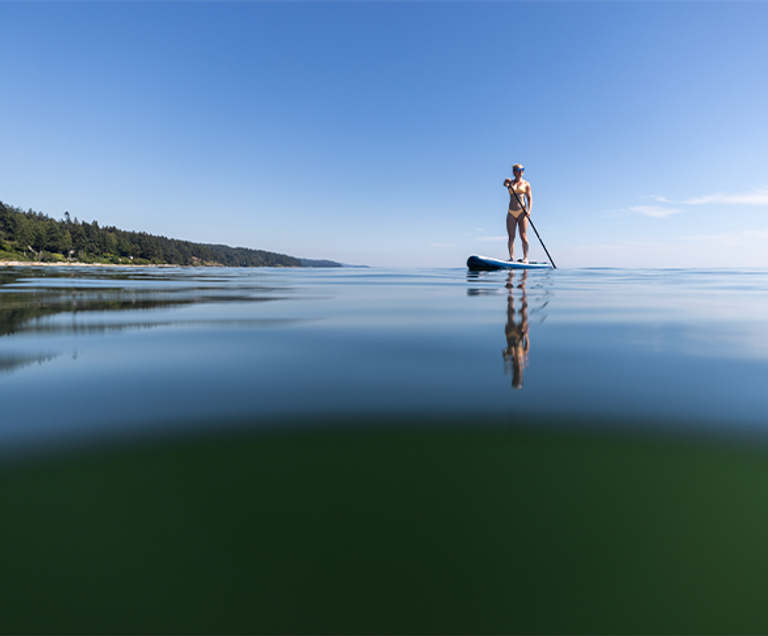 How do the Compact boards fit into your lifestyle?
Red's Compact paddleboards have been an incredible fit for my lifestyle, they're everything that I wanted in a SUP! Me personally, I'm not often seeking out paddleboard specific excursions but rather using it as tool to compliment my existing lifestyle. Having a board that packs down the the size that these do, without compromising quality and still performing at a high level, means that I'm able to get way more use out of it than I otherwise would. Whether walking it down to the beach for a quick paddle, throwing it in the back of my truck on a road trip, travelling abroad, or using it at work as a platform to shoot from, it's always up to the task. I'd definitely recommend them for anyone that is short on space but stills wants something big in performance.
What have been some of your most memorable moments when shooting from a paddle board?
The first thing that comes to mind is a recent encounter with a pod of Orcas off the coast of Roberts Creek, British Columbia. I had heard they were in the area and it was a beautiful calm day so I decided to pack up some camera gear, head out on my paddle board, and test my luck. After about an hour of paddling I saw them headed my way; initially there was a group of 4 which passed about 200ft away. It was magical being out there all alone and hearing their blows as they cruised on by. I then noticed that there were two more trailing behind, one of which was a bull orca with a 6'+ sized dorsal fin and it was headed directly for me… It surfaced about 15' away making for a very exhilarating experience that I'll never forget!! It was a haywire moment but I managed to capture a few photos and some action cam footage in the process.
One of my favourite images produced during a commercial shoot was also captured on my paddle board. I do a fair amount of work within the boating industry and using a SUP gives me the opportunity to shoot close to the waterline, creating a unique and dreamy perspective. Again, having a board that can easily by brought along on a shoot like this has made it a tremendously useful tool, both personally and professionally.
What is the essential kit list when shooting photos from a paddle board?
For the most part water and electronics don't get along especially well so one thing I'd always recommend is some sort of protection for your camera gear. I sometimes put my camera into an underwater housing so I don't have to worry about it getting wet, this also gives me the option of submerging it for split level and below the surface perspectives. That said, I often just use a dry bag stuffed with some clothes as padding; I have the Red Original 40L Waterproof Kit Bag and it works great for this purpose. If I want to have multiple lenses on hand I'll choose to bring my Pelican Case and use the built in straps on my 12'0" Compact paddle board to keep it secured. Either way I know my gear will be kept dry when paddling and whenever I'm ready to take some photos I'll drop down to my knees for extra stability.
When I want to take an action cam I'll usually pick my Insta360. Although not as good as a GoPro for underwater footage I love that it films in every direction, meaning I don't have to pay it much attention and I can still be confident that it's capturing the action. Having the ability to reframe the shot after-the-fact is just way too convenient!
What do you do in your spare time away from the camera?
Honestly, I'm not often away from my camera. Long before taking photos was my job it was a hobby, and I'm stoked that I've been able to keep that passion alive. On 'days off' you'll usually find me enjoying the outdoors, whether that's mountain biking, hiking, skiing or of course, on the paddle board. Chances are, my camera will be close by!
I did recently get a sauna which has been a great compliment to all the above while also providing some forced time to slow down and leave the camera behind - 'wood recommend'!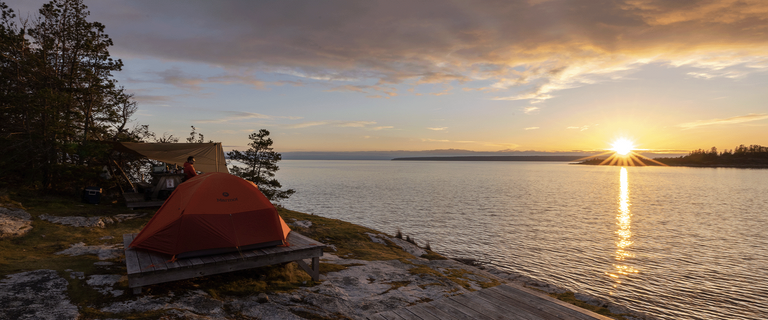 What have been some of your favourite locations/destinations to photograph?
As I write this I'm actually on a plane headed for Kenya; it'll be my first time in Africa but spending some time in this region has been a bucket list destination for as long as I can remember so I'm unbelievably stoked to see what unfolds.
As mentioned above Iceland is a spot that really took my passion for photography to another level and as such it'll always hold a special place in my heart. I'm fortunate to have been back there 3 times and I'd very happily visit again. Norway is also a destination where I've really enjoyed taking pictures! Both have dramatic landscapes and ever changing conditions which makes for memorable adventures and incredible photographic opportunities.
Having said all that, travel has also given me a new appreciation for home, something I'm very thankful for. I always liked where I grew up on British Columbia's Sunshine Coast (in Canada and despite the name it actually rains a lot!) but spending time abroad has allowed me to see it through a fresh set of eyes and taken my gratitude for this area to another level. It truly is spectacular! Living in such a beautiful area inspires me to take more photos while the pursuit of capturing images pushes me to get outside more often; it's a wonderfully vicious circle.