Return to blog
How To Choose An Inflatable Stand Up Paddle Board From Red Paddle Co
Posted by Alex Clasper
There are certainly a lot of inflatable stand up paddleboards out there, and so it's no surprise that finding the perfect SUP for your requirements may seem a little daunting at first. However, with the right guidance on how to choose an inflatable stand up paddleboard, it doesn't have to be a difficult task. Finding the perfect Red Paddleboard is a breeze. All you need to do is take into account the following key factors:
What's Your Experience Level?
Your experience level plays a big part in how to choose an inflatable stand up paddleboard, and so take a moment to consider (and be honest!) about how much experience you have before searching for the best SUP for you. The amount of experience that you have will determine the shape and size of the SUP you need, as follows:
Beginners: If you're a beginner then your main priority will be finding a SUP that offers you plenty of stability. As a general rule of thumb, the wider the board, the more stability you will have. Thin and long boards are intended for speed, and so should be avoided by beginners, whereas wider, shorter boards are a far more stable option for trying out your skills for the first time. This means that as a beginner you want to look for all-round or touring options when deciding how to choose an inflatable stand up paddleboard.
Intermediate / Advanced: If you're a more experienced paddler, you may want to look for something with a little more speed and manoeuvrability. Depending on the locations you plan on paddling in, and the activities you intend to do, you may want to look for a SUP that is longer and thinner, such as a racing board. This will be less stable but offer you more speed. However, if you plan to continue using your SUP for general touring you may also choose to stick with an all-round or touring board. The activity you will be using your SUP for plays a big role in how to choose an inflatable stand up paddleboard, and that brings us onto our next key factor…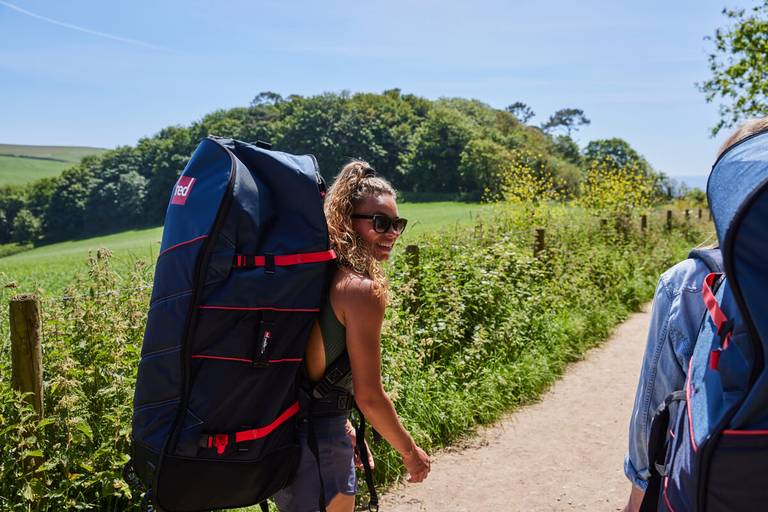 What Activities Will You Be Using Your SUP For?
A big part of how to choose an inflatable stand up paddleboard involves asking yourself what type of SUPing you'd like to do. Do you want a SUP that you can use for general exploration and touring? Or, do you have a speciality, such as surfing, racing or yoga? Being clear about how you intend to use your paddleboard is crucial in making sure you find the perfect fit. Based on activity, you may want to consider the following options:
General Touring: For general paddling, an all-round or touring paddleboard will provide you with the stability and maneuverability that you need. Our award-winning Ride MSL (10'6" , 10'8" or 9'8") is perfect for paddlers of all abilities, guaranteeing smooth and reliable performance. For those with a little more experience, the Sport MSL (11", 11'3" or 12'6") will provide you with stability and durability for touring, whilst giving you a little more speed.
Surfing: If you're planning on taking your SUP in the surf then you need a shorter board with a narrow tail and a rounded nose to cut through the surf. The Red Paddle Co Whip MSL is designed specifically for surfers, benefitting from removable, adjustable fins created by FCS, who are leaders in the surfboard fin market.
Whitewater: Experienced paddlers looking to head to whitewater rapids need a SUP that is extremely durable whilst being highly responsive. The Red Paddle Co Wild MSL features high edges for negotiating currents and a pronounced rocker to help absorb shocks, whilst numerous handles ensure safety and control.
Windsurfing: Windsurfing SUPs feature more technical features than your general all-rounder in order to facilitate safety and efficiency in the sport. For example, our Windsurf MSL features a specially designed fin system to offer stability, alongside a specially designed deck-pad that guides riders as to where to stand. This makes it perfect for beginners who are learning to windsurf, as well as seasoned pros who need a SUP they can rely upon to perform at their best.
Yoga: SUP yoga has taken the world by storm recently, and so if you're looking for a paddleboard that's going to support you in doing yoga on the water, we certainly don't blame you! Designed especially for yoga, pilates and fitness enthusiasts, our Activ MSL has increased thickness and width to offer enhanced stability, whilst the EVA deck pad replicates a yoga mat to help you stay centred and balanced.
Racing: As we mentioned earlier, width and length play an important role in how to choose an inflatable stand up paddleboard. As such, racing boards need to be long and thin to provide you with the speed and flexibility required to outdo your competitors. That's why the Red Paddle Co Elite MSL racing SUPs (14" or 12'6") are long and tapered to provide you with the speed you need whilst making it easy to maneuver, control and glide. Footrest rails allow riders to sink their feet into the board, whilst a Rocker Stiffening System (RSS) offers enhanced resilience in racing conditions.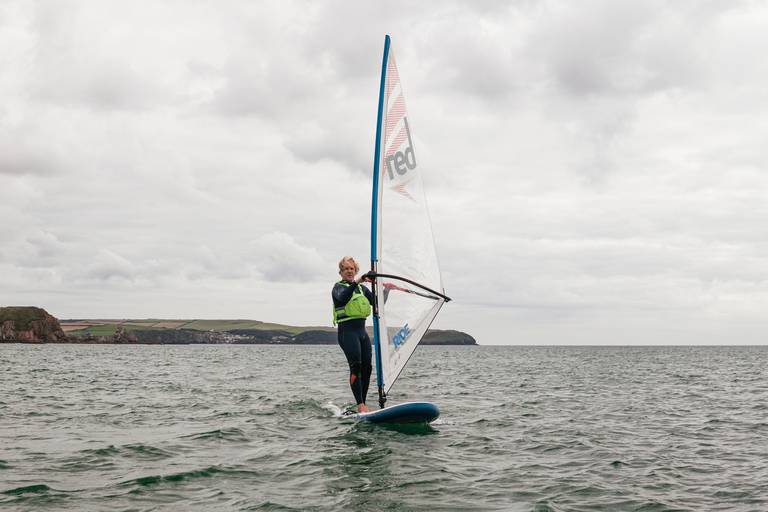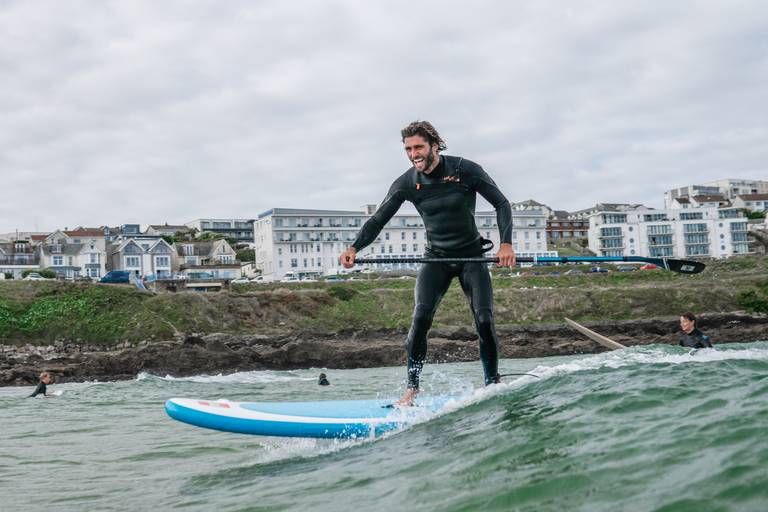 Height & Body Weight
Another important factor to consider when thinking about how to choose an inflatable stand up paddleboard is your height and weight. This will influence the size of your ideal board . If you are a heavier rider then choosing a SUP with more length will offer you more stability. Equally, if you are a light rider then a shorter option, like the 9'6'' Compact MSL will provide you with the support that you need. The maximum weight for each of our boards is shown next to the relevant product listing, so that you can check if your selected paddleboard is suitable for supporting your weight.
Use Our Board Selector Tool
The process of how to choose an inflatable stand up paddleboard has never been easier with our online board selector tool. Combining all the essential factors that we have mentioned, this clever tool finds you the perfect paddleboard based upon your weight (in kgs), the activity you will use the SUP for, and your experience level.
Use the board selector tool as a starting point for finding your perfect Red Paddle SUP, and don't hesitate to get in touch with the team for further guidance on how to choose an inflatable stand up paddleboard.