Return to blog
How To Exercise Your Dog In The Winter Safely & Comfortably
Dogs
Safety
Posted by Luke Green
Walking your dog in the winter can seem less appealing than taking them out for leisurely strolls during the summer. However, in spite of the weather being less appealing, it's still important that your dog gets the exercise they need. Due to the colder temperatures and additional hazards like ice and snow, just make sure that you take a few additional steps to keep yourself and your dog safe. The following tips on how to exercise your dog in winter, contain everything you need to know about walking your four legged friend throughout the colder months.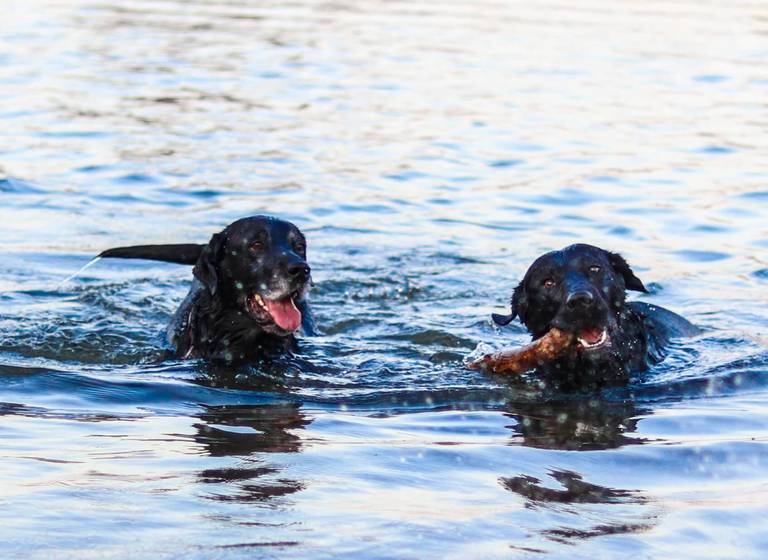 Protect their paws
The likes of snow, ice, grit and chemical deicers can all be harmful to your dog's paws, causing them to sting, dry or crack. That's why it's a good idea to get some dog boots to cover their paws, and always make sure to wipe down their paws when you get in. If there is any chemical de-icer or grit on their paws, cleaning them will prevent them from licking it and becoming ill.
Bring the essentials
When heading out on dog walks at any time of the year, you always want to make sure to bring a phone in case of emergencies, however, this is particularly important when it comes to cold weather dog walking. Keep all the essentials including phone, keys, leads, spare gloves etc. in the Red Original waterproof pouch. The waterproof pouch is easily attachable to your person using the double velcro strap system, whilst a YKK AQUASEAL® makes it 100% waterproof. That means that whatever the weather, you can carry your belongings easily and hands-free, without any concern of them getting damaged.
Make yourself visible
Another key part of how to exercise your dog in the winter is to make sure that you and your dog are both visible to vehicles and pedestrians. During the winter, visibility is reduced by bad weather conditions, and with reduced hours of daylight, it's more likely that you'll be out in the dark to fit your dog walks around work commitments etc. You can get hi-vis jackets or leads for your dog, and it's a sensible idea to get yourself a hi-vis. Our waterproof active jacket features a reflective trim, that's ideal for making you more visible in low light conditions during winter walks.
Keep yourself warm
When talking about how to exercise your dog in winter, it's also important to keep yourself safe. Make sure to wear plenty of layers and hats, gloves and scarves on the days when it's extra cold. The Red Original performance t-shirt is great to wear as a base layer. It's made using moisture-wicking material to provide breathability and keep you comfortable when you're walking. You can add our super-soft performance top layer to provide an extra layer of warmth without causing you to overheat.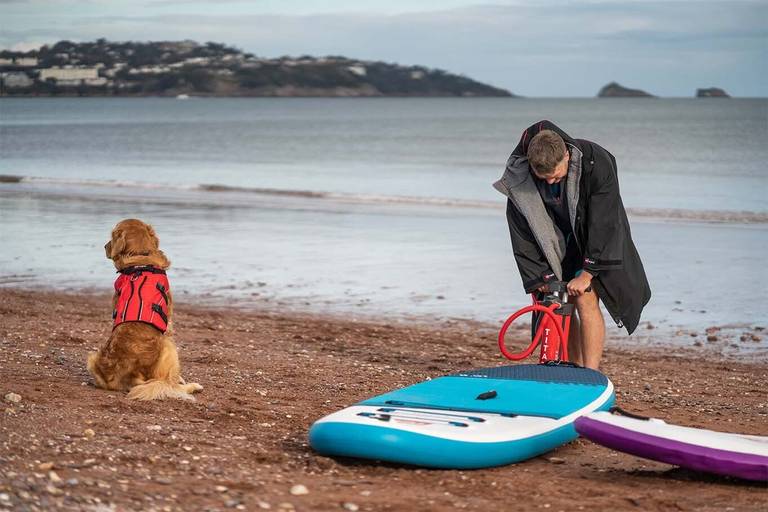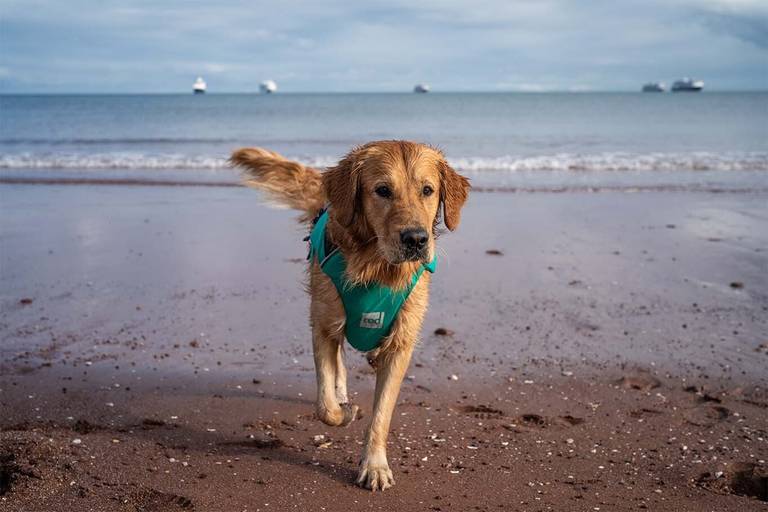 Know when it's too cold
Part of knowing how to exercise your dog in the winter safely is recognising when it's simply too cold or dangerous. It's important to provide exercise and fresh air for your dog as much as possible. However, there is such a thing as being too cold. If it's too cold for you then it's probably too cold for your dog. If your dog is shaking, cowering, repeatedly lifting their feet up or trying to get back inside, these are all signs that they're too cold. This is especially important to look out for in puppies and older dogs.
How to exercise your dog inside
On days when it is simply too cold or dangerous to take your dog out, you can still exercise them indoors. Playing fetch up and down the stairs or hallway is a great way to tire your dog out, without requiring a huge amount of space. You can also play hide and seek by hiding treats around the home and getting your dog to find them. And, while you're stuck inside, why not spend the time teaching your dog some new tricks? This is a fun activity for you both, that will keep your dog stimulated.