Return to blog
How To Make A Mini First Aid Kit Using Our Waterproof Pouch
Products
Red Original
Posted by Luke Green
When heading out onto the water for the day, a massive concern is what to do with your personal belongings. Often, we come to the conclusion that leaving them behind in the boot of the car, and trying to disguise a key is the most logical solution, but we can assure you that it certainly is not… That is why here at Red Original we wanted to create a solution that would enable you to keep all of those essential items safe with you without the fear of them getting lost, damaged or stolen.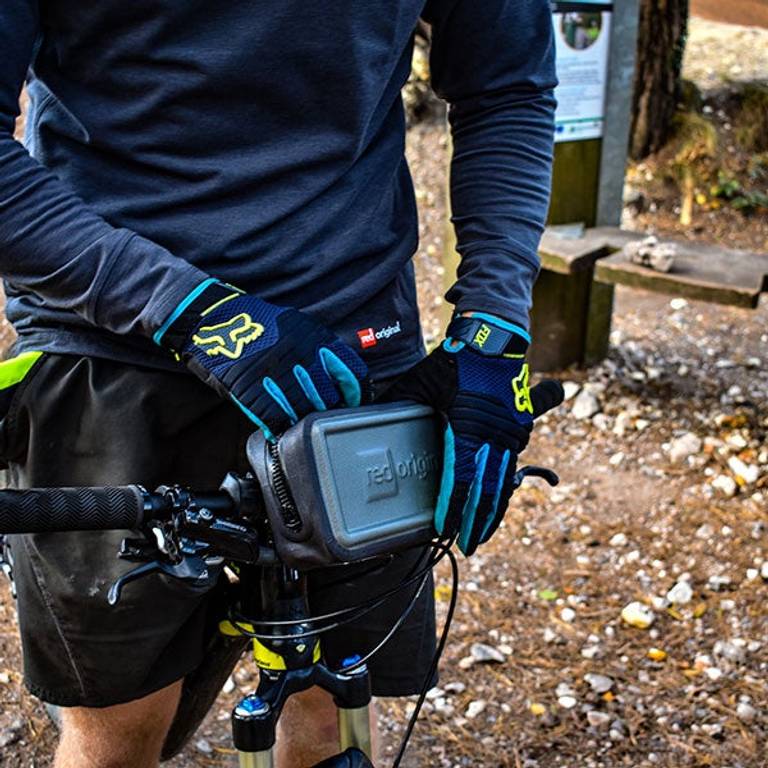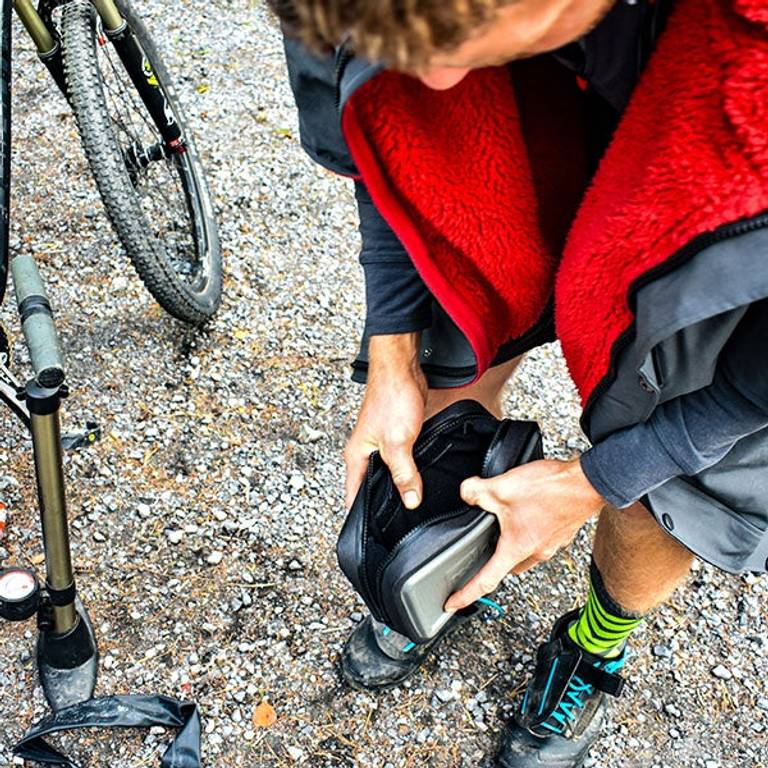 We wanted to create a product that was not only big enough to keep your mobile phone in, but also had enough space to ensure that you could easily carry other items such as car keys, money or a VHF radio. This solution was the waterproof pouch - which provides 100% watertight protection for your valuables and other essentials you may want to keep dry. Not only is our Waterproof Pouch totally secure but the super-durable design will perform to keep contents 100% dry, even if submerged (one has even been taken down to 40 meters). Being 100% waterproof and having plenty of space means its also the perfect place to keep a small number of first aid items if your heading to the beach with the family or on a multi-day adventure and space is limited. The waterproof pouch also attaches quickly onto the deck bag for quick and easy access.
What To Put In Your Mini First Aid Kit
We strongly recommend carrying a mini first aid kit around with you in your waterproof pouch, this does not have to be too bulky - however, you should be able to fit in all of the essentials. A mini first aid kit can really come in handy when in remote locations and potentially save lives when an accident occurs. So what could be classed as essentials? Here are our thoughts:
1. Emergency Blanket
The primary use of an emergency blanket is used to reduce heat loss in a person's body. The blankets work to keep you warm by their design. As an impermeable metalized plastic sheet, they trap up to 90% of the radiated body heat that would normally be dispersed into the environment. So they mainly keep us warm with the heat we're already always generating and losing. Therefore in the case of an accident or emergency, this will help the casualty to not lose too much heat, this is especially important if the casualty has been in the water.
2. CPR Facemask
A CPR facemask is a device used to safely deliver rescue breaths during a cardiac arrest or respiratory arrest on a casualty. During an accident or emergency, CPR face masks help to keep both the casualty and first aider safe, as they allow mouth-to-mouth ventilation to take place without either party's mouth coming into direct contact.
3. Sterile Gauze Pad
Sterile pads can be used for many medical purposes, working to stop bacteria to enter into an open wound. Therefore if you are out enjoying the water this summer and accidentally cut yourself, this will provide a quick solution of covering the injury and may allow you to carry on (depending on the severity.)
4. Bandages
High-quality bandages are a staple of any first aid kit, so of course they shouldn't be missed from your kit to fit inside your waterproof pouch. We would recommend including bandages of various shapes and sizes so that you're prepared for any injury that you could incur. While this might seem a little overly cautious, it is always better to be safe and than sorry. There are 2 main types of bandages that you should be aware of other than gauzes, these are:
Triangular bandages - Also known as a cravat bandage, a triangular bandage is a piece of cloth put into a right-angled triangle and often provided with safety pins to secure it in place. It can be used fully unrolled as a sling, folded as a normal bandage, or for specialized applications, as on the head.
Tube bandages - applied using an applicator, and is woven in a continuous circle. It is used to hold dressings or splints on to limbs or to provide support to sprains and strains, and it stops bleeding.
5. First Aid Tape Roll
Medical tape is an adhesive tape that is specifically designed to be used directly on skin to hold wound bandages or other first aid or medical appliances in place. Medical tape needs to be skin-safe, easy to use, and strong enough to work well when skin is moving, bending, or damp. Therefore first aid tape roll will still prove to be effective even if the casualty is still damp from watersports activities.
6. Medical Tweezers
Tweezers are an important tool to have in any first aid kit regardless of how basic your kit is. Tweezers can be used to remove debris such as glass, dirt, or splinters from a wound, these are especially essential as they can remove small pieces of debris from the skin that fingers can not grasp. Just make sure you clean with an antiseptic wipe before use.
7. Antiseptic Wipes
Antiseptic wipes kill germs and sanitize skin or whatever surface to which they are applied. Antiseptic wipes can be used to clean wounds, help perform sterile catheter procedures, and prepare skin for surgery, so including them in your first aid kit is a total no-brainer. We'd recommend carrying these with you to ensure all wounds are clean before adding a bandage or gauze.
8. Gloves
Keeping yourself protected should be the first priority for packing a first aid kit which is why including some latex gloves around is vitally important. One of the key dangers to a first aider is bodily fluids, such as blood, vomit, and urine, and faeces. However is it extremely important to dispose of the gloves after its first use, regardless if you feel that they haven't come into contact with blood, vomit, and urine, and faeces - this is to avoid cross contamination.
Once you have put your first aid kit together, it's important to ensure the contents remain in good condition. Antiseptic wipes can dry out and plasters can become unsealed, which is why we recommend thoroughly checking your first aid kit before and after each use.
Paddle Board Care Kit
Whilst it is important to take care of yourself, it is also important that you have the tools to look after your paddle board. Below are a few items that we would recommend packing in your waterproof pouch.
Adventure Tape
Our number one tip would be to carry 'Adventure Tape'. Whilst every paddle boarder tries to avoid hitting or damaging their board, sometimes even the most skilled paddleboarders have an accident. Adventure tape is abrasion-resistant, waterproof and incredibly elastic, allowing it to grip tightly onto your board and create a short-term watertight repair in seconds. Adventure tape provides a temporary patch if it is not serious damage and you are not able to repair it right away, which is why it will be handy to carry around in your waterproof pouch.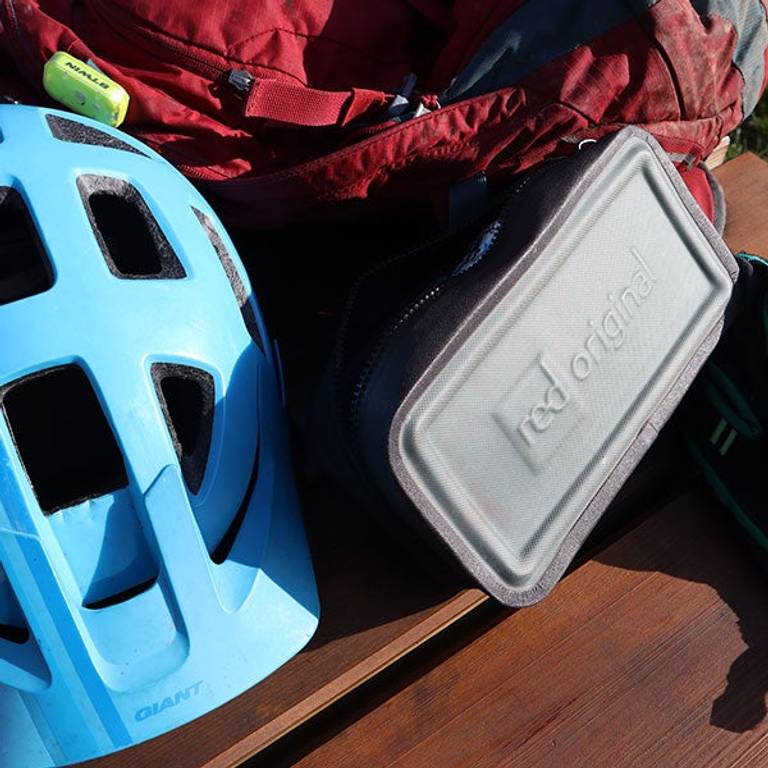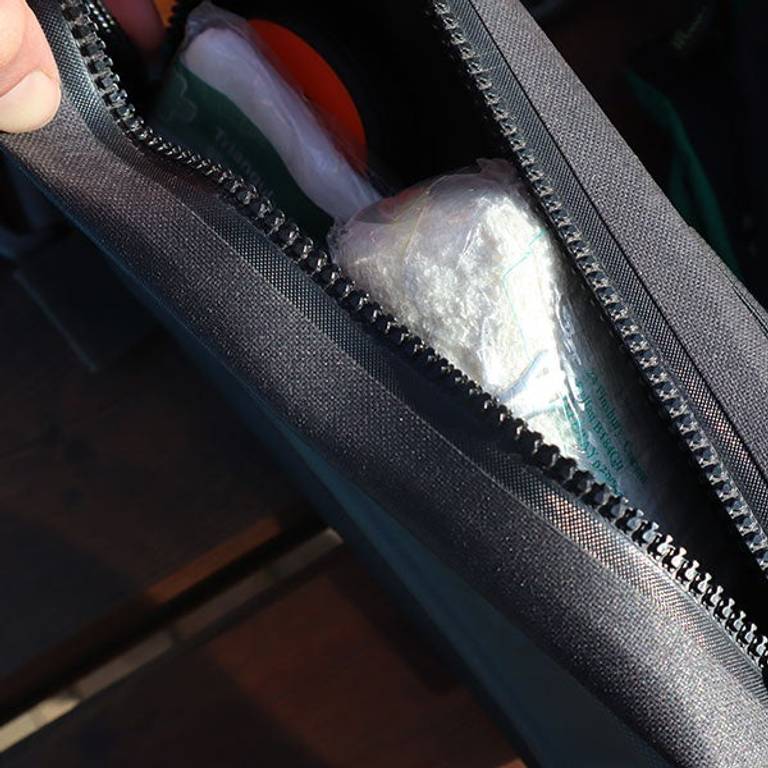 Repair Kit
Just as you'd carry a first-aid kit for yourself, it's always worth carrying a repair kit for your paddle board. You can always make your own, however, when you purchase a paddle board from Red Paddle Co, you'll also receive a paddle board repair kit containing contact adhesive, a PVC patch and a valve removal tool. These come in waterproof containers that help to keep the contents of the repair kit safe until they are needed.
GPS locator
Consider adding a GPS locator to your waterproof pouch such as a Garmin Inreach Mini Mini. GPS locators are emergency and routine text communications from the backcountry, and can come in a tiny package - which is perfect for a pouch with limited room!
GPS locators provide communication to secure help in an emergency, to coordinate most logistical needs, and to assure loved ones of your safety. Of course other GPS locators are available, why not consider adding any app to your phone? You can take a closer look here.
We hope that you take all of these tips into consideration when packing your waterproof pouch and stay safe when paddle boarding this summer. You can check out more blogs and news here.