Return to blog
Iceland Adventures with Red Ambassador Jimmy Martinello
Brand
Nature
Outdoor
Paddle Boarding
Places
Posted by Lydia Burdett
By Jimmy Martinello JIMMYMARTINELLO.COM
Growing up in Canada, the word 'cold' is something you get used to, or if not, you dress hopefully right for the occasion and its conditions so that you can get out there and adventure, enduring the elements. Personally, I'm not really sure if I ever quite get used to the cold but one thing I know for sure, it truly makes you feel alive. It gives you a heightened awareness that awakens and electrifies the soul. Wind, rain, snow, ice cold water - "Brrr" - but wow it sure can take you to some wild places the beauty of it all.
Usually, in the fall on the West Coast of Canada, it's going into the rainy season than winter. Many people, including myself, escape to a warmer climate before winter truly hits. This fall would be a different story for me with an invite to go to Iceland in November which is going into its winter season as well. I've always dreamed about going to Iceland, like many of us so I jumped at the opportunity.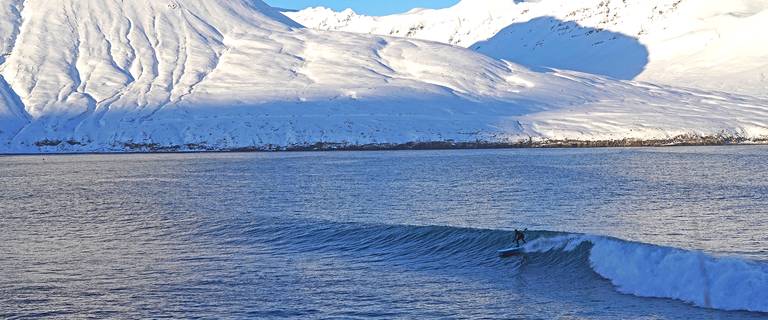 Iceland is a land of Dramatic Landscapes. It's like being on another planet with all its unique and rugged contrast. Mountain peaks to volcanoes; geysers and hot springs; lave fields to massive glaciers pouring out to the ocean. Nature just flourishes and to add to that, there are the Northern lights with its colorful light show extravaganza.
The diversity that Iceland holds so much of would be the showcase of the elements in our quest from the Mountains to the Ocean. Water and Breath are the theme of our project. Showing the diversity and how they are both a key links to survival and adventure. This would be the main focus on our work slash passion project to this incredible Island, Country, the land of "Fire and Ice" Iceland.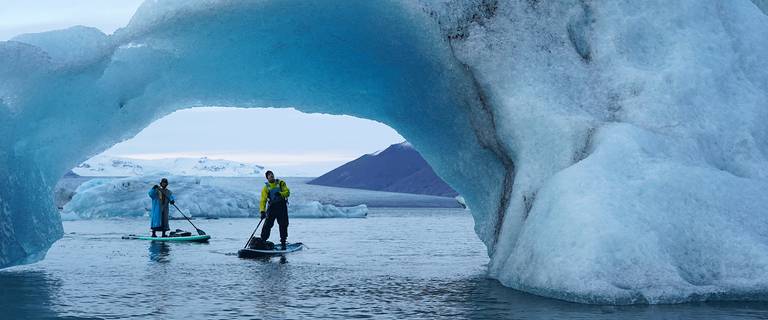 Our project consisted of 4 people Tim Emmett (Ice Climber & SUP Surfer adventurer Extraordinaire), Luca Malaguti (Free Diver) who dives to 85 meters just breaking the Canadian record another amazing spirit and adventurer as well, who I am so proud of. Brian Hockenstein (Filmer, Adventure and Explorer) also joined us to help capture this magical journey that all soon came to be reality. Brian was also collecting footage for another project called "Air We Breathe", which will be released at a later date. My support in the project was the photography but also came on as an athlete and like the others contributed in any way possible to have success for the whole team. We accomplished great success because we collaborated and supported each other in every way possible. Which truly made for this to be a passionate and very exciting quest.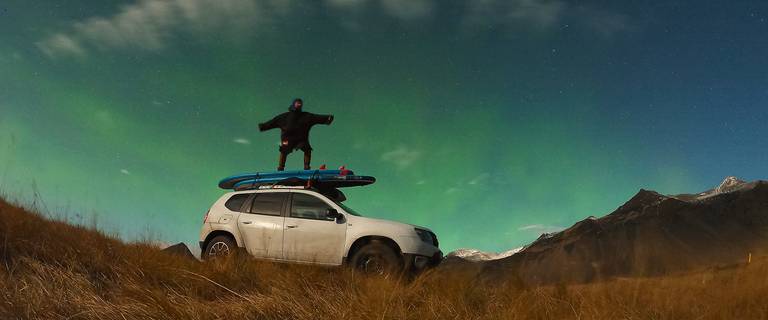 Enduring into the elements we went from Ice climbing to Icebergs; Sup Paddle Exploration to surfing; free diving between tectonic plates to dipping into the freezing cold waters; linking together all the elements of nature in its finest form. Making things happen and having the right gear dove us into the world of cold and extreme elements, which in the end makes it all very possible. Stand-up Inflatable paddle boards for access breaking through the ice to climb icebergs to surfing the untamed coast of Icelandic waters. Having Dry Suits is the key to success in winter paddle in staying warm and dry. While free diving suits are the key element to endure the freezing cold waters. Then you've got the world of warm underlayers like merino wool and good old waterproof Gore-Tex gear and so grateful for it all. Dry bags are essential for carrying all the important gear. Summing it up being prepared can make anything possible and makes it capable to go out in any weather condition.
In Iceland, weather is on its own plan. It will go from wind that will rip your door off your car to rain that slashes sideways you need goggles on to see. Snowstorms come at any minute of the day, which makes for a climate of intense consistent change. The locals say if you want to know the forecast check every 15 minutes.
Weather at any time can make you feel so alive, and humbled, pushing into the unknowns and getting out there rain or shine, many good times await for all.
Iceland, the people, the culture the landscape, thank you.
All image credits go to Jimmy Martinello jimmymartinello.com/