Return to blog
Choosing your Paddle Boarding Clothing
Nature
Paddle Boarding
Products
Red Original
Posted by Ross Montandon
As the old saying goes there's no such thing as bad weather just bad clothing. Well that is certainly the case when wrestling with the changeable weather when paddle boarding. Even in the height of what seems tropical summer, a swift change in weather can leave you feeling chilly, damp and let's face it, a little bit grumpy. So we're going to run you through the art of staying warm on the water.
The Stand Up Paddle Boards Guide to Thermals, Leggings, Jackets, and Wetsuits
With so much equipment available for watersports, filtering through what will work best for you can be a bit of a minefield. It can also take some refining if you do this via trail and error, so we're going to help speed up the process, look at the range of options and the pros and cons on each.
The Wetsuit
The wetsuit is a fine creation for any watersports lover if you're spending any length of time in the water. The wetsuit is a popular choice for many, known for its durability and all in one nature. The wetsuit excels when you're immersed in the water using your natural body heat to warm up a thin layer of water trapped between your body and the suit.
Wetsuits can vary in quality and thickness for summer use most paddlers opt for a 2mm or 3mm. During the winter months perhaps a 4mm is more suitable. Wetsuits do vary dramatically in quality and cut, like most things you tend to get what you pay for.
The downside to any wetsuits is that they can be a little uncomfortable when you're not planning on getting wet. So perhaps if you're thinking of touring on your voyager or a gentle after work paddle then the wetsuit may get you too hot when on the water. The wetsuit really comes in to play when wet, if you're falling in a lot or hitting the surf a wetsuit is the perfect bit of gear!
Base layers, Thermals and Performance Clothing
If you're only expecting a few splashes when out on your paddle board, then layering up can often be a lot more comfortable than a close-fitting wetsuit. Your temperature can fluctuate a lot when paddle boarding, from nice and warm when we are exercising to a little bit chilly when the wind picks up. By using multiple layers it allows you to build a level of comfort for the forever changing conditions so you are always appropriately dressed.
Moisture wicking and breathable thermal wear
With base layers, thermals and other under garments you will often come across the phrase breathable or moisture wicking. This function allows for sweat to draw away from the body. During exercise if the sweat can't escape the body it becomes trapped, so when you stop for lunch or a coffee break the cold sweat clings to the body cooling you right down!
Our Performance Top Layer has been designed to allow full breathability when exercising. The Dri-release fabric used in all our performance clothing draws moisture away from the body which in turn insulates you from the cold. This technology trumps cotton in every way, which put simply, absorbs cold moisture and cools the body down at a rapid pace.
If you're after a multi-sport t-shirt which can be worn underneath the Performance Top layer the then the Performance T-shirt fits perfectly as a breathable base layer. The Performance T- shirt also has the added benefit of protecting your skin from burning with a 50+UVPF rating, perfect for those long days in the sun!
Tight or loose fitted base layers?
There are a few theories on this and also much of it comes down to personal preference. Insulation works by trapping air between layers and using the body temperature to warm the air trapped between your body and base layer. Skin tight clothing doesn't allow for this although some do prefer to have a snug first layer and then add slightly looser clothing on top to trap the warm air in. The tighter the fit the less air can keep warm between the layers. However with clothing if it is to loose you could be acting as large sail!
On the bottom half naturally when it's lovely and warm the shorts or our or swimsuit. However in those middling climates some paddlers like to opt for leggings or even wetsuit bottoms can be a popular choice.
Paddling Jackets, Outershells, Rainproofs , Dry Trousers and Drysuits
The base layers can help keep you warm but when the wind picks up it's worth thinking about the outershell. A waterproof and windproof top is a prime candidate for keeping off the wind and paddle splashes. If you're on the hunt the fit is really important you need to allow room underneath to add layers when cold or strip them off when warm. For paddle boarding consider a longer back to the paddle jacket as often the lower back is open to cold winds whipping up a chill.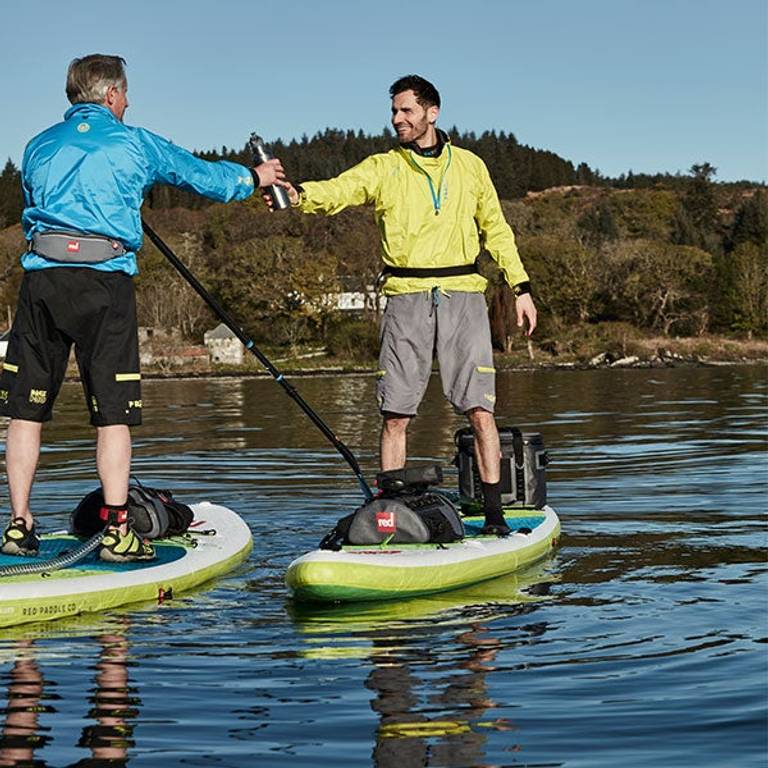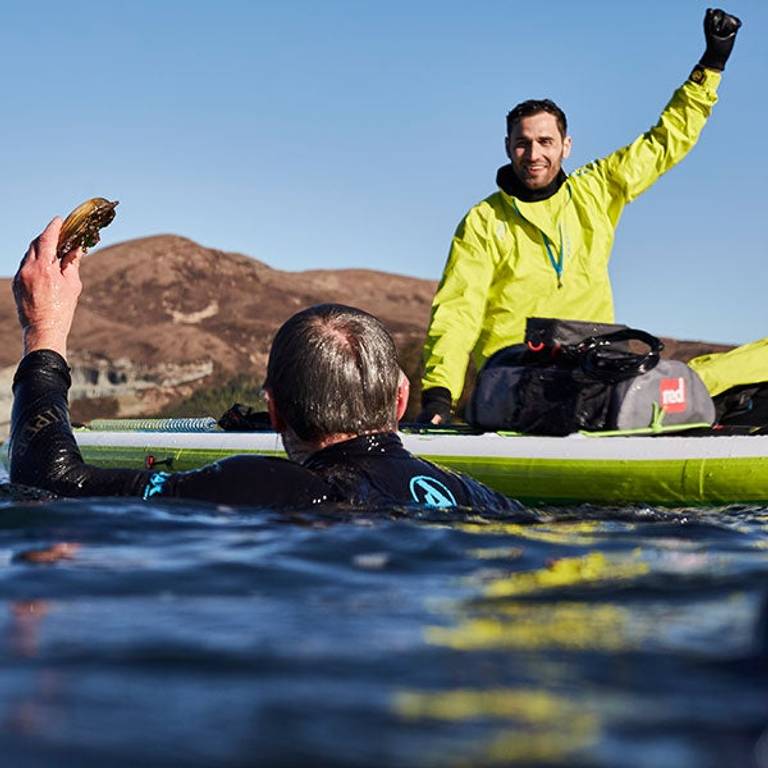 The Drysuit and Dry Trousers
Popular with many kayakers and canoeists the Drysuit is a one-piece suit designed to keep you completely dry. Unlike a wetsuit whilst you may be dry if your base layers are not quite right it doesn't matter how dry you are, you will always be that little bit chilly.
Dry Trousers
Dry trousers come in many forms, some with integrated socks and some with braces which are handy! As ever these are a great addition but in order to truly stay warm you will need to add thermal layers underneath the dry trousers. A relief zip is also a top tip to avoid that awkward fumble.
Finding a Layering system that works for you!
It takes time to find the kit that works for you. If you ever get lost in the dark depths of reviews and kit tech, remember to think about what is it that you want your layers to do? Do they serve a purpose? We also find that what works for one sport may not work for paddle boarding. As always if you ever need any guidance or having any questions on what to wear then please feel free to contact us team@red-original.com
If you're a little unsure where to get started then take a look at our Performance Top Layer which has been specifically designed for paddle boarding.