Return to blog
Kev Brady takes on Sri Lanka - Day 8
Responsibility
Posted by Jess Davies
Day 8: The Source, by any means - 14/12/2016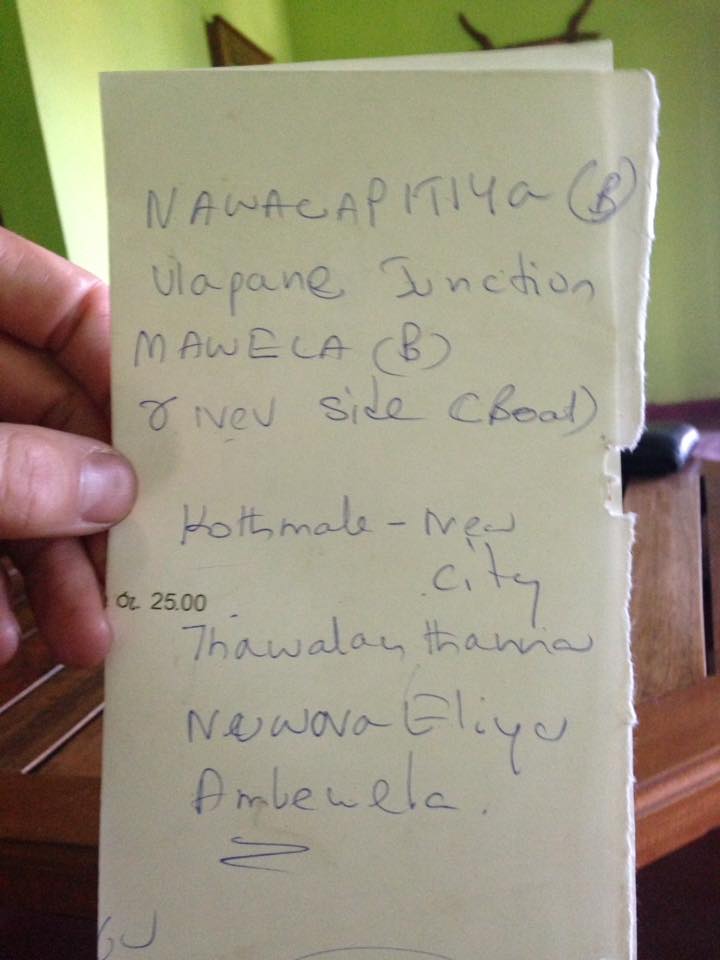 I was up at 6am and packed my bag. It was heavier than it should be, but I was in no rush. If I got tired, I'd rest. I chatted with Lakshman over my final breakfast at his house, and some scrumptious sambol. He went over the six-bus plan with me that he'd written down. Hopefully I'd make it there before dark so I could find a decent spot to hang my hammock, otherwise I'd be sleeping in the bus station or somewhere. I said goodbye to Indira and carried my bags outside, Rover couldn't be seen anywhere but I could tell Lakshman was keeping a good eye out. A tuk-tuk was waiting at the bottom of the drive and we wandered down to meet him. Just as I was loading my bags into the back, Rover came trotting down the driveway. 'Great' I thought, 'gonna get bitten again seconds before leaving'. Lakshman tried to stop him but the dog just walked through him, he ran straight past me and began a nasty fight with another dog in the road. I shook Lakshman's hand and thanked him dearly for all his help. The start would have been a lot tougher without him. We drove off to the sounds of growling, snapping and snarling.
The first bus went as planned, Kandy to Ulapane. As I got off, a very kind-faced man offered me a tuktuk where I needed to go for around £2, so I agreed. I was dropped off at a mechanics, the owner was a friend of a friend of Lakshman's. I handed over my paddle board and a bag of things I wouldn't need until I hit the river. Now, for the next bus. After some confusion and a phone call to Lakshman, we decided it was best to get to the nearest train station, Gampola, which had a service that went straight to Ambewela. I made it with eight minutes to spare and treated myself to a second class ticket, rather than third. The difference was around 50p.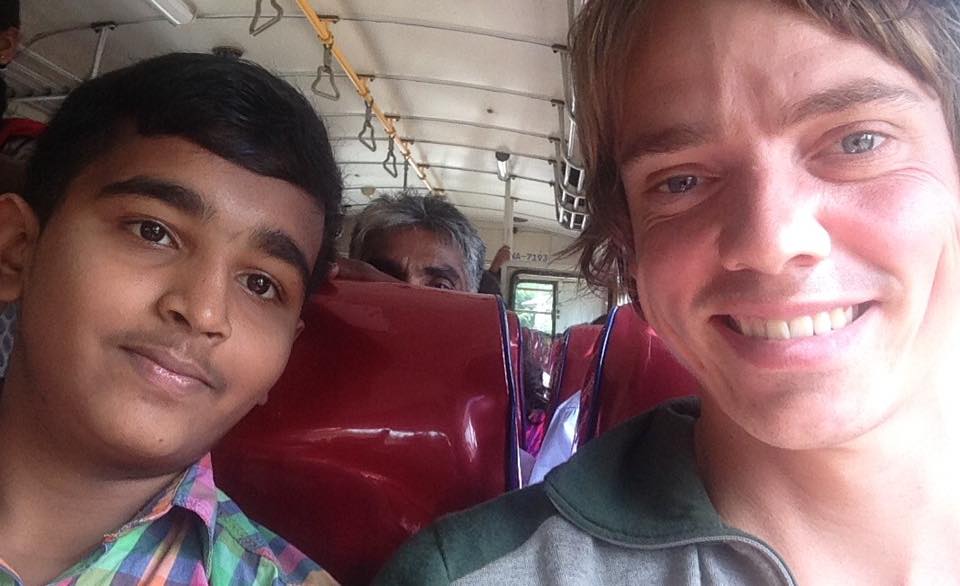 I kept an eye on my altimeter during the whole train ride. We climbed steadily for five hours from 550m to 1800m. To the right of the train were stunning hills and mountains, everything was so green. The temperature dropped, clouds covered and rain came in. I left Gampola in 26C sunshine and arrived at Ambewela in 13C rain.
Ambewela was barely a village. It had two tiny shops and around six people that I could see. Getting a room was suddenly no longer an option, and wouldn't be for a fair few days now. I put my rain jacket and boots on then walked down the steps onto a little lane. It may have been a bit late but it was time to find the start of the river. I had traced the river upstream using google maps, The Mahaweli is fed by the Kotmale Oya and the Kotmale Oya is fed by the Agra Oya. They are called Oyas because, unlike rivers, they sometimes have no water running through them. The furthest I could trace the Agra Oya was to a dam at a reservoir named Black Pool. It was a 3km walk from the station.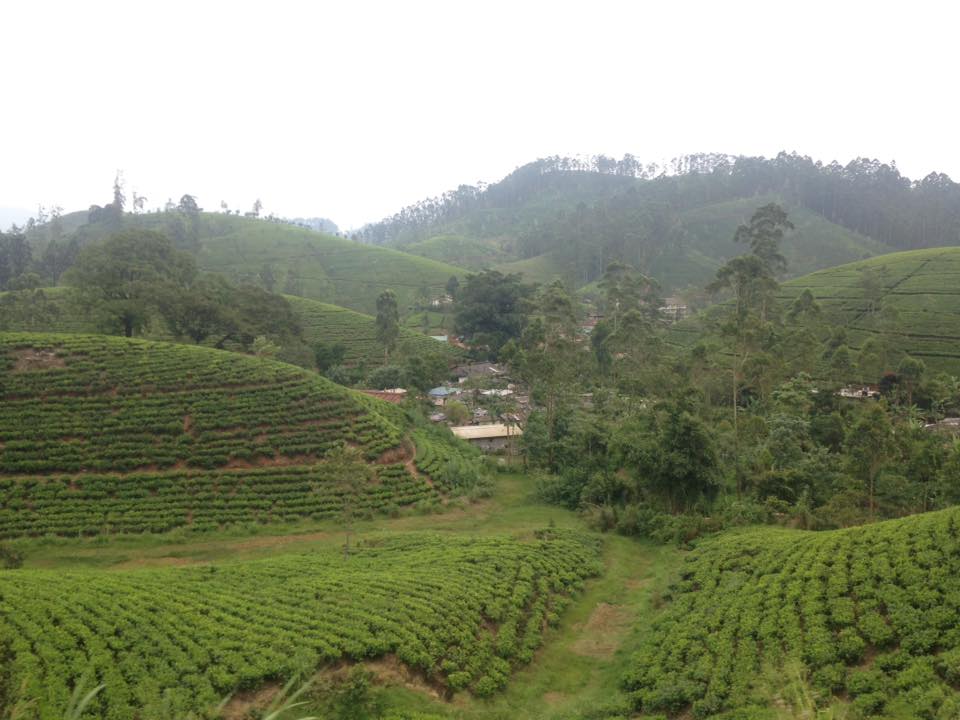 I excitedly hiked through the rain, wondering what the start would look like. I came to the reservoir on my left. It looked like a beautiful lake surrounded by lush green forest. On the far side I saw an animal slowly moving along the bank, as I got closer I realised it was a large monkey. My first monkey! Another 100 metres and I stood on top of the dam. I looked down at what I expected to find a small stream of the Agra Oya to follow along, but all I could see was a large concrete ramp down from the dam into forest. I stood for a few minutes not knowing what to do. In the end I clambered down onto the side of the ramp and headed to the bottom. It was a mixture of dense plants, trees and what looked like a swamp. It would be impossible to enter. How could I possibly follow this? I climbed back up to the road to re-evaluate the situation.
It was beginning to get dark now, I needed to find a place to camp very soon. I walked further along the road and spotted a small trail through the bush that seemed to go down towards the Oya. I followed it down deeper into the forest until I saw a tin roof at the bottom of the valley where the Oya should be. A few steps nearer and suddenly two dogs began barking. Of course this was going to happen. Walking into private farmlands where very few people go. Thinking that pulling my machete out might be a bit overkill, I looked around for the biggest stick I could find. The closer I got, the more the dogs barked and the less dangerous they seemed. "All mouth" I said to myself, and dropped my stick.
I reached the Oya, which by this time was actually a tiny stream. I decided against the 10ft bamboo bridge and climbed down into the water which was only a few inches deep. An old lady and young man came out to meet me but spoke barely a word of English between them, but they seemed pleased to see me. I gestured with two hands next to my tilted head that I was looking for somewhere to sleep and the young man said "come, come" as he walked up the mud steps.
For around 1/2km I followed him, wondering where he was taking me, when we bumped into an elderly man. "What do you want?" He asked. Again, I sleep gestured. We walked further up a dirt track away from the Oya. He stopped at a small piece of stony wasteland with a large pile of mud, and signalled that this would be my place this evening. There were no trees around to hang my hammock (not a problem I foresaw heading into the jungle). I showed them a photo of my hammock, but they just didn't understand. In the end I started kicking the soft mud around and told them this would be fine. They then decided to communicate that buffalo come though here at night.
Complete darkness fell and more and more farmers kept arriving. Before I knew it, nine of them surrounded me occasionally shining a light in my face gabbling in Singhali. The fact that I didn't know where I was going was a real sticking point with them. I'm sure I heard one of them say the words 'Special Forces' while speaking. They must have been nervous or who I was and my intentions. I took that as a cue to bring in a translator, I gave them Lakshman's number.
After two minutes on the phone to him, a young carrot farmer named Roy invited me to stay in his shed for the night. The two of us left the confused rabble behind us and walked up to his farm. The tin shed was cluttered with tools, but with a bit of tidying up, we made a decent enough floor space for me to sleep on.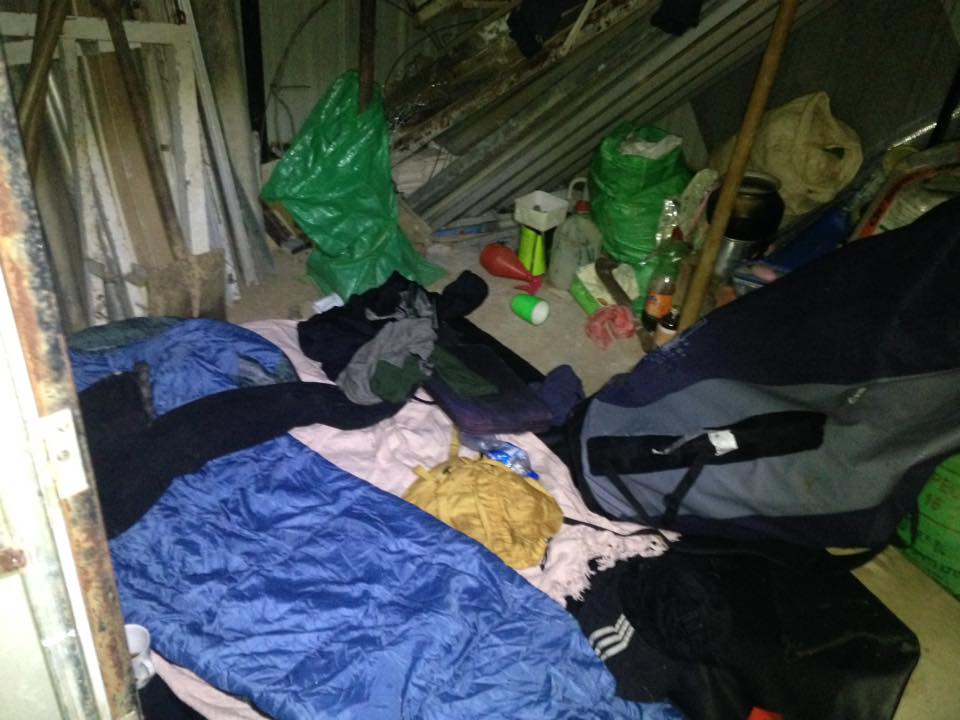 Roy brought me a plastic sheet and blanket to put under my sleeping bag and I found a roll of sponge in the shed to put under them. It was very cosy. After an hour of lying there in the dark trying to recap the day, Roy called me from outside. He had brought me out a cup of tea with some fish curry and rice.
Until next time!