Return to blog
Red Paddle Co Ambassador Featurette – Diana Lee
Posted by Alex Clasper
Red Paddle Co Ambassadors are more than just paddlers. They are community leaders, instructors, and lifelong adventurers. We're featuring Toronto, Ontario, Canada ambassador, Diana Lee, to share a bit about her SUP journey and how she embodies adventure.
Tell us a bit about yourself.
Born and raised in Toronto, I live for adventure, the great outdoors and stand-up paddleboarding all year round (winter is my favourite season)! I enjoy lots of different activities from camping, biking, skiing, snowboarding, aerial arts, biathlon...the list goes on!
When I'm not paddling or exploring the outdoors with my German Shepherds, I'm a librarian in one of the busiest library systems in the world. I'm also a reporter for Get Out There Magazine, covering outdoor events, travel adventures and gear reviews.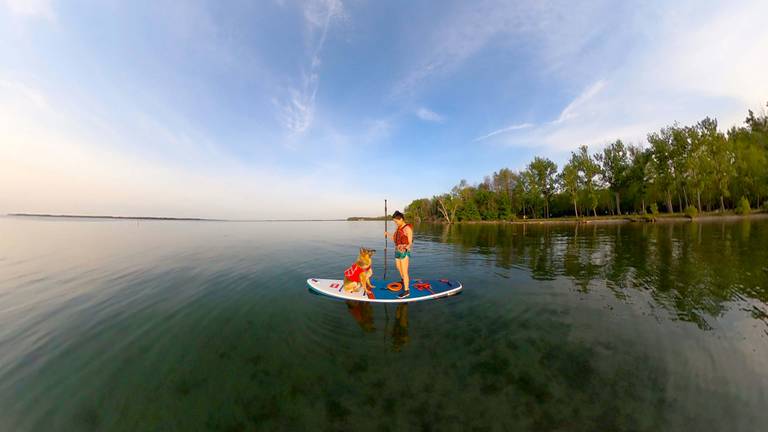 As a certified SUP instructor, I love introducing more people to the world of SUP or giving them paddling ideas through events and workshops or writing articles for tourism boards! I'm also part of the Lake Surfistas, an all-women surf and SUP crew. We're all about getting more women out on the Great Lakes, building up our water women community, and increasing representation in the surf and SUP world.
How did you get into stand-up paddleboarding?
I've always been drawn to water. My mum put me through swim lessons and then lifeguarding early on. I got into canoe camping and kayaking, then spent several years competitive dragon boat racing.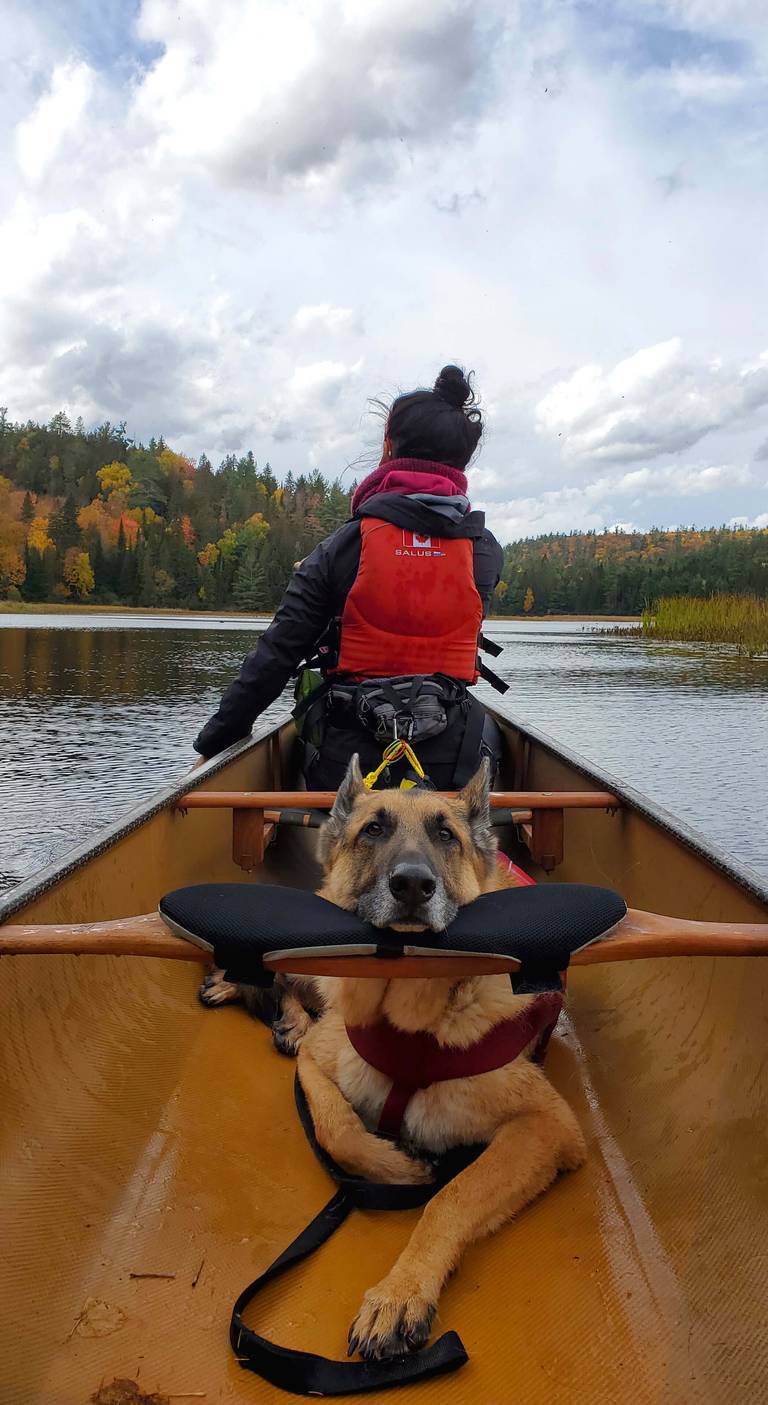 Around 2011, I decided to take a break from dragon boat racing and took my first SUP lesson with SUPGirlz in Toronto. Since then, SUP is now my favourite way to enjoy the water and explore.
What draws you to SUP?
So many things! SUP is such a versatile, make-it-what-you-want-it-to-be and what you feel like kind of activity. You can go solo or go with a whole party of people. You can go for a casual paddle or a multi-day, long-distance, backcountry camping excursion. You can go when it's glassy and flat out or wild and wavy with surf! And the best part is it physically puts you so close to the water. There's just something about watching sunrise or sunset when you're gliding along, inches above the water. There are so many mental health benefits to being in nature, and SUP always invites me to the water.
A SUP is also lighter than a canoe or kayak, especially an inflatable SUP! This makes it more accessible to more people to discover and connect to the water.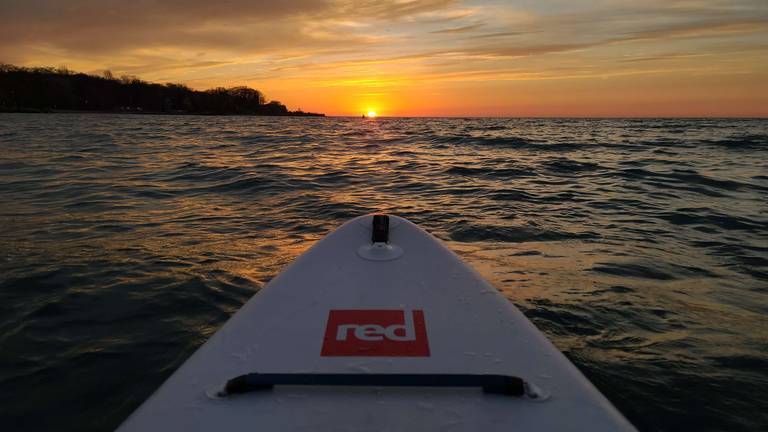 Tell us about your favourite paddling spots.
I have so many fave spots for different reasons! But if I had to pick one, it'd be the Toronto Islands. This is my home paddling spot! You get a bit of everything - a serene, nature paradise teeming with wildlife right in the city, with stunning views of the Toronto skyline (especially when it lights up at night)! It's my fave after-work paddle or a full day SUP + picnic adventure, great for any level of paddler.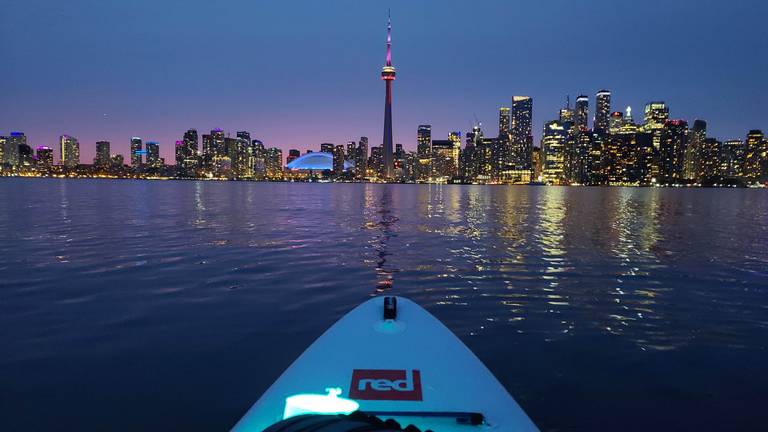 Share a memorable SUP moment:
Visiting The Galapagos Islands was one of the most memorable SUP trips I've been on abroad. I really got to see the advantages of having an inflatable SUP from packing our boards boat to boat, island to island. And the abundance and variety of wildlife are unlike anywhere else. From the curious sea lions swimming up to your board and blue-footed boobies dancing on the rocky shorelines...the Galapagos is unbelievably magical! It was also great to see the protection and respect for the wildlife there. Iceland is also another memorable SUP destination because seeing the sunrise and sunset during a 4.5-hour paddle in a place with limited daylight was a unique experience.
What is most important to you when it comes to SUP?
Safety - Whether it be checking the weather, route planning, having the right gear, taking skills and training courses, or checking in with yourself and how you're feeling. There are many ways to reduce risks while enjoying the spirit of water adventures.
Responsible adventuring - This can include researching the paddling destination (not just where to launch, but learning about the traditional territory) and ensuring you don't negatively affect the environment (e.g., using marked trails, not leaving garbage).
While I love sharing and taking photos and videos of my paddling adventures, it goes beyond taking Instagram-worthy content. Raising awareness of safety and protecting the environment is essential in ensuring others that follow you continue to adventure safely and responsibly.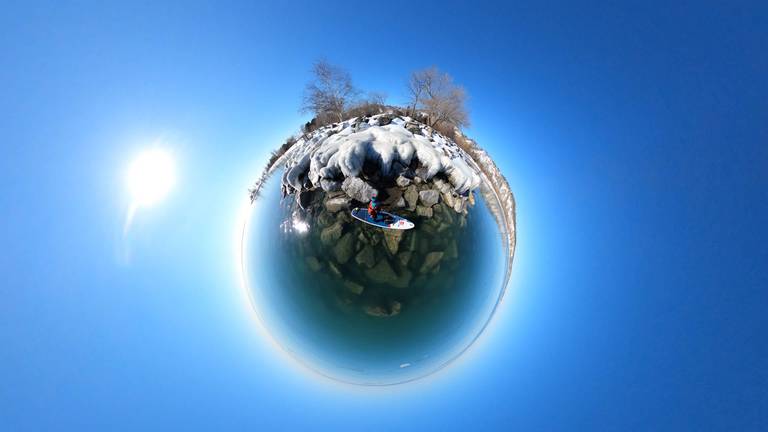 Your essential SUP gear list?
A comfortable, paddling-specific PFD/life vest that has pockets.
The 22L Red Original Waterproof SUP Deck Bag – This spacious bag carries everything I need to extend my paddle sessions. It fits snacks, warm layers, my camping stove for hot meals, especially when I paddle in the winter, and a bivy for overnight trips...there's just so much room in this bag! And it sits perfectly on your board!
The Red Silent Air Remover - This device significantly reduces the loud sound of air whooshing out of your board during deflation. It's so handy to have when paddling at sunrise or night, or anytime you don't want to startle people around you or the peacefulness of nature around you.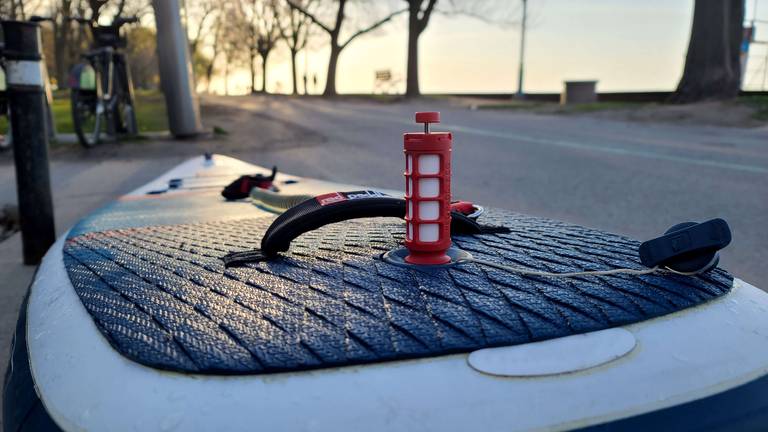 What advice or tips do you have for people getting into SUP?
Sign up for an intro lesson from a certified SUP instructor. By certified, I mean through one of the reputable organizations such as the International Surfing Association (ISA), World Paddle Association (WPA) or Paddle Canada. While SUP is easy to pick up, it is also easy to pick up improper techniques or bad form. Even if you're an experienced kayaker or canoeist, a certified SUP instructor will be able to give you pointers specific to SUP. And if you've already got some SUP experience, take an intermediate or advanced SUP course, swift water rescue, or ice rescue course if you paddle in the winter. There are always exciting and important things to learn about the environments we play in!
Don't be afraid to ask experienced SUP-ers questions - I love it when people reach out over social media to ask about gear or tips.
Tip for people looking into inflatable boards - always inflate to the proper PSI.
Thanks Diana!
Find out what she'SUP to on Instagram @only1phoenixx