Return to blog
Red Paddle Co FAQ - "What Size Paddle Board Do I Need?"
Posted by Alex Clasper
One of the questions we get asked a lot at Red Paddle Co is 'what size paddle board do I need?'. It's an important question to ask as choosing the right size board is crucial to ensuring you find a SUP that provides you with stability and performance. That's why we've put together the following step-by-guide to help you determine what size paddle board you need. So, when choosing your next SUP, it helps to consider the following factors:
Activity
What activities will you be using your SUP for? Will it be for general all round paddling, or a specialism such as surfing, racing or yoga? These are all questions you need to ask yourself when thinking about 'what size paddle board do I need'.
All Round: For all round use, the most popular size is a 10ft 6 paddle board. This offers you plenty of stability for paddling in a range of locations. Our Ride 10'6" is the world's most popular SUP and continues to win numerous industry awards. It is also available in 9'8" for the smaller rider and 10'8" for heavier riders, or those who enjoy extra company on the water (including furry friends!).
If you are looking for something that packs down smaller but offers the same all round versatility then check out the 9'6", 11'0", and 12'0" Compact Paddlebaords.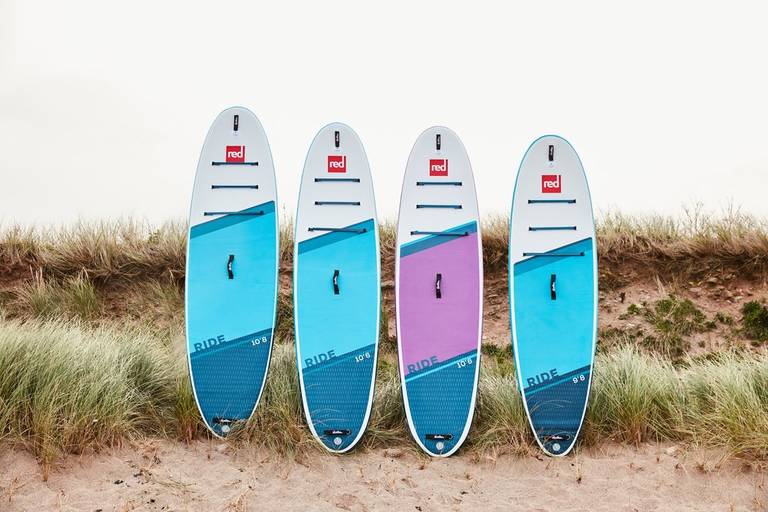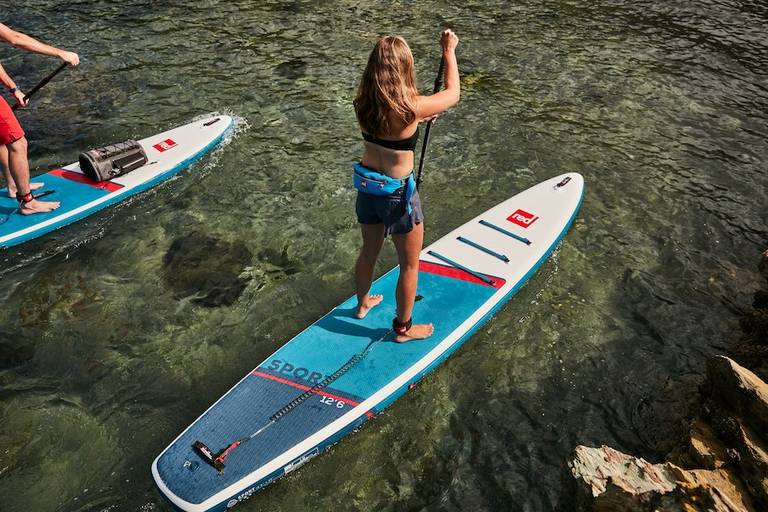 Surfing: Paddle boards designed specifically for the surf tend to be shorter with a narrower nose and tail. This makes them easier to maneuver in the surf. The 8'10" Whip MSL is a lightweight but durable paddle board intended for taking on the waves. A narrow tail and removable, adjustable tail made by world leading surfboard fin creators FCS provides optimum performance in the surf.
For larger riders the 9'8" Ride or 9'6" Compact are also great options as they will offer greater stability due to the additional width, volume and length.
Racing: Racing boards are longer and narrower than all round boards and have a pointed nose. The 12'6" Sport MSL is the longest board in our sport range, providing glide and speed whilst still being comfortable to paddle. The 12'6" Elite MSL is designed for competitive racing, with it's 14'0" counterpart being designed for slightly larger riders.
Touring: Designed for exploring, touring boards are intended for flatwater paddling, cruising and longer expeditions. Typically, they are slightly longer than all round boards whilst still offering plenty of stability. Our 12'6" and 13'2" Voyager benefit from high sides, large volume and narrower width, creating a high speed cruiser for competent paddlers. For beginners, or paddlers with slightly less experience our sport range is perfect for general touring.
Speciality: We also design specialist boards for SUP yoga, windsurfing, multi-person paddleboards and kids' paddleboards. The size and shape of each of these SUPs is designed specifically to suit the individual requirements.
Weight
When deciding 'what size paddle board do I need?', you should also consider your weight in kgs. If you are a slightly heavier rider then choosing a board that has more length will offer you more stability on the water, such as our 10'8" Ride MSL. Equally, our 9'6" Compact MSL inflatable SUP is ideal for lighter riders and riders up to 95kg in weight .The maximum weight for each of our inflatable SUPs is shown next to the relevant product listing.
Experience level
Another important factor in determining, 'what size paddle board do I need', is experience level. If you're a relative beginner, you will likely want a wider board that will offer more stability. This would make our Ride MSL and Sport Paddleboard ranges the perfect choice, espeically as both are also ideal for intermediate and casual paddleboarders so they're not likely to be outgrown.
If you're more experienced, you may want a board that is longer and narrower to offer you more speed and maneuverability. The shape and size of the board will also depend on the activity, as we've mentioned above.
Use our board selector tool
For further help determining 'what size paddle board do I need', be sure to use our board selector tool. This will find you the perfect board based on your weight, experience level and activity style. If you need further guidance, finding the right SUP for your requirements, don't hesitate to get in touch with us or fill out our Ask the Experts form for a personalised video recommendation.