Return to blog
What To Wear Paddle Boarding In Summer? - Red Paddle Co's 2022 Guide
Posted by Luke Green
Whilst we love paddle boarding all year round, nothing beats taking to the water during the summer months. Warmer temperatures provide the perfect conditions for a paddle, however you may need to make a few adjustments to what you're wearing. Not sure what to wear paddle boarding in summer? Our quick & easy 2022 guide below contains all the info you need for paddling in the sunshine.
Wear Board Shorts & Moisture Wicking Shirt As A Base
Board shorts and a moisture wicking t-shirt are the two essential items you need when thinking about what to wear paddle boarding in summer. It's important to wear clothing that does not become heavy when wet and that dries quickly in case you take a tumble into the water! The Red Original performance t-shirt is made using fast drying Dri-Release™ fabric that's perfect for paddling in the heat, and is available in both men and women's sizing. The moisture wicking fabric prevents sweat from clinging and causing odours, helping to keep you cool and comfortable in the hot weather, whilst ensuring you dry off quickly if you fall in the water. It also benefits from 50+ UPF which protects you from the sun's harmful UV rays. Pairing these with a pair of quick drying board shorts is the perfect base for paddling in the summer months.
Bring Top Layers If You're Planning A Longer Paddle
If you're planning a longer trip, where you might still be out as it gets cooler in the evening, or if the weather is simply a little more chilly than expected, it's important to bring extra layers with you. A long sleeve performance top layer will provide you with an extra layer of warmth, without causing you to overheat due to the fabric's moisture wicking properties. It's also a sensible idea to check the weather forecast before you head out. If there's a chance of rain, make sure to pack a lightweight waterproof jacket. You can pack these belongings compactly into our waterproof SUP deck bag that attaches securely to your paddle board.
Protect Yourself From The Sun
Sun protection is a top priority when thinking about what to wear paddle boarding in summer. Aside from wearing performance clothing that has UV protection, it's essential to cover any exposed skin with sunscreen and bring plenty spare to reapply if you're planning a longer SUP. It's also really important to make sure that you're wearing a sports cap. This will protect your head and face from the sun, helping to prevent the risk of sunstroke. You should also ensure that you're drinking plenty of water throughout your paddle, and so remember to bring a reusable water bottle with you. It's always important to stay hydrated when exercising, however this is particularly crucial when exercising in hotter temperatures.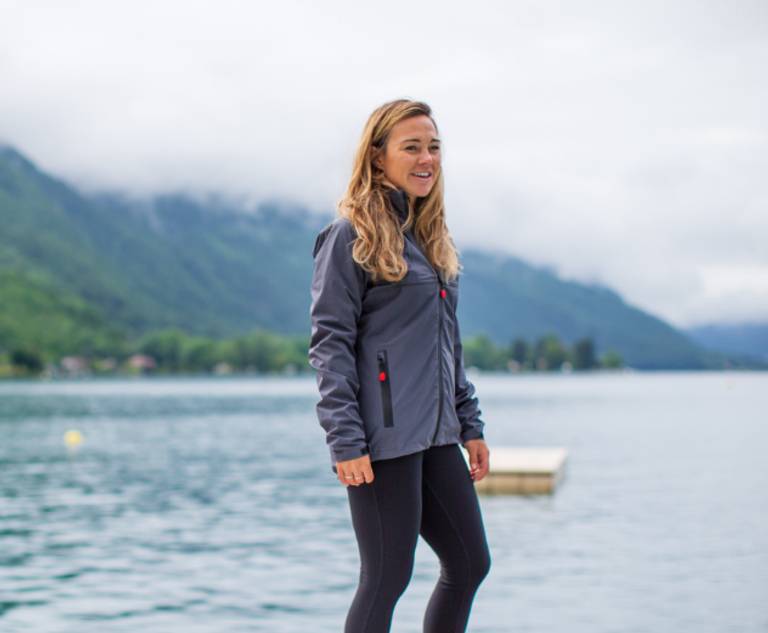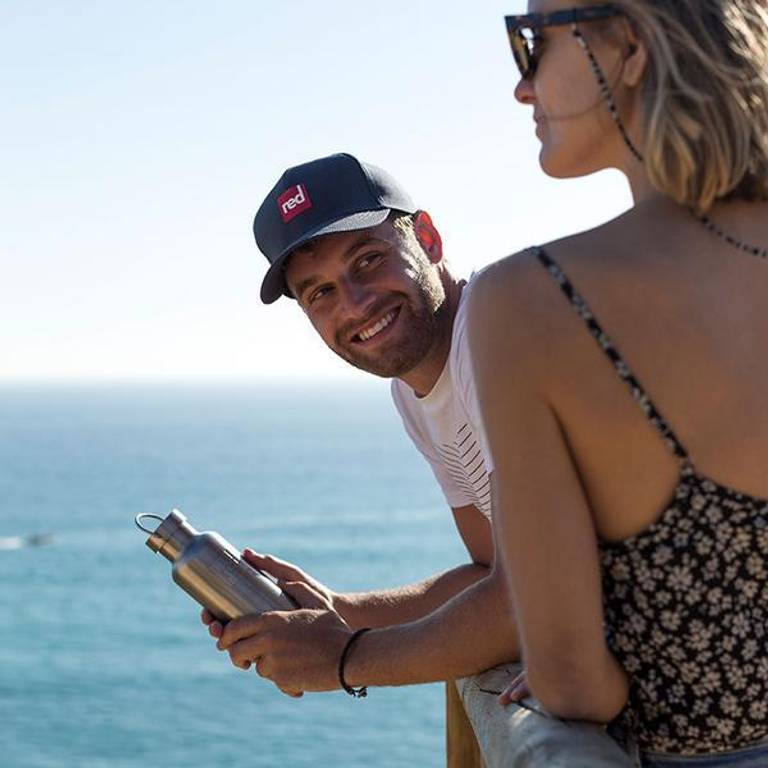 Don't Forget Safety Equipment
Safety should always be a number one priority when stand up paddle boarding. That's why a leash and personal flotation device should be the minimum safety requirement when discussing what to wear paddle boarding in summer. Most paddlers will need a coiled SUP leash. This type of leash is designed for people paddling in flat water conditions, including lakes, canals and calm seas, as well as for racers. If you're paddling in flowing water or windy conditions, we'd recommend wearing your coiled leash with a quick release waist belt. If you are SUP surfing then you will need a straight leash. In addition to your leash, we'd recommend wearing an airbelt personal flotation device as a minimum. This attaches comfortably around your waist, ready to be inflated easily in case of an emergency. If you are paddling in flowing water or choppy seas, we would recommend wearing a buoyancy aid with a minimum 50N rating.
Bring A Quick Dry Change Robe For After Your Paddle
The question of what to wear paddle boarding in summer doesn't just refer to what to wear on the water. Making sure you've got the right gear for when you come out of the water is just as important. For the summer months, we'd recommend our quick dry changing robe because it is the most lightweight of our outdoor changing robes, making it ideal for use in warmer temperatures. Soft and gentle on skin, our microfibre changing robes are made from 200gsm suede microfibre that absorbs 4x its weight in water whilst still remaining light in weight. It's perfect for drying off and changing quickly and easily after your paddle.
Wear A Wetsuit If You're Not Confident
If you think that you're likely to fall in the water a lot, for example if you're just trying out your skills for the first time, then you may want to wear a wetsuit. You may also want to consider wearing a wetsuit if the water temperature is cooler in the location and time that you're paddling in. This may be the case if you are paddling in early or late summer, or if you're paddling in countries with more moderate summer temperatures, such as the UK. A shorty wetsuit is a good in-between-option for providing you with some warmth in the water, without causing you to overheat when you're on top of the SUP.
For more advice on what to wear paddle boarding in summer, please don't hesitate to get in touch with the team at Red.