Return to blog
Where To Paddleboard In Canmore & Banff? 9 Great Spots
Posted by Luke Green
The Bow Valley is known for its craggy mountains, making it a popular spot with skiers and mountain bikers. However, what you may be less familiar with are the many beautiful locations that exist for paddle boarding in Banff, Canmore and the surrounding area. Not sure where to paddleboard in Canmore and Banff? Make sure to check out the following incredible SUPing spots:
Lower Kananaskis Lake
Lower Kanaskis is a gorgeous alpine lake that's been created by a dam on the Kananaskis River. Aside from the stunning views that are on offer, another reason this is one of our top picks for where to paddleboard in Canmore is because it's largely sheltered from the wind. Experienced paddlers can make a day trip out of it by paddling all the way around the lake. There are plenty of places to picnic along the way so make sure to bring one of our Waterproof Cooler Bags with you to attach to your SUP.
Upper Kananaskis Lake
The sister lake to Lower Kananaskis, Upper Kananaskis has equally spectacular views of the Rocky Mountains, as well as plenty of options for camping and overnight excursions.This lake is more exposed to wind and the elements than Upper Kananaskis meaning conditions can be more challenging. So, if you're a beginner wondering where to paddleboard in Canmore, we'd recommend sticking to Lower Kananaskis.Paddlers need to have the necessary skills to deal with sudden changes in the wind that can often occur here.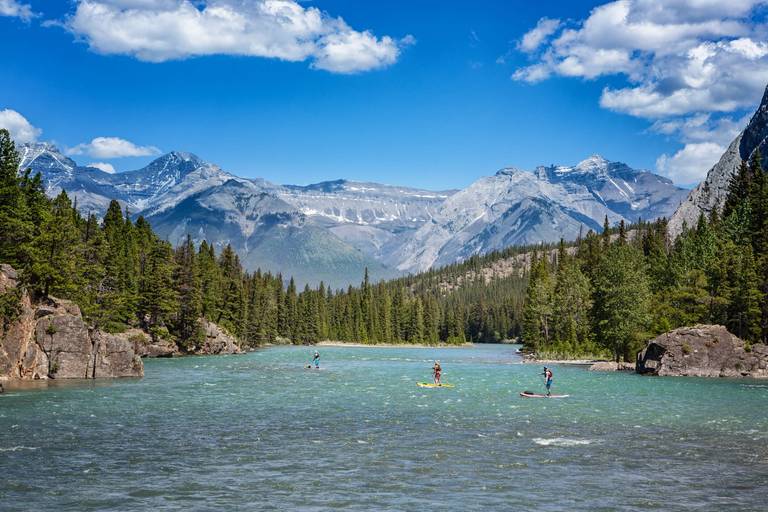 Two Jack Lake
Located in Banff National Park, Two Jack Lake is a gorgeous emerald green lake that boasts stunning views of Mount Rundle. One of the reasons this is one of our top choices for where to paddleboard in Canmore, is because it's so easy to launch. You can drive up next to the water to unload your SUPing gear and accessories, before launching in the shallow waters. Conditions are calmest in the morning as the wind tends to pick up around midday, and so we'd recommend heading out early to get the safest conditions and the best views of the sunrise.
Johnson Lake
Johnson Lake shows off everything that's great about the Bow Valley. Crystal clear waters are matched by piereseque views of the mountainous landscape that's so unique to paddle boarding in Banff, Canmore and the surrounding area. This is a popular spot with locals for swimming and SUPing, as well as for exploring the surrounding hiking trails. There is a small sandy beach on the edges of the lake, making this the perfect place for spending a summer's day soaking up the sun, whilst taking in the spectacular scenery.
Canmore Reservoir
Easily accessible from the town centre and no more than an hour's drive from Banff., Canmore Reservoir is one of the most popular spots that comes to mind when thinking of where to paddleboard in Canmore, and with good reason too. Beautiful blue waters reflect a spectacular landscape, and the waters are relatively calm making this a perfect spot for beginners to try out their new paddling skills.So if you live in Canmore or nearby, this is one of the easiest yet most spectacular choices for where to paddleboard near me.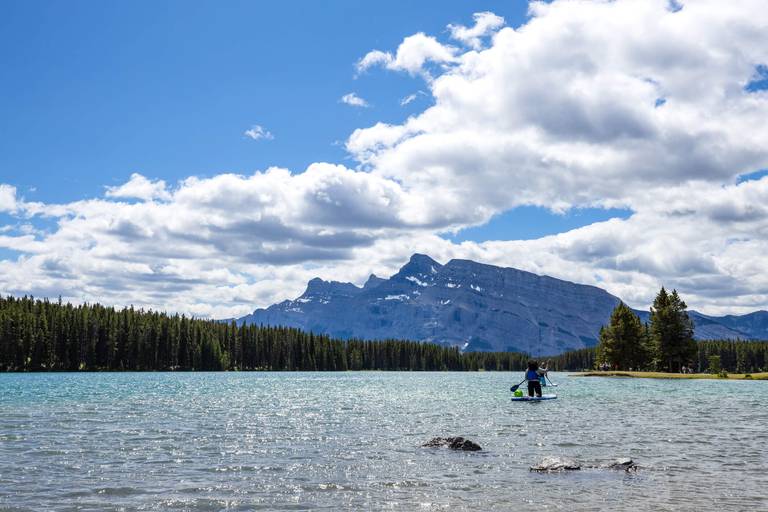 Goat Pond
If you're searching for where to paddleboard near me in Canmore one of the places that often gets overlooked is Goat Pond. Goat Pond is a tiny little lake that's located just outside of Canmore. Although it's just a small lake (less than 6km in length in fact), it's absolutely packed full of wildlife to discover as you paddle through. The surrounding area is also incredibly popular with hikers, and is a great place to spend a fun day exploring in the great outdoors.
Moraine Lake
Moraine is one of the most photographed lakes in Canada and you can see why when you look at the views. The waters are an incredible shade of vivid turquoise that intensifies in colour throughout the summer as the surrounding glaciers begin to melt. If you're wondering where to paddleboard in Canmore and Banff, it's well worth making the trip to Moraine. There's no better way to explore these iconic waters than by paddling directly through them on your SUP. Just make sure to head out early to avoid the crowds!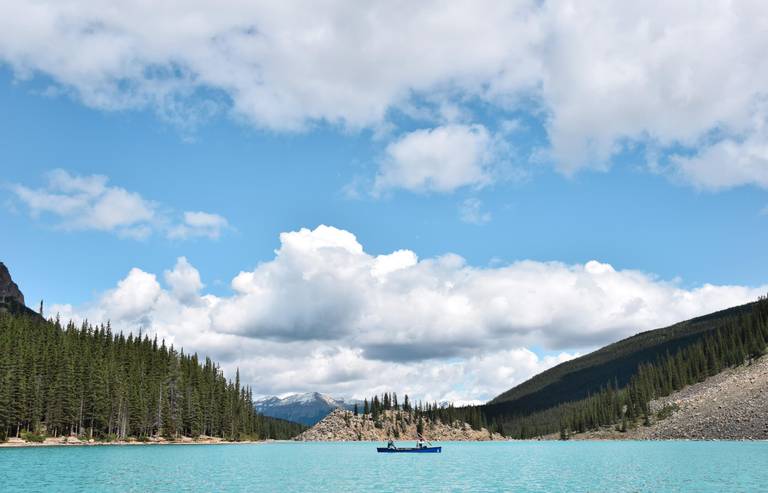 Quarry Lake
We couldn't talk about where to paddleboard in Canmore without mentioning Quarry Lake. This is one of the most popular spots in town for water sports enthusiasts. Unsurprisingly, this place gets very busy during the summertime and so it's best to head out early if you want to avoid the crowds. Located on Spray Lakes Road, the Quarry Lake Park can be accessed by car, bicycle or on foot from Canmore. There are plenty of grassy areas and picnic benches to enjoy some well earned snacks and beverages after your paddle.
Bow River
Last but certainly not least on our list of where to paddleboard in Canmore is the Bow River. A gentle river flowing through Canmore, Banff, Cochrane and Calgary that's lined with picturesque views of natural and urban scenery, the Bow River is a popular choice for watersports users. This is the perfect way to spend a summer's day paddling. As flowing water presents more challenging conditions, we'd only recommend this as an option for paddle boarding in Banff and where to paddleboard in Canmore if you're a more experienced paddler. You should also wear a 50N Buoyancy aid as a minimum safety requirement for enjoying the river.
Need more recommendations on where to paddle board near me? Don't hesitate to get in touch with the team at Red!