Return to blog
Why you need a Red Original Waterproof Dry Pouch
Posted by Lydia Burdett
Easy to take with you, but hard to live without. This is no run-of-the-mill dry bag. It protects your most vital valuables from pretty much anything you can throw at it.
From SUP touring to windsurfing, sailing to swim safaris, white water rafting to coasteering, rowing to river trekking - the Red Original Waterproof Dry Pouch is crying out for adventure. It's pretty handy for a day at the beach too …… no-wonder the Dry Pouch is one of our staff's top picks.
Here are just 5 reasons why you need a Waterproof Dry Pouch in your life with some input from the Red team on how they use it.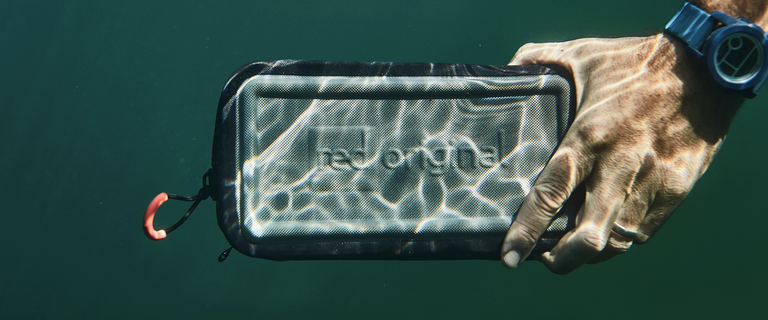 1. Leak-free protection is indispensable
Completely waterproof – the Dry Pouch is even submersible, so you can take it in the water with you whatever you are up to.
"I take this on every paddle because it's quick, easy and reliably waterproof"
- Lucy
"We use this every weekend in the summer - on boards or on the beach, it's an essential piece of our kit for keeping in touch, taking photos & not losing the car keys. We always take it travelling too."
- Catherine
2. All round defence – not just from water
It might seem over-engineered but it's for a reason. The high-density foam envelope provides refuge from knocks, scrapes and drops. As it's airtight it's dust-proof & sand-proof too.
"So easy to safely stash keys and phone, you can carry your board with it attached to keep hands free."
- Alex
3. It's a Safety Must Have
The fourth pillar of our SUP PLOT message – Telephone. Always take your phone with you!
"Great for long distant paddles to keep essentials available at all times and locked down to your board."
- George
4. Attaches to just about anything
The two-way velcro straps attach to anything from handles to straps to bars.
"Ideal companion for a bike ride - take everything with you and close to hand safe in the knowledge the contents won't get wet."
- Luke
5. You decide what you class as a valuable
Whether it's an inhaler, old fashioned paper parking ticket or simply some snacks you don't want to get soggy… everything is safely stowed away.
"My son uses his to stash his snacks when sailing as he can attach it to a strap in the dinghy and doesn't get wet or lost when he capsizes."
- Helen