Return to blog
Winter Paddle Boarding – 6 Things You Should Know (But Might Not) with Tips and Considerations
Brand
Community
Outdoor
Paddle Boarding
Red Original
Safety
Posted by Lydia Burdett
By Diana Lee @only1phoenixx
Every year, there are more stand-up paddleboarders getting into this addictive sport of ours and wanting to extend their paddling season. I love it! Winter is my favourite season and combining my love for snow with my passion for SUP means experiencing a winter water wonderland!
I'm a SUP instructor and have experienced winter paddle boarding for many years, with the coldest being -29°C/-20.2°F (would not recommend for first-timers). I'll share some tips and things to consider before getting into #winterSUP: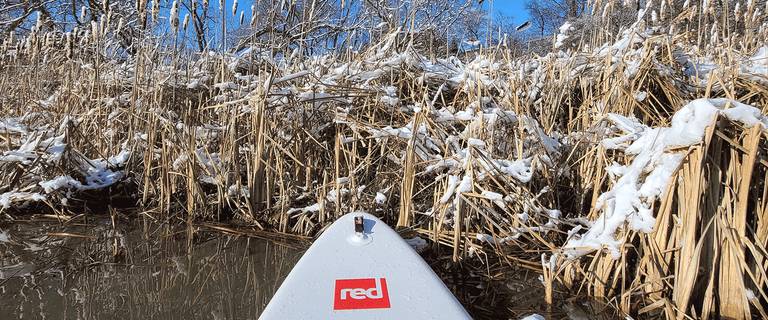 1. Start with autumn
Don't wait until it's -15°C/5°F or the middle of winter to test your winter paddle boarding setup for the first time. Start doing your research and gear gathering months before winter arrives. When the summer temperatures start dropping to single digits, test out your winter paddle boarding gear and make notes of your setup (e.g. thicker neoprene gloves). See how your usual launch spot might change in fall (e.g. some parks close their facilities, nearby shops close their business), which might impact the access or safety of your usual paddling spot.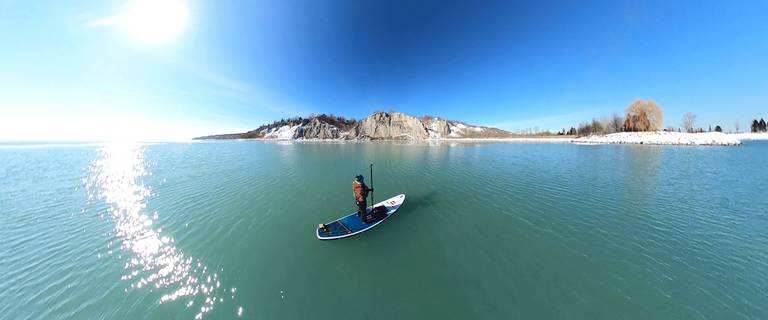 2. It's #DrysuitSeason
I swear by a drysuit when it comes to winter paddle boarding. When I surf in the winter, I'll use a thick winter wetsuit (a 5/4 or 6/5 mm wetsuit) as I'll be in the water most of the time, which is where a wetsuit performs best. With winter SUP, you want to be protected from the elements while paddling above and in the water. A high-quality drysuit is fully waterproof and windproof, and you can layer up and insulate it to your heart's desire/warmth preference. Yes, a drysuit is an investment, but it's crucial gear for #winterSUP.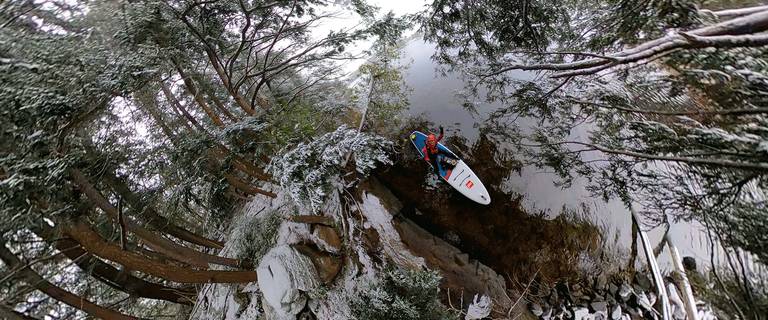 3. Plan every step out, not just the on-water part
During the summer, it's easier to check the weather and decide on a whim to go for a spontaneous paddle. In the colder months, more prep is needed to ensure a safe paddle boarding session.
Think about the conditions your launch spot will look like before heading out. Will it be open (some parks are closed after fall)? Will it be iced over, making it dangerous to launch? Have you checked the weather to see if the wind will pick up or if it'll start sleeting?
When you get out of the water, will you be able to get somewhere warm right away? Never wait until you get too cold to get off the water. When your extremities are cold, doing simple things like walking up stairs, opening the valve to deflate your board, and packing up your gear is harder.
Always get off the water while you're still warm. While hypothermia is preventable, be aware of the signs and symptoms, and if it does happen, recognise that afterdrop can still occur after you've rewarmed up.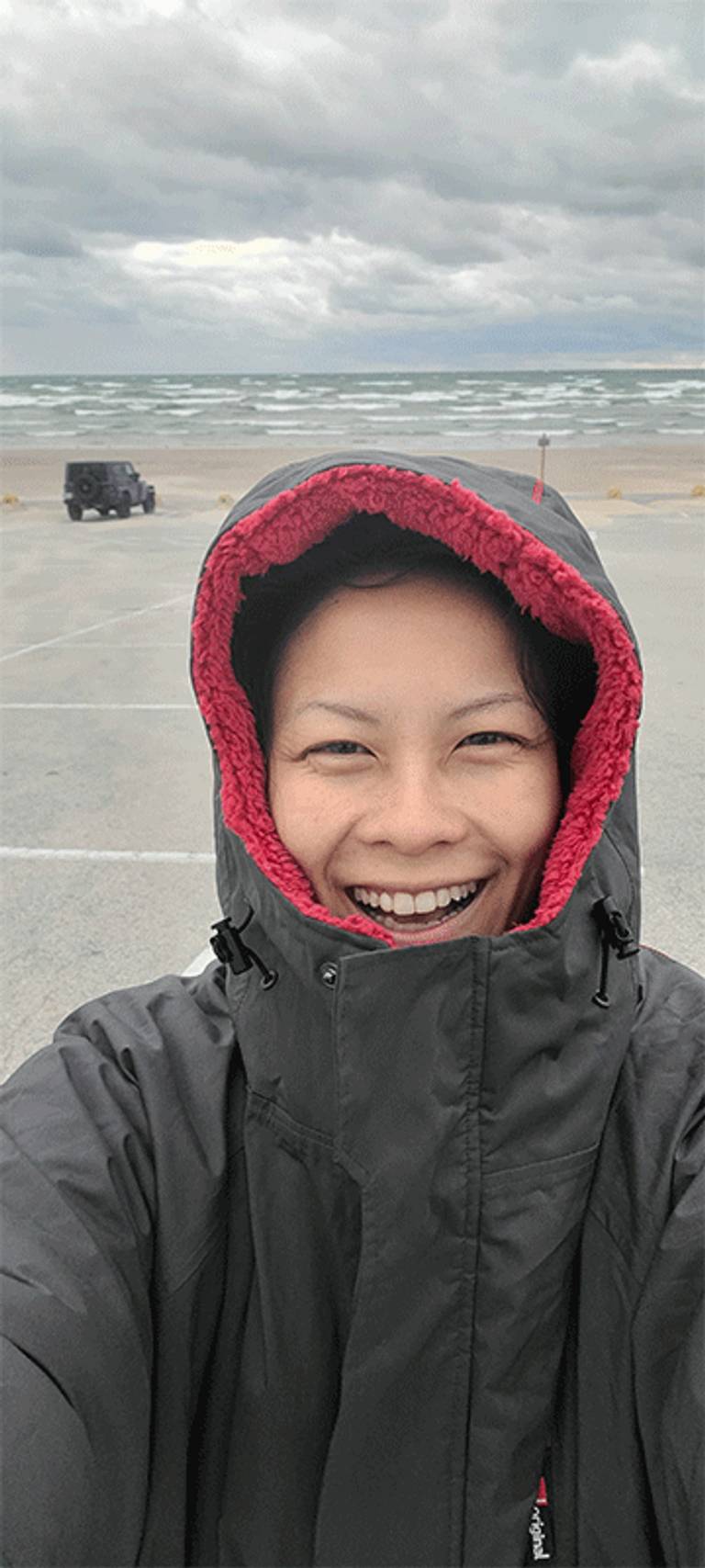 I love slipping into the Red Pro Change EVO change robe after I get out of my drysuit!
Have a hot beverage ready and have hot water available to de-ice any gear that might get frozen over, which brings me to my next tip…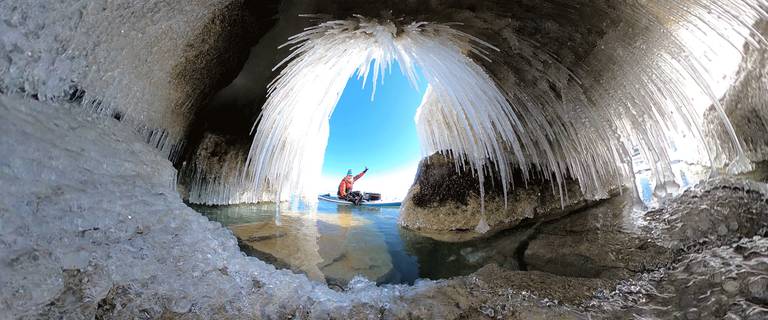 4. Ice, ice, everywhere
Cold temperatures mean frozen water, as in ice! Here are a few things to keep in mind when it comes to ice:
Ice on the water's surface moves with the wind or current and can close off your launch spot, exit, or immediate shoreline access. Consider this if you have an emergency and can't reach land.
Ice on your equipment means your gear will freeze up. How will you get out of your drysuit if your zippers are frozen? Removing your booties will be more difficult when they are frozen. And your deck pad can become quite slick with ice, trust me! Do you have hot water in a double-walled, insulated water bottle for instant, eco-friendly de-icing? Carry warm water in your insulated, double-walled Red water bottle to de-ice your board and gear!
Ice on land, especially black ice, can be hard to see, making navigating familiar rocky surfaces or docks extra slick. I'll often use traction slip-ons over my booties for added grip!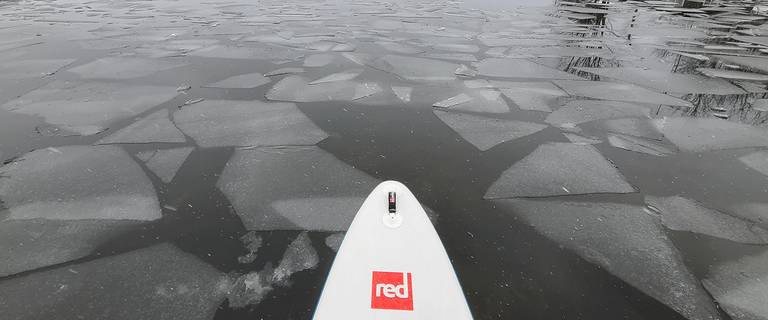 5. Do your research and ask questions
As an advocate of doing your research on any kind of adventure, don't forget to ask questions and further your learning.
When reading about winter paddle boarding tips on the internet, consider the writer's geographical location. For example, Australia and Canada do not have the same kind of winters - What they recommend when it comes to winter paddle boarding gear or considerations will be different from the conditions you face at your location.
I talk to my kayaking friends who also paddle in the winter to see what works for them. As someone who camps all year round as well, I've taken winter camping courses and an ice rescue certification course which can give you more knowledge and appreciation of playing in the cold while respecting the elements even more.
As cool as it is to get those snowy and icy shots, more hazards come with getting out there in cold water and ice. Don't just do it for the 'gram! Winter paddle boarding and adventures generally take a lot of planning, prepping, and dedication, but can be so much fun! Playing in the cold comes with responsibility and a lot more safety considerations.
It's always wonderful to see people excited for the winter, especially to extend their SUP season! The colder months are also an important time to find ways to improve your mental health, and for me, it's continuing to spend time in nature and on the water. Happy and safe paddling!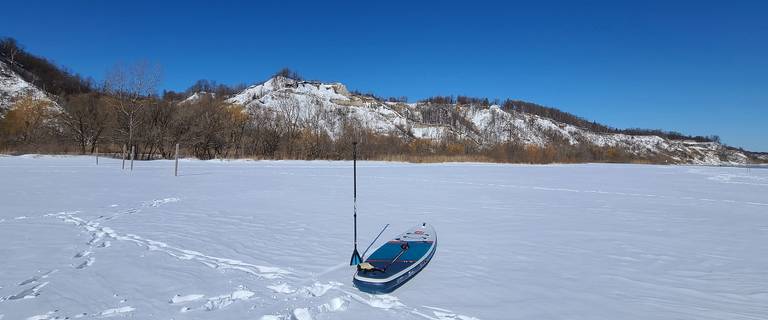 6. 'PLOT' your paddle to stay safe
P – PFD
Wear a well-fitting PFD such as the Red Original SUP Buoyancy Aid. If you are wearing lots of gear (drysuit, thermals, etc) then consider an uprated 75N+ Buoyancy aid.
L- Leash
Wear the right leash for the conditions. If there is any chance you could get caught up in obstructions while you paddle, then wear a Quick Release waist belt leash. If you are winter paddle boarding in surf or non-flowing water, then an ankle leash is best.
O – Offshore winds / Obstructions
Avoid winter paddle boarding in conditions where the wind is blowing off the land and out onto the water. The wind will feel light close to the shore but will get stronger as you go further out. Paddling back against a head wind is hard, especially if you are cold. Avoid winter paddle boarding in locations where there is a fast flow of water and a risk of getting caught up on obstructions such as fallen trees, moored boats, etc.
T - Telephone
Take your phone with you in a waterproof case. This allows you to stay connected and reach out for help if you need it. Always tell someone where you are going and when you will be back. Tell them what to do if you are not back at the allotted time.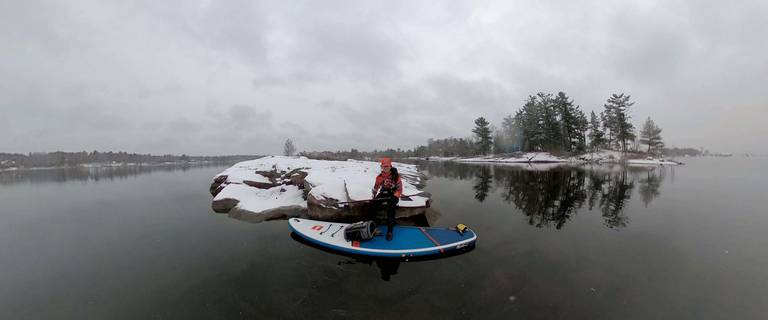 Diana Lee lives for adventure, getting out in nature, and stand-up paddleboarding (SUP) all year round! Born in Toronto, Diana has paddled canoes, kayaks, and dragonboats, but SUP is her favourite way to enjoy the water and explore since 2011. She's part of the Lake Surfistas and loves introducing others to SUP as a certified instructor. When Diana isn't paddling, you can find her camping with her German Shepherds, connecting with Torontonians as a librarian, or sharing her favourite outdoor events and gear as a reporter for Get Out There Magazine. Find out what she's SUP to on Instagram or Twitter.
See also: 5 Ways to Make 2022 Your SUP Year