Return to blog
How To Choose The Perfect SUP Yoga Paddle Board
Posted by Luke Green
Hooked on SUP yoga? We don't blame you! Being out on the water whilst practising your favourite yoga poses is pretty tranquil. Not to mention, it's a great workout. If you've become a big fan of SUP yoga recently, it's likely that you'll be wanting to purchase your own board. When looking for a paddle board to use for SUP yoga, there are some special considerations to look out for. In order to ensure your choice of board prioritises balance and comfort for this activity, it's important to consider the following factors:
Inflatable Vs Solid Paddle Board
The first decision you'll need to make when choosing your board is whether to go for a solid or inflatable option. For SUP yoga, we'd always recommend choosing the inflatable option. This is because it creates a softer surface if you fall down when mid-pose. Solid boards tend to be tapered at the edges increasing the likelihood of water covering the deckpad. Not to mention, inflatable SUPs are easy to transport anywhere, making it easy to practise paddle board yoga in the most incredible corners of the globe!
Size
The next factor to consider when finding the best SUP boards for yoga is size. Increased width and thickness are crucial qualities to look for in a SUP yoga board, as this is what provides you with that essential stability. Ideally, your board should be at least 32 inches wide, 5 inches thick and 10-12 feet long. Red Paddle Co's specialist inflatable SUP yoga board is based on our bestselling 10'8 Ride iSup, but with increased thickness to enhance stability. The 34" width provides a stable platform that's perfectly suited to practising your yoga poses.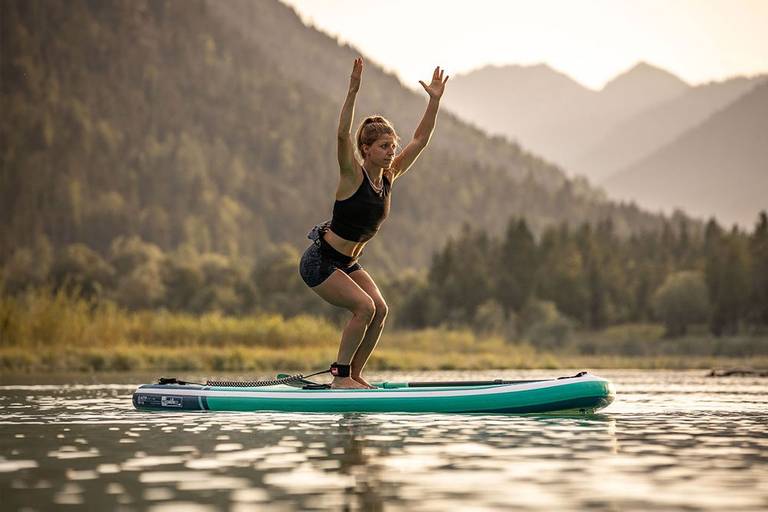 Deck Pad
Stability is one thing when it comes to finding the best SUP boards for yoga, however grip is just as essential. If you think about doing yoga on land, your yoga mat is the key piece of equipment that prevents you from slipping. On a paddle board, this is substituted by a deck pad. That's why it's really important to ensure the deck pad provides you with optimum grip and comfort. One of the adjustments we've made to our Activ MSL paddle board in order to make it suitable for yoga is to move the carry handles to the very edges of the board so that they don't get in the way. The EVA deck pad is embossed to enhance grip and features a centre line down the middle which helps you stay balanced and perfect your poses.
Versatility
Investing in a high quality paddle board that will provide you with years of use is a big investment, and so you want to be confident that you'll get the most out of it. Whilst you may want to spend the majority of your time on the water perfecting your SUP yoga skills, it's likely that you'll also want to enjoy some regular paddling from time to time. In other words, it's best if you can find a board that allows you to do both expertly. That's why we've ensured the Activ MSL provides the necessary qualities for SUP yoga, pilates and stretching, whilst being equally well suited to general paddling. Central to this is the twin iFin system which makes the board travel straighter and faster than a 3 fin setup, whilst enhancing agility and balance.
For more details on our specialist SUP yoga board, or any of our other inflatable paddle boards, please don't hesitate to get in touch.