Return to blog
How To Get Better At Road Cycling: 6 Essential Tips
Posted by Luke Green
Whether you're completely new to road cycling or are a more experienced road cyclist looking to get back into the sport, or take your skills a step further, the following guide is for you. From tips on staying motivated to finding the right gear, these are our top tips for how to get better at road cycling.
Perfect Your Position
Posture has a key influence on aerodynamics as you ride, which is why it's so worthwhile spending the time adjusting and perfecting your posture. In an ideal world, you want your body to be in as low a position as possible, rather than sitting up straight where you'll catch the wind. Tuck in your elbows to help lower your body close to the bars.It's also worth practising your drop bar position. Using drop bars can feel uncomfortable at first, but adjusting the height of your seat and handlebar, as well as doing back and shoulder stretches before your ride can really help - if you can master using drop bars you could significantly decrease your wind resistance.
Cycle In A Group
A key part of how to get better at road cycling is learning from your buddies. Finding a group to ride with will not only help you stay motivated, it will also enable you to ride faster and more safely. Riding in a group reduces the wind resistance that you experience as individuals, helping you to push further and faster, whilst making you more visible on the road. Riding in a bunch does take some practice and so it's crucial to pay close attention, making sure you're focusing on the wheel in front whilst intermittently checking in front of the group to spot any upcoming obstacles. Keep communicating with your bunch and shout if you spot any hazards or need assistance. Cycling with more experienced riders will help you to pick up practical road cycling tips and tricks.
Take A Break From The Bike
Ironically, the process for how to get better at road cycling doesn't just mean spending more time on the bike. It's important to take a break from your bike in two ways. Firstly, it's crucial to assign rest days (at least one a week) to give your body the time that it needs to recover. Slowing down will enable you to come back refreshed whilst helping to prevent injury. Secondly, it's really beneficial to assign training time off the bike. Integrating activities that use movements not found in cycling will allow you to strengthen areas of your body that you can't on the bike. Swimming is a fantastic low impact exercise for improving muscle rotation that you don't get on the bike, alongside hiking and running which help to improve cardio fitness whilst building muscle in areas not challenged by cycling.
Fuel Your Body Effectively
When it comes to performance in sport, you quite literally are what you eat. That's why one of the most important road cycling tips for beginners as well as experienced cyclists is to eat properly during training. The key is to keep it simple. Cut out processed foods and instead focus on eating plenty of vegetables, fruit, fish, chicken, lean meat and carbohydrate sources. Eating more wholegrain options like rice, bread and pasta will also boost your vitamin and carbohydrate levels. When you're on the bike, staying hydrated is key, and for longer distances you'll need to keep your body fuelled with energy gels or high energy foods like jam sandwiches - you'll soon work out what works best for your body.
Wear The Right Gear
You can't perform at your best when you're feeling uncomfortable and so wearing the right gear is an essential part of how to get better at road cycling. Look for lightweight, moisture wicking clothing that will draw sweat away from the skin, helping to keep your body temperature regulated. Alongside a padded pair of lycra or bib shorts, layering is key. Start with a performance base-layer, before adding an over-layer like the Red Original long sleeve performance top layer. In winter or in wet weather you may also need to wear a lightweight waterproof jacket on top.If you're commuting to work on your bike, our waterproof backpack which has airflow foam straps, a padded organiser for laptops and reflective trim detailing is a practical and comfortable option. It goes without saying that a high quality helmet is an absolute must for safety. Ensuring you maximise comfort and safety with essential gear will enable you to perform to your best ability.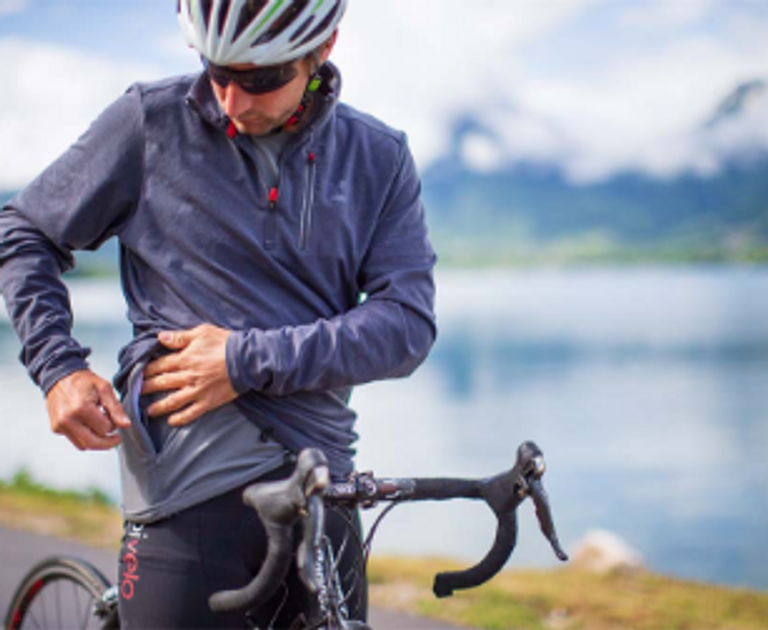 Set Realistic Targets
Setting targets for yourself will motivate you to push your performance, whilst ensuring that you're improving at a realistic pace, without overexerting yourself and causing injury. Establishing a routine that keeps you riding consistently plays a crucial role in how to get better at road cycling.There are many different ways to set targets depending on your individual ability and experience. Setting weekly distance targets is really helpful to a lot of riders. This gives you the flexibility to achieve your goals over the course of the week rather than setting overly ambitious daily targets. As you improve you can start to gradually increase your longer rides by 30 minutes whilst increasing the intensity by speeding up in places or incorporating more hills into your route.