Return to blog
Red Paddle Co FAQ: Are All Paddle Boards Inflatable?
Posted by Alex Clasper
If you're thinking of getting into paddle boarding and have been doing a bit of research then you're likely to have seen a wide selection of paddle boards to choose from. With this in mind, one of the questions you may have is "are all paddle boards inflatable?" With the abundance of inflatable SUPs that are available, and with their high popularity, it would be easy to think that inflatable paddle boards are the only type of SUP that exists. However, there is another form of SUP which is a solid paddle board. What's the difference between these types of boards and why does it matter? Let's find out.


Solid Vs Inflatable Paddle Board: What's The Difference?
As you can probably guess from the names, an inflatable paddle board is one that's made from soft but durable material such as PVC-based drop-stitch technology, and is required to be inflated using a pump before use. A solid paddle board on the other hand, does not need to be inflated and is made from a combination of materials such as foam, wood, carbon all wrapped in fibreglass to create a solid board. Inflatable paddle boards are generally the most used form of SUP, which is why we'll often hear people questioning "are all paddle boards inflatable?".
Why Are Inflatable SUPs So Popular?
As we mentioned previously, inflatable SUPs have become an increasingly popular alternative to solid boards. These are just a few of the reasons why:


They're Easy To Transport & Store
Unlike solid boards which can be cumbersome and heavy to transport, an inflatable stand up paddle board deflates and packs down to a small size that's easy to transport and store. In fact, all Red paddle boards pack down into a backpack of their own, making it easy to travel anywhere with your SUP.


They're Quick & Easy To Inflate
One of the reasons that many people question "are all paddle boards inflatable" is because it's difficult to go to a beach or lake without seeing someone standing by the water pumping up a paddle board. These paddle boards come with powerful pumps that make them quick and easy to inflate so that you can get out on the water in no time.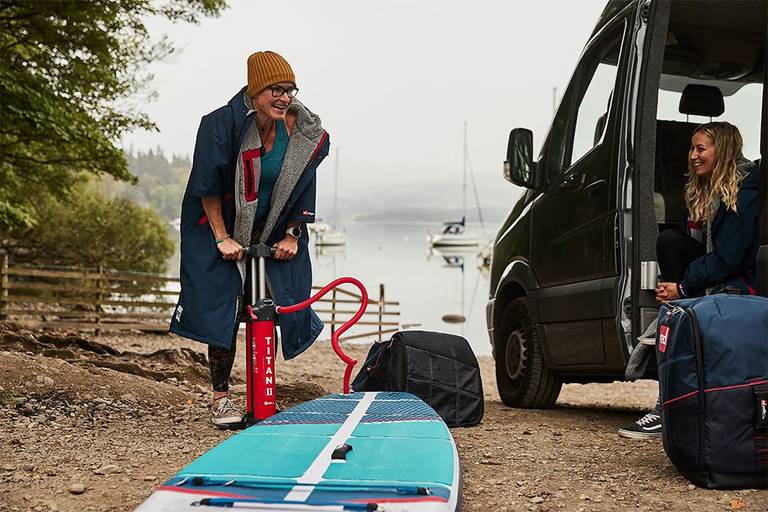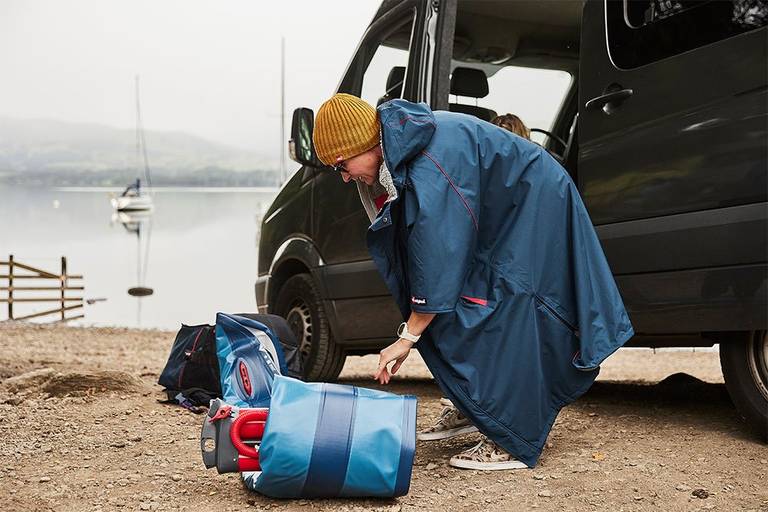 They're More Durable Than You Think
One of the main reservations that people can have before buying an inflatable SUP is concerns that they are flimsy and weak. In fact, the opposite is true, and it's solid boards that face difficulties in this department. Most solid SUPs are made using a foam core with layers of fibreglass and epoxy resin that is easily damaged when it hits hard surfaces, such as a rocky sea bed. Inflatable SUPs on the other hand, are made from dent and scratch-resistant PVC based material. When inflated, they look and feel a lot stronger than what you'd imagine which again may leave you questioning "are all paddle boards inflatable?".At Red Paddle Co, we use specialist MSL technology to ensure our inflatable paddle boards are unrivalled in durability - we've even driven over them with a 22 tonne digger just to double check!
They're A Safer Option For Beginners
When you're first learning to paddle board, it's inevitable that you're going to take a few tumbles- it's all part of the process! When you fall, you don't want to be hitting the hard surface of a solid board. Inflatable options provide beginners with that extra level of comfort when they're trying out their skills for the first time.
They're Versatile
Another reason that water sports enthusiasts are such big fans of inflatable SUPs is because they perform better in varied conditions and for general recreational use. Solid boards tend to perform really well in the waves, making them good for SUP surfing or racing, however they're less versatile for general use. You can also find specialist inflatable SUPs that are more effective in racing and surfing conditions, whilst benefiting from all the other advantages that come with the ability to be inflated and deflated.
Is An Inflatable Paddle Board The Right Option For Me?
Through discussing the question "are all paddle boards inflatable", hopefully you've got more of an idea into the different qualities that various SUPs possess. Whilst solid SUPs can have their benefits when used in racing or surfing conditions, we'd always recommend inflatable SUPs as a more reliable option for paddlers of all abilities. Not only are they more versatile, and easy to transport, they also ensure that even the most experienced of paddlers can deliver their best performance, whatever the conditions.
We have a wide selection of inflatable SUPs to choose from at Red Paddle Co to suit paddlers with different experience levels and interests. This includes a range of options for general paddling as well as our specialist and racing boards. You can use our board selector tool as a starting point, however please don't hesitate to get in touch with the team for more guidance.