Return to blog
Red Paddle Co FAQ: Can You Surf On A Paddleboard?
Posted by Alex Clasper
If you're looking to apply your paddling skills in a different way, or you're just a big fan of the surf then one of the questions that you may have is "can you surf on a paddleboard?".
The short answer to this question is yes, absolutely! In fact, SUP surfing is incredibly popular among watersports enthusiasts. Why is it so popular? Well, you get the same enjoyment of catching waves just with the added support of a paddle to help you balance and power through the water. Plus, you're already stood up which can be one of the biggest challenges to new surfers.
How and when can you surf on a paddleboard? For this you'll need to ensure you've got the right type of board and equipment. You'll also need to assess your experience level in order to ensure you can pick up the technique safely. Let's take a closer look at what's involved.
How Can You Surf On A Paddleboard?
In order to SUP surf you need to consider the following factors:
The Board
When discussing the question of "can you surf on a paddleboard", it's essential to emphasise the importance of choosing the correct board. For SUP surfing you'll need a board that's shorter than your regular all-round SUP, with a narrower nose and tail. Red Paddle Co's 8'10" Whip MSL Inflatable Paddle Board features a rounded nose for enhanced manoeuvrability in white water and a removable, adjustable fin system from world leading surfboard fin creators FCS. An embossed deck pad offers enhanced grip, giving you greater control over the board in the waves.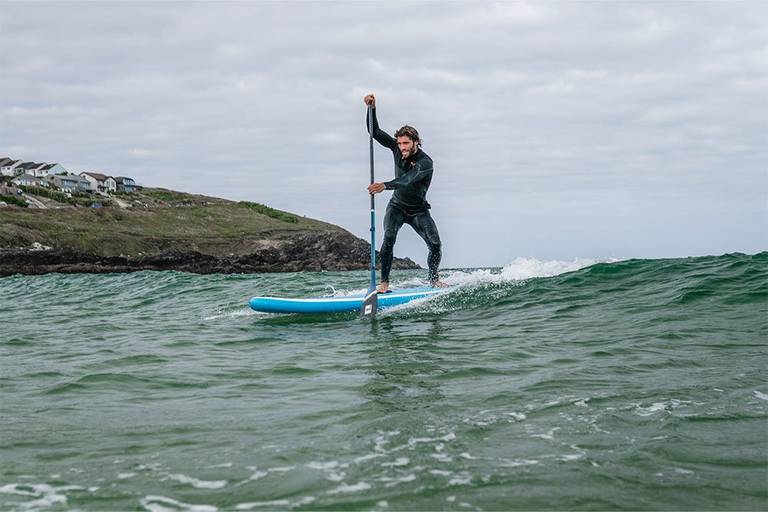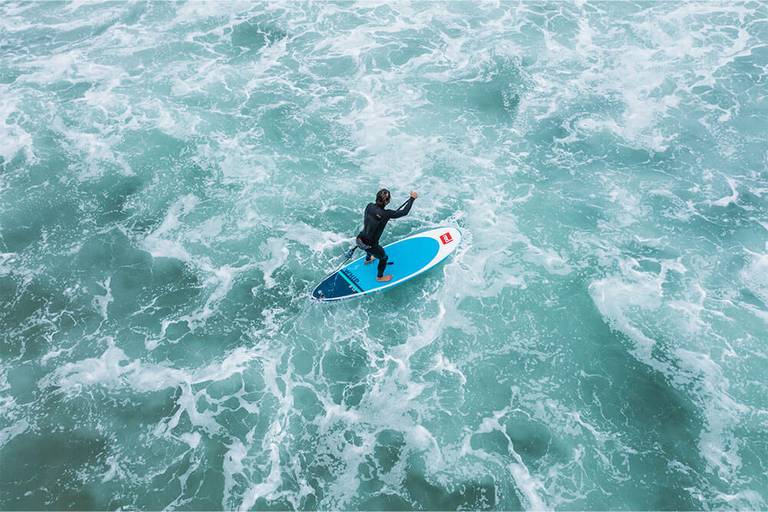 The Paddles
When paddling in waves and white water it's essential that you have greater control over the inflatable stand up paddle board and that you are able to adjust easily for turns etc. So when discussing the question of "can you surf on a paddleboard", it's important to emphasise that to do so you will need to use paddles that are shorter and lighter than a touring paddle, such as the Hybrid and Prime paddles from Red Paddle Co. This will give you the perfect balance of control and flexibility that you need for the sport.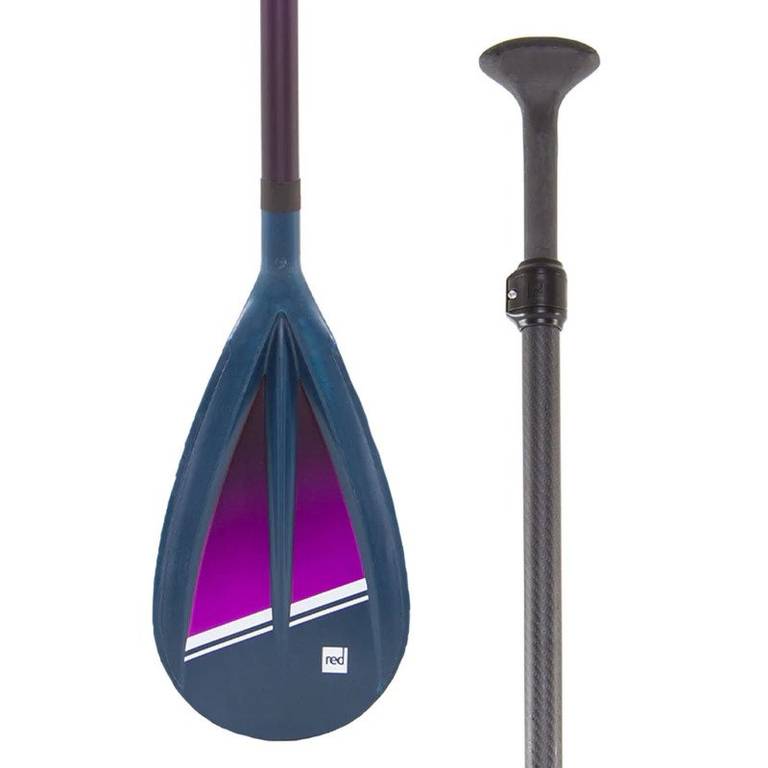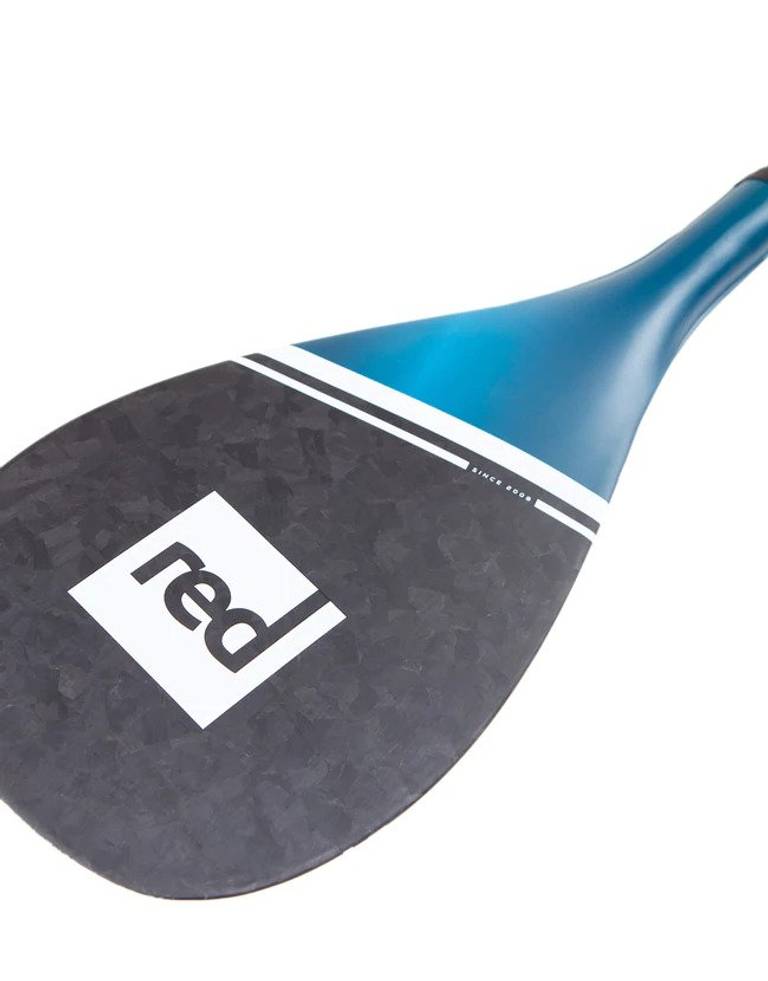 Experience Level
Can you surf on a paddleboard if you've not really SUPed or surfed before? The answer to this is to get confident paddling on flat water first before trying to add waves into the mix. This is purely for safety reasons. Taking your inflatable stand up paddle board out in the surf requires you to have a greater level of control and balance that only comes with experience. That's why we'd only recommend this activity for more advanced paddlers who have spent the time building up their skills.
Safety Is Key
Using your SUP to surf can be more hazardous than paddling in flat water conditions, and so as you can imagine, safety is paramount. You'll need a Straight Ankle Surf Leash rather than a coiled leash as this is less likely to become tangled in waves and will not recoil towards you if you come off the board. A straight leash is also slightly longer in length which is important for ensuring the board doesn't hit you if you end up in the water. Depending on your experience level, you may also want to wear a 50N buoyancy aid. Paddling in the waves presents its own set of challenges and so this is an important measure for even the most experienced of paddlers.
When starting out go on a small day and stay in the white water area until you feel more confident about paddling out through the waves and being able to catch them back in. Speak to other people on the beach to see if they know of any hidden dangers in the water or any riptides to avoid.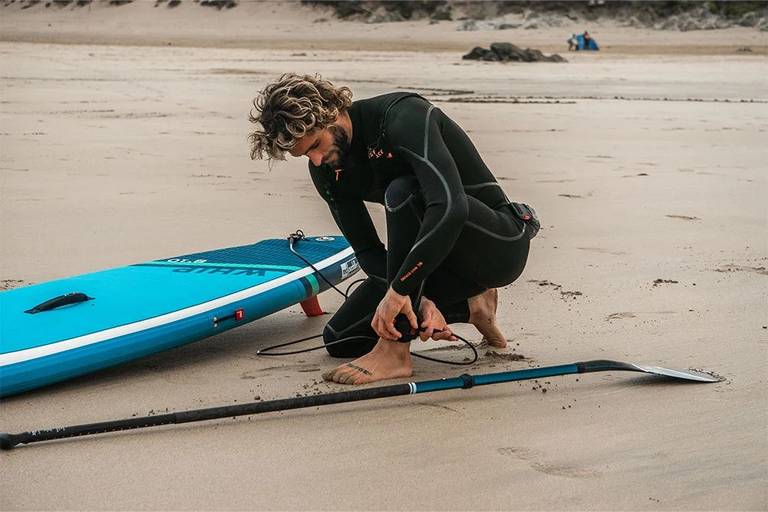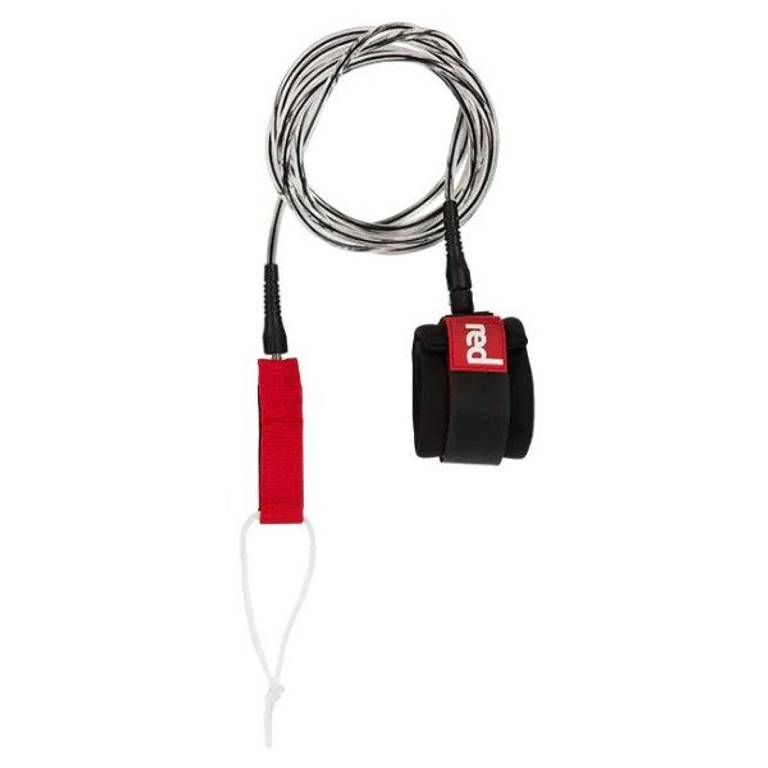 Technique
So we've certainly ascertained that the answer to the question "can you surf on a paddleboard" is yes and we know the gear and equipment required. What you may still be wondering is how exactly can you surf on a paddleboard? This is all down to technique. Differences to regular paddling will include adjusting your stance so it's slightly split (one foot in front of the other), by doing this it will give you greater stability in the moving water. You'll also need to be a lot more prepared to fall in than when flat water paddling so make sure you are confident and happy to climb back onto the board a lot. The safest way to introduce yourself to SUP surfing is by taking lessons to learn the basics before heading out on your own.
For further guidance regarding the question of "can you surf on a paddleboard" please don't hesitate to get in touch with us.