Prime Tough Adjustable SUP Paddle (Purple)
Lightweight with a tough and durable blade, available in two colours.
Sale price

$299.00

Regular price

Out of Stock

Our retailers are getting frequent deliveries so please contact your local Red stockist as they'll be able to advise on delivery dates.
translation missing: en.products.product.in_stock
translation missing: en.products.product.out_of_stock
| | | |
| --- | --- | --- |
| | Blade Material | Nylon Blade |
| | Shaft Material | High Grade Carbon Fibre |
| | Adjuster | Camlock |
| | Pieces | Three Pieces |
This performance paddle uses a carbon weave for greater strength whilst keeping the paddle super light and responsive. The...
This performance paddle uses a carbon weave for greater strength whilst keeping the paddle super light and responsive. The blade shape is a teardrop design with a single dihedral blade face. This allows water to flow evenly off each side creating a smooth and stable stroke, whilst the double concave offers the user to really put the power down.Our Prime Lightweight SUP Paddle is available in blue and purple, so you can match your paddle to your board.
Prime paddle is manufactured from forged carbon fibre. The fibers contain intertwined and folded sheets of carbon atoms aligned with the length of the fiber, and the intertwining improves the fiber strength.
New for 2022 – Bungee Connection System, designed to keep blade and mid section tethered together for convenience and easy set up. It's straightforward to use, makes our three piece paddles even easier to assemble and is removable.
New for 2022 - Interference Fit Hardware, All paddles are now composed of non-glued components meaning every piece of your paddle is both replaceable and recyclable.
Read less

Free Delivery On Orders Over $150
For any orders over $150 in value, you'll receive free delivery which will be with you in 2-5 working days.

Hassle-Free Returns
You can return your items within 30 days of placing your order. Equipment should be un-used and with its original packaging and / or labelling intact and attached to the product. Items which don't have the labelling attached to the product will incur a 10% reconditioning charge which we will notify you after inspection of your return.
If we do not hear back from you within 4 days of contact we will return the items to you. All items are inspected before a refund is processed. Items deemed to be in a poor condition will be returned to you. If any item returned breaches any of the terms outlined in this policy, we reserve the right to return the item back to you in the same condition it was received in.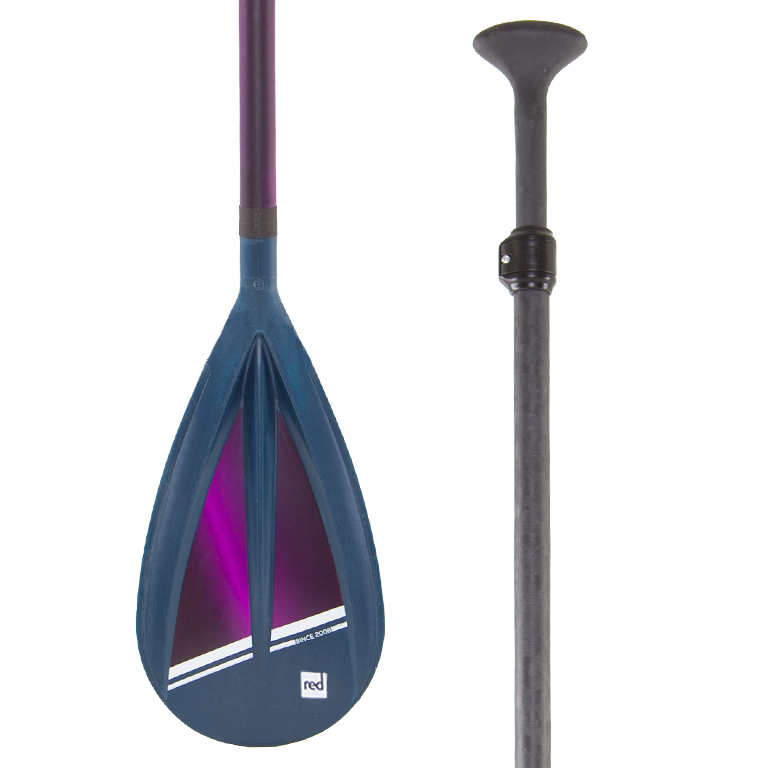 1
2
3
4
5
A three piece paddle that fits securely in the ATB transformer bag.
A ergonomic t-grip handle design which fits comfortably into the palm of your hand.
A redesigned Camlock system has excellent grip to minimise movement and now only has one bolt, minimising any potential issues.
A durable and hardwearing nylon blade mean bumping the river bed won't damage the blade
The high carbon/glass fibre weave shaft has a natural flex that offers a gentler energy transfer enabling you to reach a greater stroke cadence.
Prime Tough Adjustable SUP Paddle (Purple)
Size Chart
Calculate My Size
Please select your height