Return to blog
SUP Leashes & Waist Belts - Red Paddle Co's Ultimate Guide
Posted by Luke Green
Safety on the water is a number one priority for us at Red Paddle Co. That's why we've worked hard to ensure our SUP leashes and waist belts are unrivalled in the safety capabilities that they offer to users. We have two different types of SUP leashes for paddlers of all abilities. These are the coiled SUP leash (which can be used alongside our quick release waist belt) and straight SUP leash. Before we look at the differences between these leashes, let's take a moment to look at why you need a SUP leash in the first place.
Why Do You Need A SUP Leash?
It's essential to wear a SUP leash every time you go paddle boarding. If you fall into the water, this is what keeps you attached safely to your board, preventing it from drifting off, and ensuring you can use the board as a large float to hold onto in the event of an emergency. It also prevents the board from drifting off and potentially injuring other water users.
What Type Of SUP Leash Do You Need?
Ankle leashes are the safest type of leash to use when paddling, whether that's in calm water conditions, in the sea or in flowing water. Red Paddle Co's ankle leashes feature a durable neoprene cuff that can be attached to the ankle or calf and contains a slot for storing keys. Two stainless steel swivels prevent the leash from tangling and it is easily attached to the D-ring at the back of the board using the velcro section.
Depending on the type of paddling you are doing, you will either need a coiled or straight SUP leash. Let's take a closer look at the main characteristics of each of these and who they are suitable for.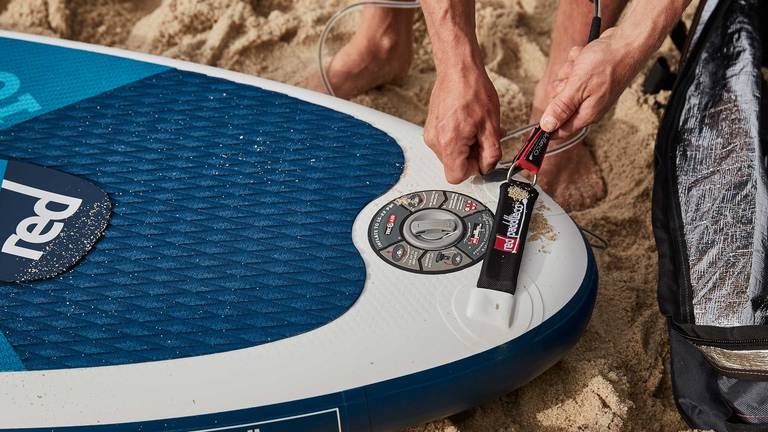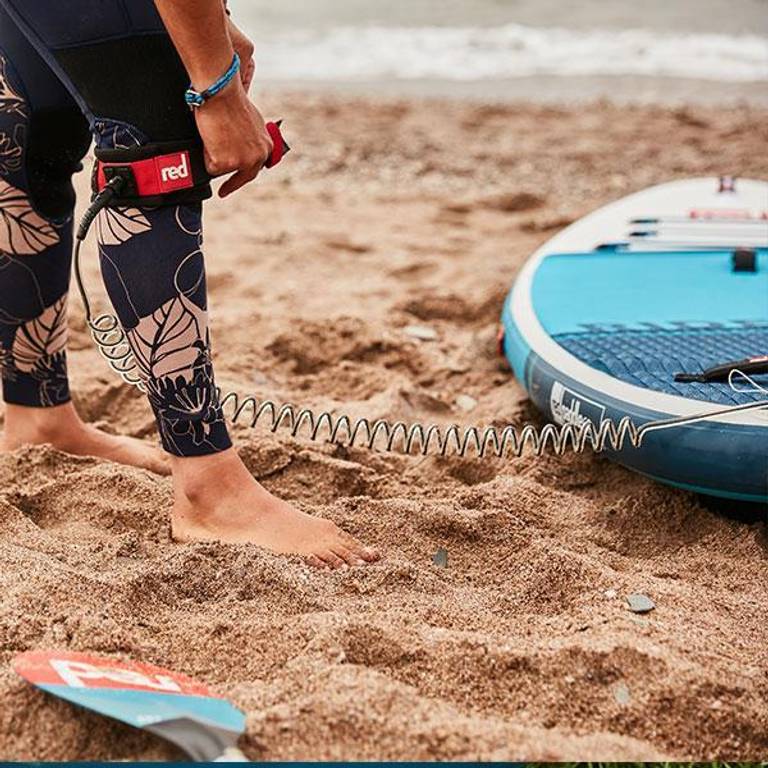 Coiled SUP Leash
A coiled SUP leash will be the most suitable choice for most paddle boarders ( with the exception of those who are SUP surfing). It's designed for people paddling in flat water conditions, including lakes, canals and calm seas, as well as for racers. Unlike a straight leash, the coil in this paddle board leash prevents it from dragging in the water and collecting debris. Red Paddle Co's coiled paddle board leash also benefits from the addition of pivot points to reduce twisting. It is supplied with plenty of rope so that it can be attached to different leash points on the board. If you're using a coiled leash in moving water or windy conditions, you should use it with the quick release waist belt, which we'll discuss in more detail below.
Straight SUP Leash
If you're planning on paddling in the surf then you'll need to use a straight paddle board leash. Aside from being straight rather than coiled, the main difference between a coiled and straight sup leash is the length. Straight leashes are around 2ft longer in length than coiled leashes. This is to ensure that the board is kept at a distance from you when in whitewater so that it doesn't hit you. The interchangeable D-ring and rail saver on Red Paddle Co's straight leash ensures you can attach it easily to different paddle boards, whilst a quick release loop is in place in case of emergencies.
Quick Release Sup Leash Waist Belt
If you are paddling in any form of flowing water, such as a river or tidal estuary, or in windy conditions then you should wear a quick release waist belt with your coiled SUP leash. Simply attach your ankle leash to the waist belt using the D-ring and leash string. This means that you can quickly release yourself in dangerous situations when you can't reach your ankle. The sleek design sits comfortably under personal flotation devices and can be adjusted easily using the push clasp (we recommend wearing a 50N buoyancy aid as a minimum safety requirement when paddling in flowing water). Please note, that the quick release waist belt is not suitable for use with the straight surf leash.
If you would like any assistance with finding the right SUP leash for your requirements, please don't hesitate to get in touch with us.