Return to blog
A Red Original Outdoor Adventure - The Wye 100
Paddle Boarding
Stories
Posted by Ross Montandon
"Do you fancy joining me and up to 20 paddlers to complete the Wye 100?" Stacey asked me, "We'll be carrying all of our kit and camping in tents on the way". How could I say no? For someone who usually camps in a home-from-home campervan it would certainly be a challenge.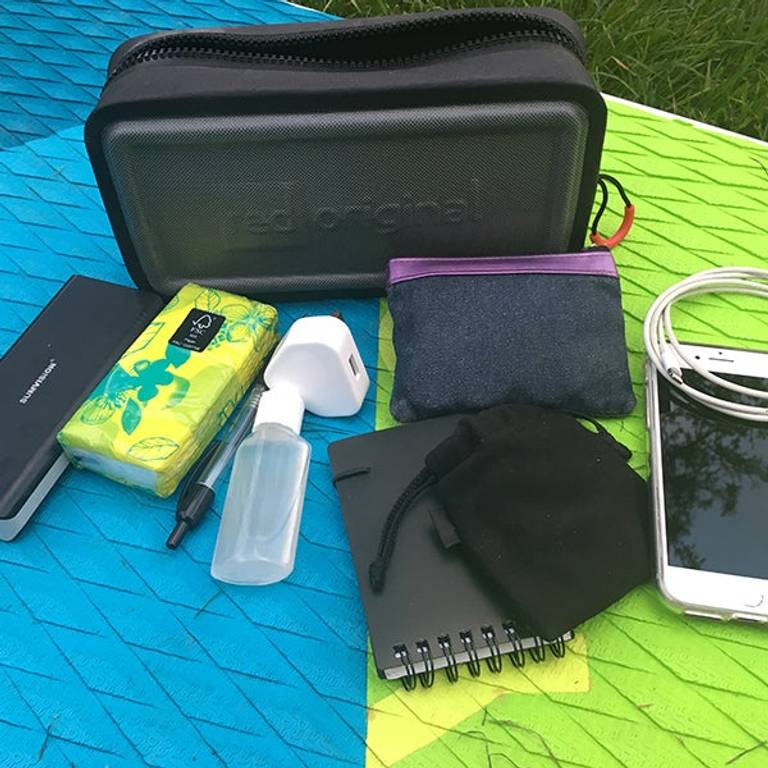 It wasn't till much later that I twigged that '100' referred to miles, not kilometres! With no certainty that I could paddle that distance, the worst-case scenario would be to deflate and roll up the board, and get a taxi back to my van - I was in.
The Best Kit for an Adventure
It was going to be a great chance to really test my Red Original kit – equipment and clothing carefully conceived and designed to be ideal for paddle boarding and other outdoor activities. Though I couldn't justify taking my cosy Pro Change Jacket, the deck bag, dry pouch, microfibre towel, drinks bottle, technical t-shirt, paddle cap and long-sleeved performance top were all coming along, as well as the new, BIG 60 litre dry bag to carry the camping kit.
My board of choice was the Red Paddle Co 13'2 Voyager – a paddle board I'm fortunate to have in my demo fleet. At 30" wide it has loads of stability and, importantly, two tie-down points for carrying serious amounts of kit. I also opted for a four inch fin which had been recommended for the shallow sections, rather than the usual nine inch touring fin…more on that later.
The test paddle took place the weekend before the adventure, to make sure I knew how I was going to load the board, and to see how it paddled with the kit tied on. At that point I was carrying around 8kg in the dry bag – tent, sleeping bag, mat, pillow, repair kit, clothes, stove and food – with just under 4kg in the deck bag – bowl and spork, toiletries, emergency rolls of tape, full drinks bottle, coffee and cup, and most importantly, some food. By the time I had added in more food, snacks and 'this might come in useful' items both bags were a little heavier. Paddling was fine for two miles and would hopefully be ok for around 25 per day too.
The dry pouch was an extra addition to my kit for this trip. Like the deck bag, it has a fully waterproof zip so, unlike traditional dry bags, it keeps the contents 100% dry. That makes it ideal for electronics and I kept my phone, charger, battery pack, headphones, purse and other essentials in there. Attached to the deck bag, it was easy to take off for trips to the shops or pub like a high-tech handbag (we weren't entirely roughing it on the trip!).
Ready for a Paddle Boarding Adventure
Night one, before we set off was a learning curve – tent, mat, pillow, stove all had to be wrangled back into the bag for the first time in a real-life situation. Sleep was somewhat limited due to cold temperatures, which I was able to solve on subsequent nights by wearing my performance long-sleeved top overnight – no more cold shoulders. Using the hydration pack as a hot water bottle was another big win and highly recommended. My Red Original microfibre towel was perfect after a quick campsite shower, as it dried quickly and was small enough to live in the deck bag as I always forgot to pack it away.
Each day involved a bit of a walk from campsite to the river, and to the next campsite at the end of the day. With some significant weight in both roll-top dry bag and deck bag, it felt like pushing the limits of the kit's capabilities, however, all was good – the d-rings for the shoulder strap were solid, and all contents remained dry even when we were paddling grade one rapids and the bags were getting drenched. I was really impressed by the armour tech material, it really can take a huge amount of abuse and even though it got a bit grubby by the end of the trip, a quick wipe down and it's looking new again!
The larger 60 litre roll-top bag sat on the tail of my Voyager which has a non-slip traction pad to keep any load in place. I found this the best position to least affect the tracking of the board and that left the front tie-down area free for the deck bag and dry pouch with everything I might need during the day – food, cups, bowls, sunscreen. Access while on the water via the zip is easy, and the curved 'skeleton' insert keeps the bag to shape, so you're not fishing around in a compressed space. Wetsuit shoes and flip-flops were fixed to the deck bag bungees, and the second bottle pocket was useful for electrolyte tablets and my handy palm tree coffee cup holder. The zipped pocket on the top of the bag held painkillers in case of emergency, zinc tape for blisters – used from halfway through day 2, and more snacks and sweets that didn't fit in buoyancy aid pockets.
The paddle cap was used every day to avoid the strongest sun, and was vital when I carelessly lost my sunglasses to the muddy tidal waters towards the very end of the last day on the water.
The paddling went surprisingly well. We kept up a steady pace but took plenty of breaks to fuel and re-group. The rapids turned out to be a regular feature of the river, and the four-inch fin remained in for the whole trip! With advice, and following those with more experience, most sections were negotiated standing, but my knees were skinned a few times one day when the fin hit the bottom and the paddle board stopped suddenly and a few of us took an unexpected dip.
River Life - Top Tips For A Multi-Day Paddle
Day two was 31 miles of paddling, and with it came the first sign of blisters. Zinc tape was highly effective to protect the vulnerable areas and it was amazing how much the hands recovered overnight. While the 100 miles of paddling wasn't easy, especially with the strong head-wind and rising tide on day 4, it was remarkably doable.
Hydration and fuel are definitely key in keeping you going on a long paddle, and recovering ready for the next day. Having water and snacks easily accessible was useful to say the least. On the final day the tide dictated a 5am start, so my deck bag contained a stove and all that was needed for coffee and warming porridge during the first stop. A dehydrated meal was on hand too.
I try hard to avoid single-use plastic where possible, and was pleased to finish the trip having used only one orange juice bottle and a small plastic food container – both recycled. Every coffee went in my own cup, although most were made using my on-board stove. My Red Original insulated drinks bottle got filled up in all sorts of places – one time at an outside doggy tap thanks to a supermarket security guard!
Our carefully-planned and timely arrival at a pontoon that was indeed floating on the high tide felt fantastic. The adventure had been a great combination of sometimes-challenging paddling and distance, beautiful scenery, quiet moments with our own thoughts, plenty of wildlife spotting, hilarious moments with a great team, getting accustomed to camping (with plenty of equipment to make it comfortable) and an amazing feeling of achievement having completed so many miles. I feel equipped physically, mentally and literally for many more such adventures and have already started planning my next!
Share your Original Adventures
We love hearing about your adventures, so if you're off on your bike, paddle board or just a walk in the woods. We want to hear about it! Tag your photos with #originaladventure and tag us @redoriginalaccessories