Return to blog
5 Reasons Water Sports Fans Need Our Paddle Board Deck Bag
Posted by Luke Green
Thoughtfully crafted for adventures on the water, the Red Original paddle board deck bag enables you to take essential belongings out on the water with you, keeping them dry, secure & accessible. In spite of the name, this versatile waterproof bag isn't just for SUPers. Let's take a closer look at how it can benefit any water sports enthusiasts…
It's Not Just For Paddle Boarders
Whilst the paddle board deck bag is primarily designed for use on stand up paddle boards, it is equally useful on all sorts of other watercraft, from canoes and kayaks to RHIBs and yachts. The sleek design which features a flat back shape, is beneficial for a number of activities.The durable luggage tensioning system makes it easy to secure the bag in place for a range of different adventures, whether you're sailing, paddling, or loading up the car for a big day outdoors. Aside from being fully waterproof, this deck bag is 22L in capacity, providing the perfect amount of space for the daily essentials including valuables, towel, changing robe, drinks bottle (and snacks of course!).
It's 100% Waterproof
The most obvious benefit of our paddle board deck bag for water sports fans is that it is completely waterproof. Even if the bag is fully submerged in the water, the contents will still remain dry. This is thanks to the use of Armour Tech material that's made using a high density, waterproof TPU fabric. A YKK Aquaseal 5mm zip and welded seams support the waterproof qualities of the fabric, ensuring the bag is 100% leak proof. Thorough testing from our design team guarantees this. The seams have been tested to 0.3 millibar and guaranteed to 0.05 millibar. In short, there's no chance of even a drop of water getting in! This means you can be confident that essential valuables, outer layers, and spare changes of clothes will be kept completely dry.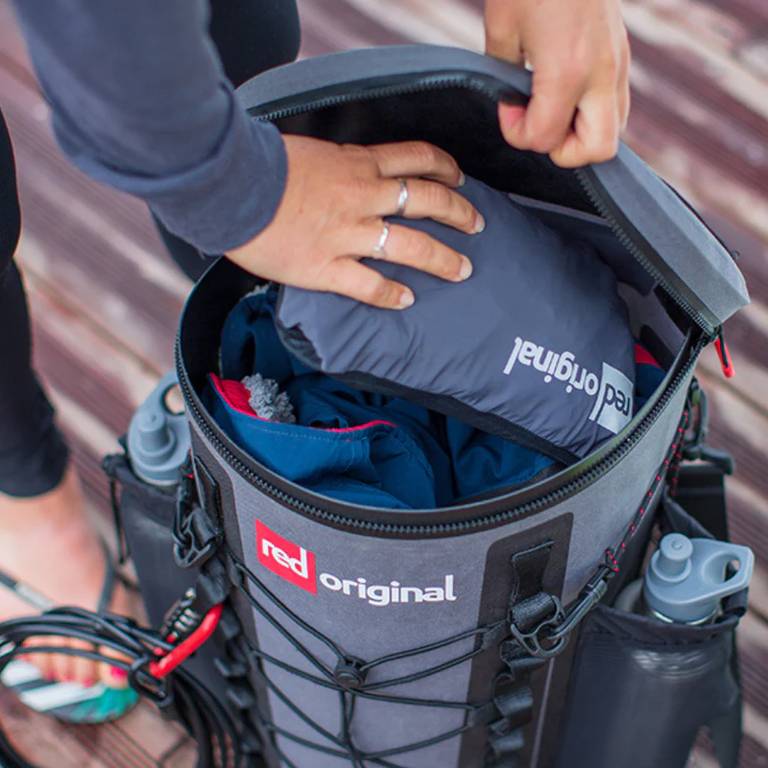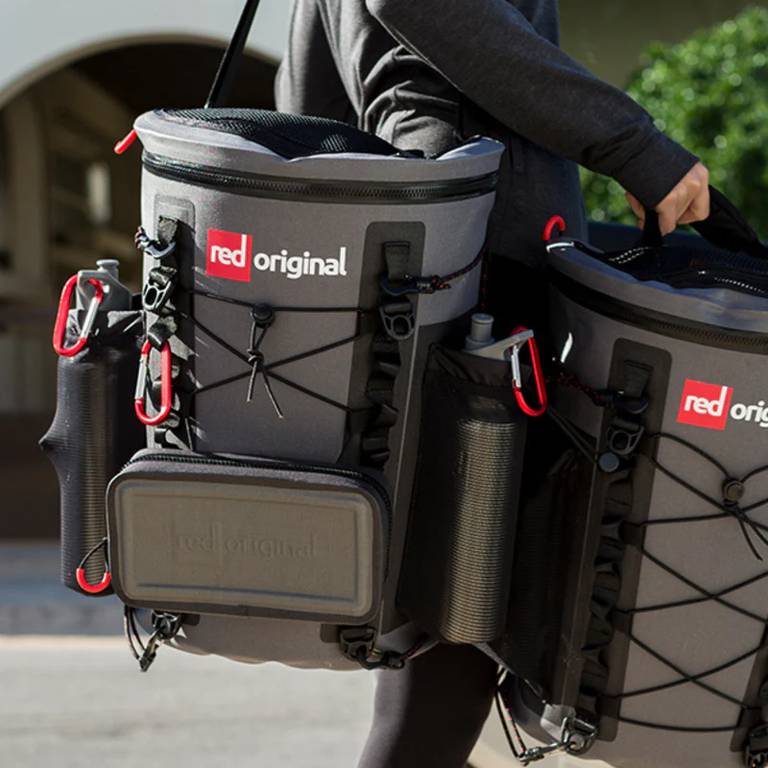 It's Easy To Attach To Watercraft
As water sports fans ourselves, we've put a lot of time and effort into ensuring the luggage tensioning system on the paddle board deck bag is just as simple to use as it is reliable. This means that you can attach the bag to your watercraft quickly, with the knowledge that it is completely secure. The luggage tensioning system is made using rotary spring hooks and a 4mm para cord for added strength and security. If you're attaching it to a Red Paddle board, it will fit perfectly towards the front of the board to ensure that it does not cause any kind of obstruction while you're paddling.
It Offers Plenty Of Storage
As we mentioned a little earlier on, the Red SUP deck bag is 22L in capacity, providing plenty of room for storing the essentials, whilst still remaining compact in size. However, in addition to the internal storage provided, there are also two drinks bottle holders, one attached to either side of the paddle board deck bag. These are perfect for storing a reusable bottle with your favourite hot or cold beverage to keep you going out on the water, or as a warming post-trip refreshment. You can also attach items such as a waterproof dry pouch or sunglasses to the front outside of the bag using the wave webbing. The internal skeleton of the inner compartment is removable, should you also require a little extra internal space.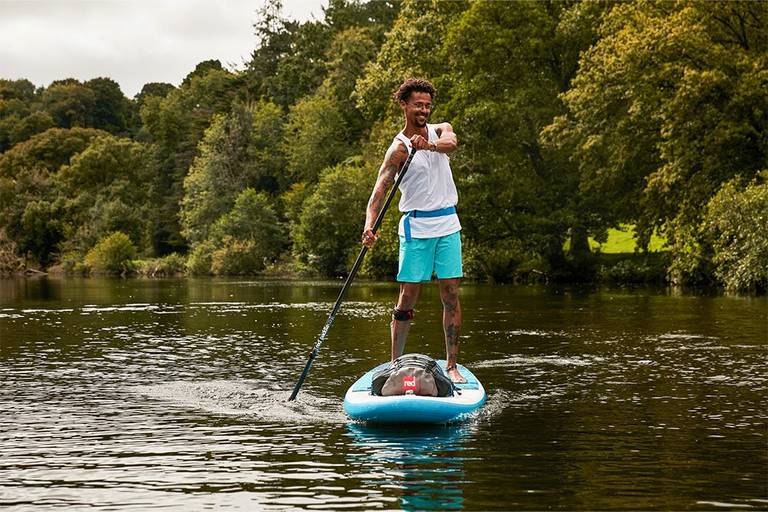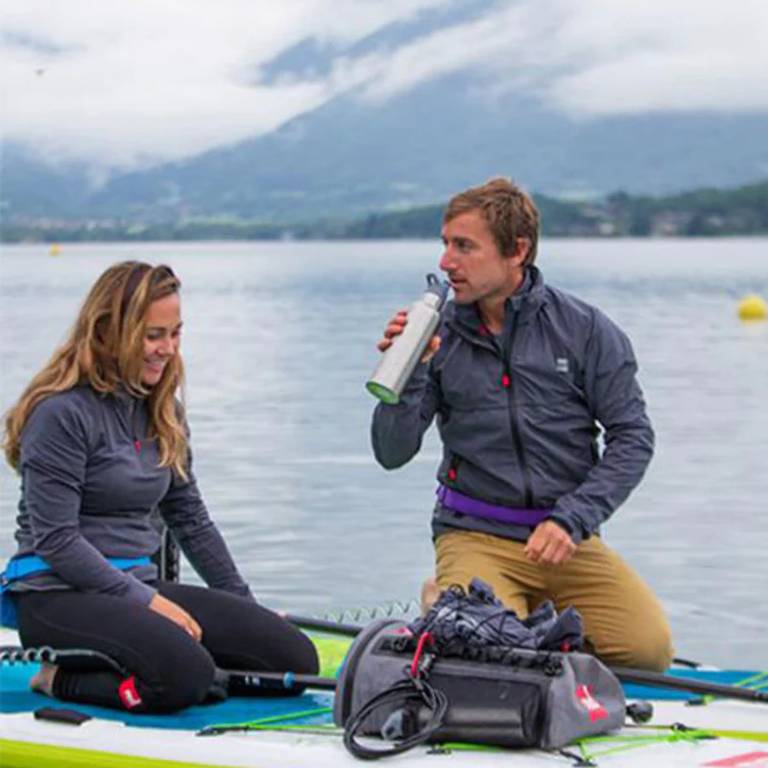 It's Comfortable To Carry
As much as we may perhaps like to, we can't be out on the water all of the time! Luckily, the Red Original paddle board deck bag is easy to transport by hand when you're travelling to and from the water. A reinforced neoprene handle is attached to the top of the SUP deck bag, enabling you to carry heavy loads with ease. In addition to this, the bag includes a shoulder strap so that you can swing it over your shoulder and carry it without any fuss. This feature is particularly useful if you have a lot of other gear to transport alongside your paddle board deck bag.
If you have any questions about any of the features on the paddle board deck bag, please don't hesitate to get in touch with us.