Return to blog
How To Maintain Your SUP Fitness Over Winter
Posted by Alex Clasper
The cold is a divisive subject among paddle board enthusiasts. Some love it and will let nothing stop them from spending time on the water, while others decide that it's just a little too chilly to really enjoy the experience. If you fall into this second camp and aren't particularly convinced by the thought of paddleboarding in winter, it's still important to work away at maintaining your SUP fitness. Paddleboarding works a number of different muscles and embraces all of the different components of fitness, so there are plenty of ways that you can stick at it over the winter months even if you're not actually close to the water. Here are our recommendations.
Hit The Gym
There's a reason more people congregate in the gym over the winter months. Yes, the prospect of the year ending and a new one beginning inevitably brings in extra crowds, but you shouldn't overlook the fact that the gym provides a sheltered and comfortable space to exercise no matter what the weather is looking like.
One of the main benefits of hitting the gym to maintain your SUP fitness is that you can have a really varied workout. Activities that develop your stamina are as valuable as exercises that strengthen your muscles when it comes to paddleboarding, whether you hop on the exercise bike or run on the treadmill. When it comes to your strength training, targeting your upper body muscles with a pair of dumbbells is a great way to increase the amount of power you can get into each stroke.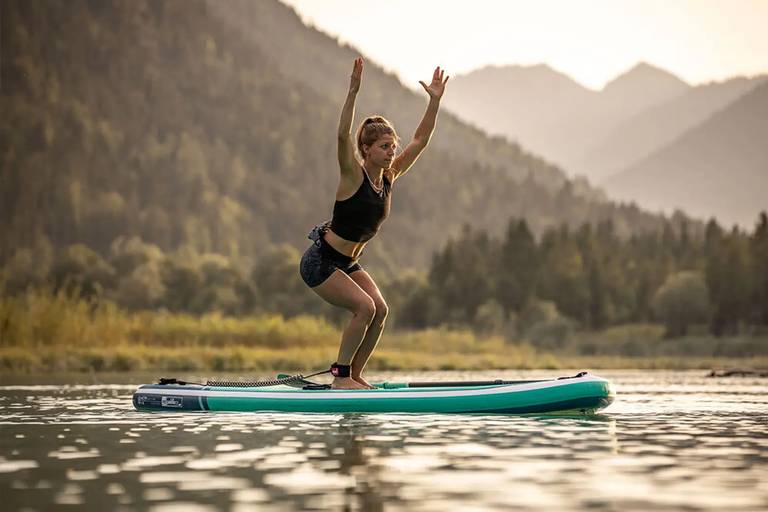 Swim In A Pool
Swimming is another great way to maintain your SUP fitness over the winter. If open water swimming in colder temperatures isn't really your thing, why not hit your local pool and get splashing that way? Despite being a pretty low-intensity exercise, swimming is a great way to improve your stamina and improve your confidence before you venture out to new locations on your Red paddleboard when it gets a bit warmer. Plus, just being in the water is a great way to still unlock some of the glorious mindfulness benefits associated with paddleboarding as it takes you away from your daily routine and gets the body moving.
Try Home Workouts
Busy schedules are one of the reasons why many people decide to let their paddling take a backseat in the winter months. If you haven't got time to pack up the car with your SUP and head to the water, you might also be struggling to fit in a trip to the gym or the pool. Fear not, it's really easy to target the right muscles for SUP fitness with workouts at home.
Find a comfortable space and get your activewear on, then combine a number of different exercises that are great for paddleboarding. You shouldn't need any specialist equipment and most can be done on your living room, making home workouts a great way to improve your SUP fitness without losing time travelling too and from your exercise location.
Pilates
When paddleboarding, your core plays a vital role in keeping you balanced and allowing you to power up as you make a stroke. Exercises to strengthen your core can be easily incorporated into your gym splits or home workout routine, but you might also wish to dedicate some real focus to your abdominal and oblique exercises as you maintain your SUP fitness in the off-season. Pilates is a particularly great way to give your core the focus it deserves. This type of exercise essentially revolves around flowing between different controlled movements to improve muscle tone and endurance.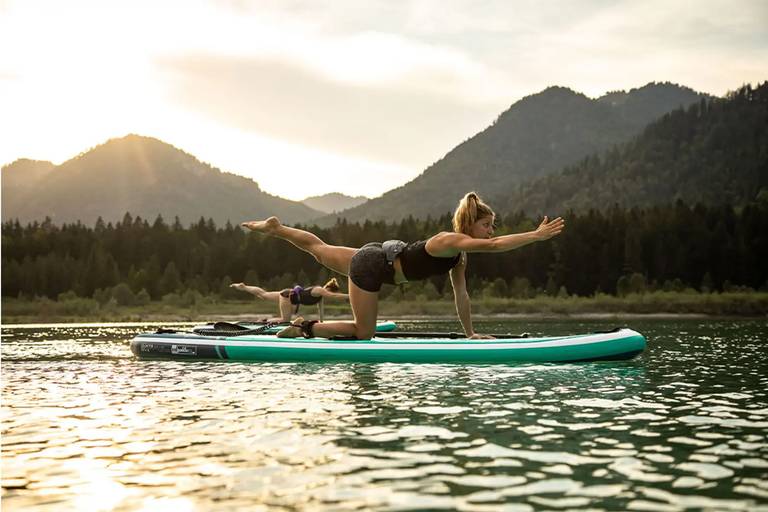 Keep Paddling!
Of course, there's very little stopping you from paddleboarding throughout the winter and maintaining your SUP fitness this way. While you should always dress appropriately and never hit the water when the conditions are dangerous or its so cold that you're uncomfortable, paddleboarding in winter is a great way to enjoy more tranquil conditions and stay connected with the outdoors. Even if you have to cut back slightly on the frequency of your paddleboarding adventures, you'll feel all the better for keeping the habit going.
Other Winter Paddleboarding Tips
As well as keeping your SUP fitness, there are a number of things you should do to ensure your paddleboard is kept in the best condition if you're using it less or not at all over the winter. When you pack your board away, make sure that it is properly rinsed down and completely dry before you pack it into its bag and into storage for the colder months. When it's time to hit the water again, give it a bit of TLC with the right maintenance and you'll be good to go for another joyous few months of paddleboarding!