Return to blog
Red Adventure Series with Mollie Hughes
Brand
Health
Hiking
Nature
Outdoor
Paddle Boarding
Red Adventure Series
Posted by Lydia Burdett
A few months ago, we escaped Devon and adventured up to Scotland to attend the launch of Mollie Hughes' new book Blue Scotland at Ocean Vertical. We were blown away by the pure admiration people have for Mollie and everything she has achieved in her life, inspiring people's adventures with a positive attitude that you can achieve anything and go for your dreams.
Mollie Hughes successfully reached the summit of Mount Everest from the North side in 2017, this was Mollie's second time standing on top of the world having already summited the South side of Everest in 2012. Achieving this at the age of 26 made her the youngest woman in the world and the first English woman to successfully summit from both sides of the world's highest mountain. After that Mollie decided to ski solo across the coast of Antarctica to the South Pole in storm-force winds and temperatures hitting minus 45 degrees celsius, to reach the Geographic South Pole on the 10th January 2020. After landing back in the UK, the COVID-19 pandemic hit and the UK went into lockdown, which meant restrictions for travel, so options for being active was limited. This is where Blue Scotland began, a project that Mollie took on during this period to really show people how idyllic Scotland is and how it is a paddleboarders dream to be involved in these incredible Blue spaces.
We caught up with Mollie to see what inspired her to write Blue Scotland & to ask about her outdoors journey and how it's led to Scotland being her home.
What was the inspiration behind Blue Scotland?
"The idea for Blue Scotland came during those long, dark days of covid lockdown. When I was confined to my small flat in Edinburgh and could no longer paddle board, surf or even visit blue spaces, I think I finally realised just how much I need to be in or near the water! Lockdown and the time following it also made me turn my attention closer to home for adventure; big scale overseas expeditions were off the table for a while, but Scotland is a mecca for adventure, especially watersports."
Why is Scotland one of the best paddleboarding playgrounds?
"Scotland has an abundance of epic blue spaces and a lifetime of potential paddle boarding adventures. Scotland's 11,000 mile coastline wraps around the west, north and east of the mainland, as well as circumnavigating Scotland's countless islands. There is so much potential for epic coastal SUP journeys here in Scotland. Then away from the coastline and sea lochs, Scotland is home to around 350 freshwater lochs of notable size, from the southern boarders to the tip of the north coast with the largest concentration being in the highlands, these lochs are a wonder to experience on a paddle board, full of history, wildlife and jaw dropping scenery."
What was your favourite (or a few) places to paddleboard that you visited in Scotland and why?
"My book, Blue Scotland, covers 65 locations across Scotland to paddle board, surf, kayak and swim and it is so hard to pick a favourite! But one location that I can't wait to return to is Loch Maree. Located in the Northwest Highlands, Loch Maree is a wonder to experience from off and on the water at any time of year. At its deepest this loch sinks to 110m deep and spans 20km in length. Loch Maree is home to 66 individual islands and most fascinatingly, one of the islands has its own loch, with its own island. Loch Maree makes an incredible explorative paddle board or kayaking destination thought-out the year as well as a great place for a bracing swim with the backdrop of one of Scotland's most famed mountains. The larger islands of Loch Maree contain ancient Caledonian pine trees, these are some of the most pristine remnants of our ancient woodland left in Scotland, with some aged over 350 years old."
What is it about paddleboarding that makes you feel good?
"Paddle boarding feels good for the body, the mind and the soul. The concept of Blue Health weaves it way through my book Blue Scotland, this is the belief that blue spaces have a psychologically restorative effect on the mind. There is a growing body of research that suggests outdoor blue spaces, which include the coast, lochs, riverways and canals, can have a huge benefit to people's health. Research has now unearthed evidence to support these beliefs – that there are significant benefits of time spent close to and in blue spaces for people's mental health, general well-being and physical activity levels."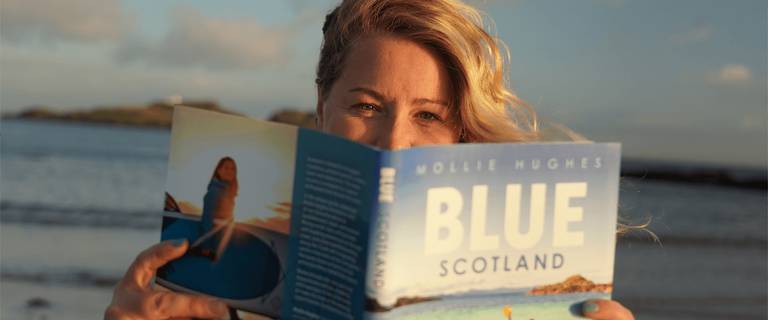 Have you always loved the outdoors?
"I grew up almost as far from Scotland's blue spaces as you can get on mainland Great Britain. Until I was 18, I lived on the south coast of Devon in the seaside hub of Torbay (not far from Red Paddle HQ!). Growing up here we were always in the sea, surfing, kayaking, and swimming. It instilled a love for the outdoors and natural world in me."
What was your biggest achievement?
"I am very lucky to have experienced some of the incredible environments around the world since I started taking on mountaineering and polar expeditions at the age of 17. I have experienced jungles, deserts, mountain ranges, ice caps, but for me, the standout expedition has to be Mount Everest and Antarctica. In 2017, I became the youngest woman to summit Mount Everest from the southern and northern route. Then in 2019/2020 I spent 58 days skiing from the edge of the Antarctic continent to the Geographic South Pole alone. This solo expedition pushed me harder than anything I had experienced before, but when I reached the pole on the 10th January 2020, I felt nothing but gratitude for the time I was able to spend on this amazing continent."
You said Scotland feels like your home now, why is this?
"I have lived in Scotland for almost a decade now and everything about it feels like home, but especially it's wild spaces. From the tops of its highest mountains to the depths of its deepest lochs, Scotland's natural environment is a wonder to behold and a real privilege to spend time immersed in."
What would you say to inspire others to start paddle boarding?
"I hope that Blue Scotland will inspire many people to start exploring Scotland's blue spaces, we can gain so may benefits to our mental and physical health by being doing this. My top tip for anyone starting paddle boarding would be to take it slowly, the book is rated with an 'experience level' needed for each adventure. Tick off the one- and two-star locations first and slowly build up your experience base. I would highly recommend undertaking professional training in paddle boarding, nothing can replace learning the basic techniques and safety skills from professionals."
Shop Mollie's look here Get the Gear: Mollie Hughes
Mollie's book is now available to purchase online Blue Scotland: The Ultimate Guide to Exploring Scotland's Wild Waters.