Return to blog
Paddle Boarding Profiles: Meet the Speedy Elites
Responsibility
Posted by Maxine Smiles -Cooke
This week we met some amazing people who have taken their paddling to the next level with their Elite paddle boards.
The Race range is designed to give riders the upper hand when it comes to competition but they also make fantastic touring boards. Read on to hear what this lovely lot have to say about their chosen boards...and if you're inspired to give one of our Race boards a try simply contact a stockist today and chat through the range.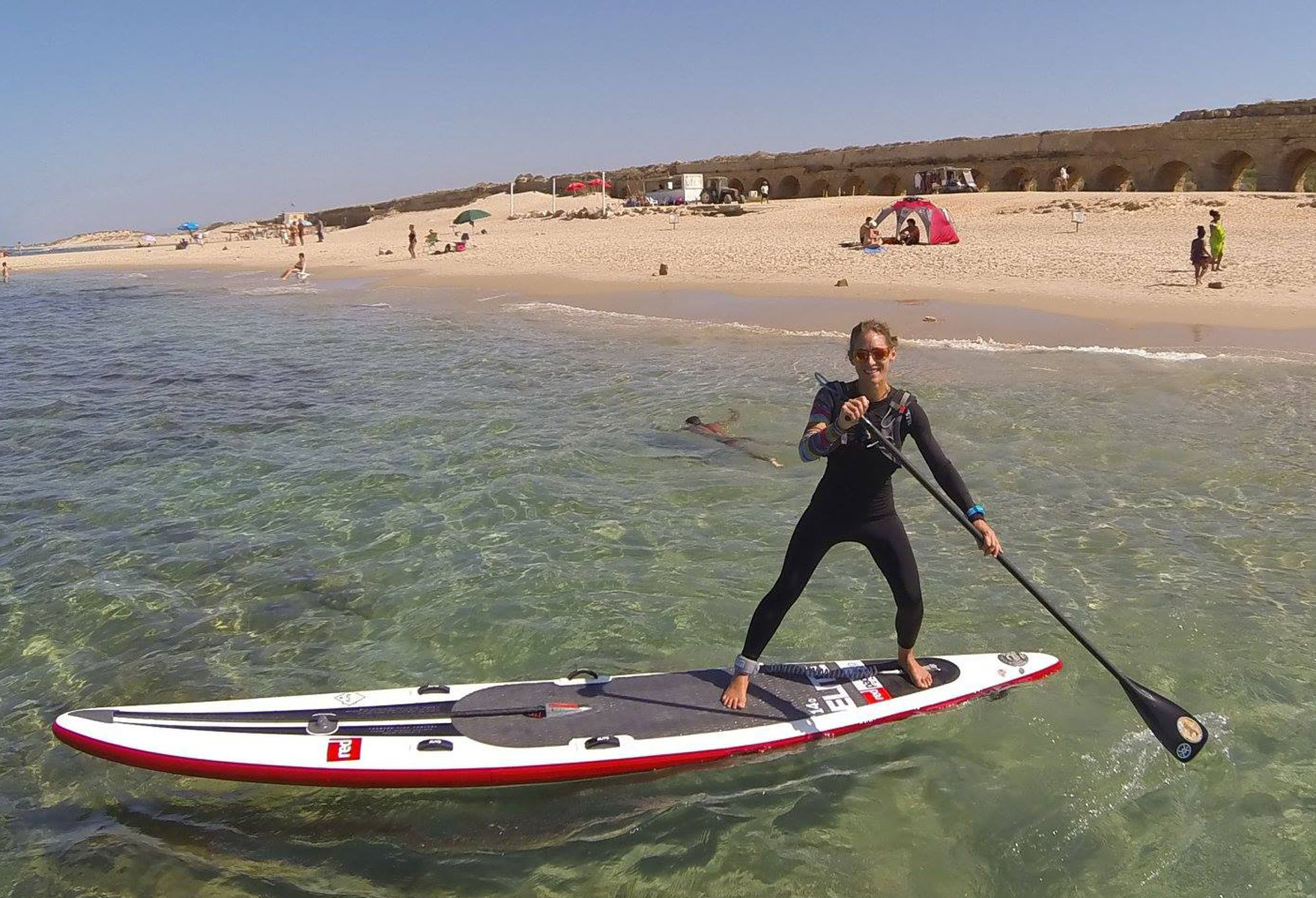 Virginie Samson
Board: 14'0" Elite
Age Bracket: 36-45 yrs
Approx Weight: 57 kg
Height: 164 cms
Job: Business Intelligence
Country: France


Where do you go paddle boarding on a regular basis?
I am lucky enough to live in Cannes, in the south of France, where I usually paddle about 5 minutes away from home. The beautiful Lerins' Islands are located just off the coast and this is where I regularly paddle...but I love to paddle all over the world.


How has Paddle Boarding changed/improved your life?
First, it has made me move south, near the sea. Secondly, I have discovered plenty of beautiful places. But overall, paddle boarding has enabled meet to make a whole new world of friends, it's a great sport and made me live a certain way of life - that I love. How has it not improved my life?


Why did you choose Red Paddle Co?
I started looking at buying a paddle board in 2013. At the time, I didn't have the space to store it, so I quickly realised that an inflatable SUP was perfect. After testing different brands, I completely fell in love with Red Paddle Co. The boards were so enjoyable, strong and efficient. As my skills began to grow I started using the boards that allowed more speed. The Elite boards are perfect for this and are incomparable to any other inflatables on the market, in terms of speed and turning ability.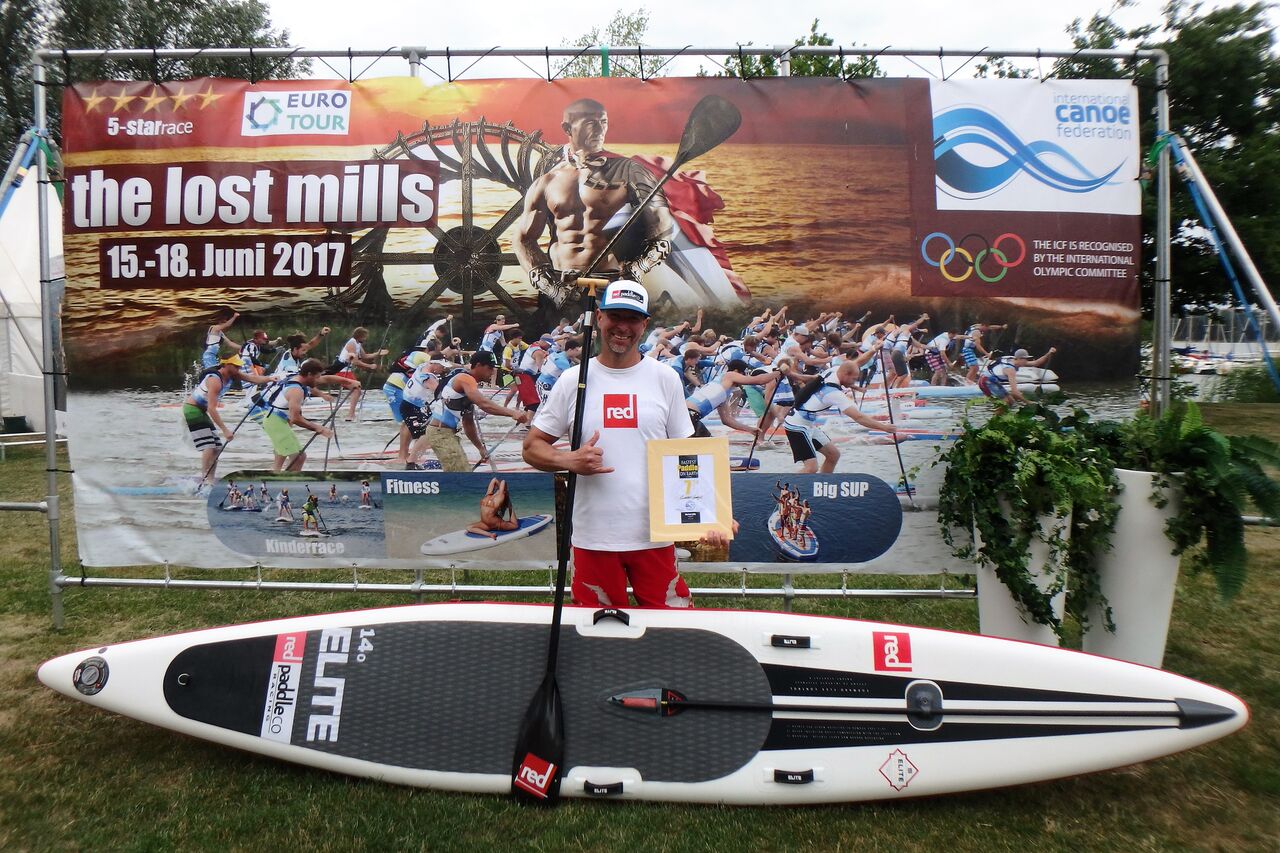 Gabor Ivanyi
Board: 14'0" Elite
Age Bracket: 46-55
Approx Weight: 80kg
Height: 178 cms
Job: Logistics Worker
Country: The Netherlands


How has Paddle Boarding changed/improved your life?
I'm a former professional canoeist and multiple champion, so paddling is part of my everyday life. When I relocated to another country and I couldn't bring my canoe with me, so paddleboarding was the perfect solution to keep on paddling.


Why did you choose Red Paddle Co?
As an ex-professional I don't make compromises. Before I chose a board I collected all the information I could about the available models (quality, shape, etc…) and at the end I simply chose the best. To begin with, I checked the parameters and reviews and I THOUGHT that Red is the best choice. In the last 3 years, I have tested 6 different Red models, so by now I KNOW that the Red Paddle Co is the best.


Why did you choose your inflatable race sup?
I always want to be the fastest. The speed of a board is determined by the shape, the stiffness and the weight. The 2017 Elite race model is very good in all of these parameters. Definitely the fastest inflatable board I've ever tried, I could reach 13,2 kph (= 8,2 mph) speed with it. 14'0" Elite = fast, comfortable, easy to travel with, and it looks awesome!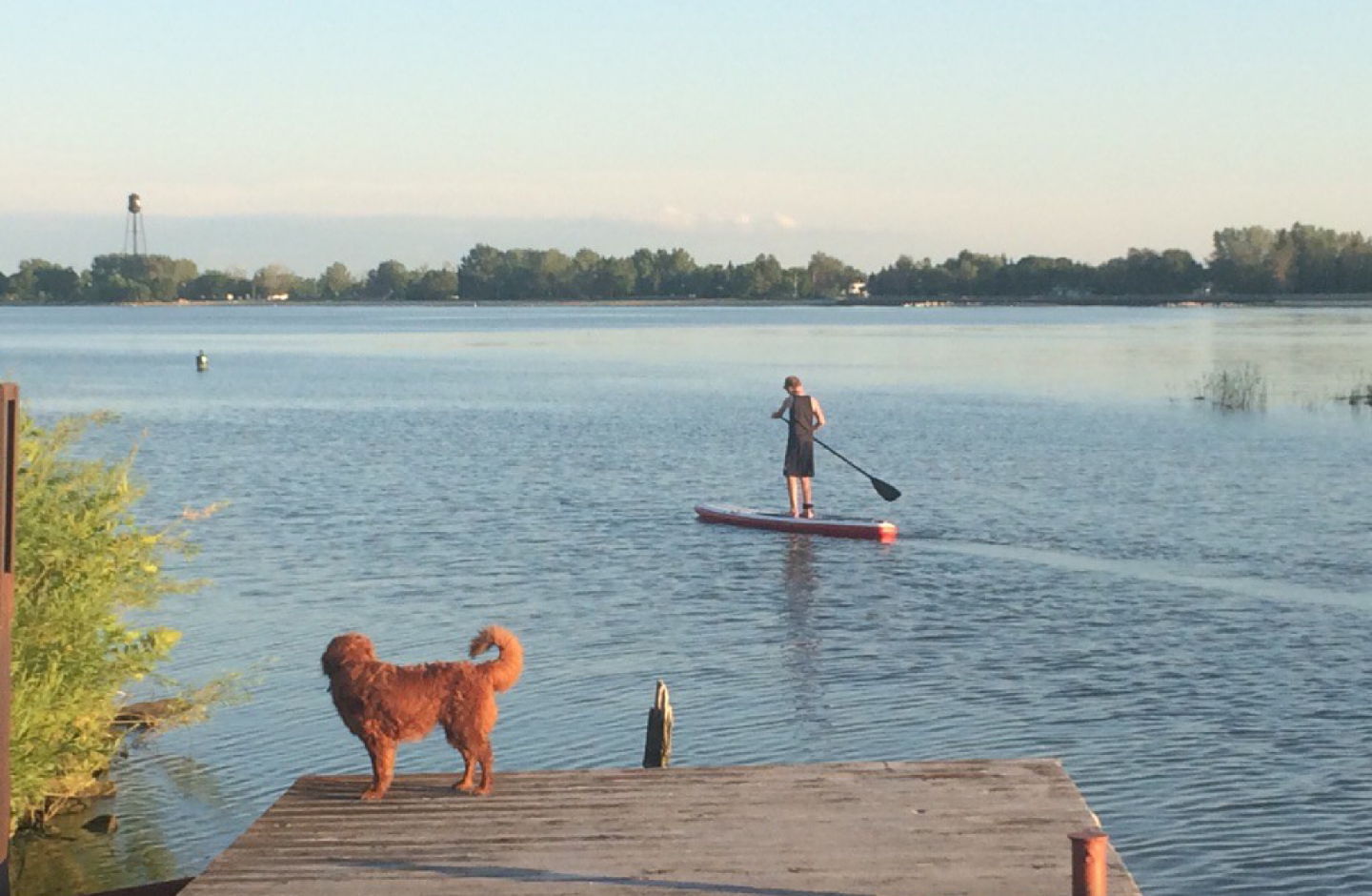 Clint Unrau
Board: 12'6" Elite
Age Bracket: 36-45
Approx Weight: 235lb
Height: 6'5"
Job: Concrete Marketing Program Manager
Country: Canada


Where do you usually go paddling?
Most summer weekends we (my pretty blond/ red'ish wife, handsome little man, red dog and I) leave the Red River behind in Winnipeg and travel north to Lake Winnipeg (11th largest fresh water lake in the world). From Winnipeg Beach we jump on board 'RedFox', our sailboat, and spend the summer weekends exploring the fantastic sites of this huge lake. Our Red Paddle Co boards fit perfectly onto the boat and I can't imagine not having them on board.


Why did you choose this board?
The 12'6 Elite is perfect for my 12-year-old son, it is great for improving my balance, and super awesome when body surfing the windy waves of Lake Winnipeg and doubles as a wicked kayak. My Golden Doodle (Lexi) also loves being on the board as we paddle off to the next adventure. She often attracts a bunch of attention, where she either sits perfectly on the bow or decides to suddenly jump off and nearly causing me or my wife to fall in the water. It's just a shame we only have the one Elite board as I often get left alone at shore.


How has paddle boarding changed your life?
We're so happy with our Red Paddle Co boards that we are selling everything (house, cars, furniture, bikes, tools and toys) but our paddle boards. We are packing up the boards and taking them with us on our next adventure - sailing around the Caribbean islands for the next couple years!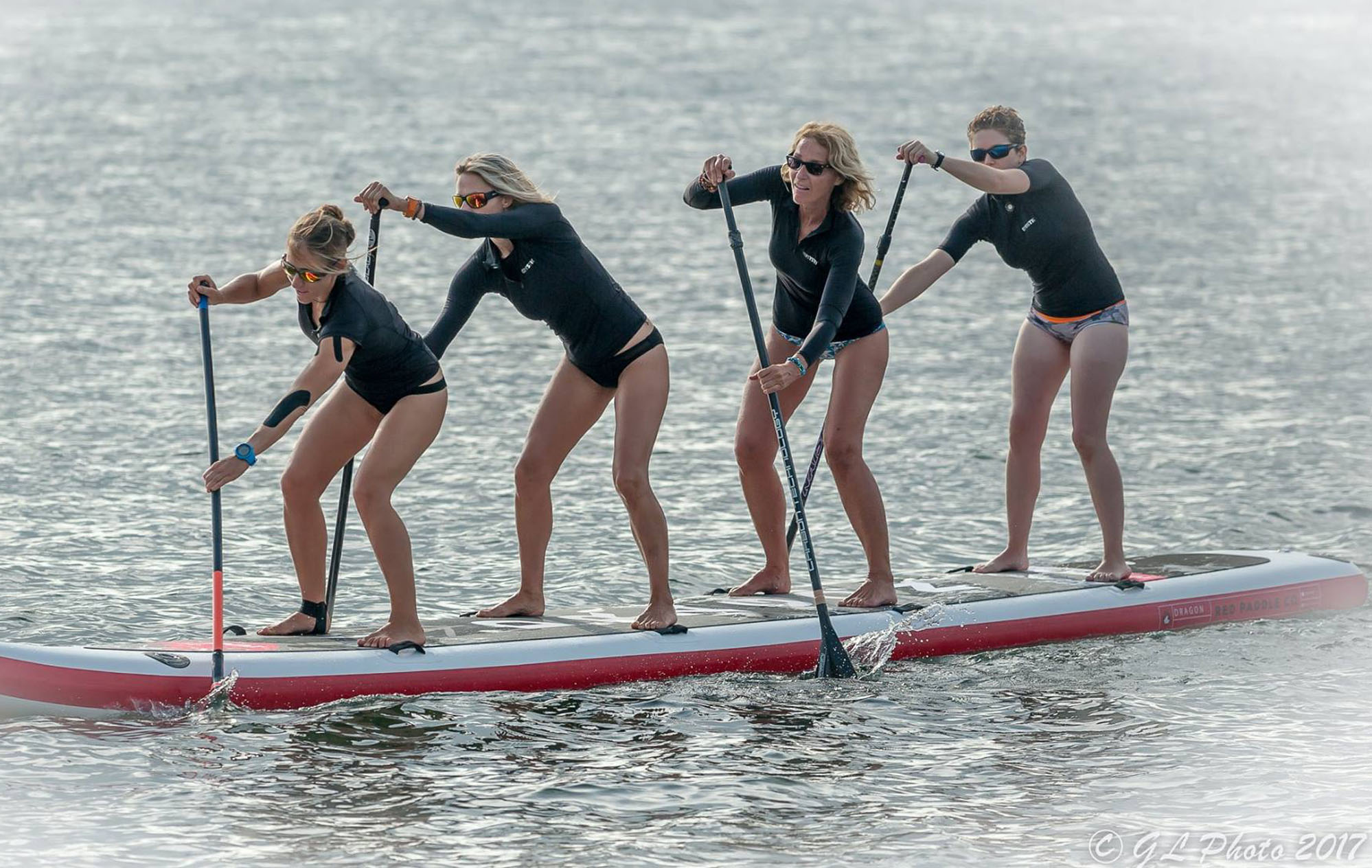 Virginie Samson
Julie Toqueville
Karine Helaine
Carine Mayer
Rebecca Berthomieu
Rosanne Friesch
What is your team name? Dragon's Angels


How did you get into paddle boarding?
For me in 2011 in a rental place in Cannes... I saw people walking on water and just needed to go myself....


When did you first try a Red Dragon race board?
2 years ago in Peniche but we officially got training on the Dragon board in September last year.


Have you participated in any Dragon Races? If yes, where did you place?
Sadly not, the official races were a bit too far away from us but this year we are hoping to take part in the 2017 Dragon World Championships in Barbados!


Any tips for those wanting to try a Red Dragon paddle board for the first time?
Before you get on the water have a chat about who does what. Understand how to turn and who will set the rhythm....and there is no shame to start on your knees, then when you are ready, stand up smoothly.


What do you enjoy about the Red Dragon?
The teamwork. It's a different way of racing. You need to think about your team mates on the board with you, know their good points and their bad, and try to compose yourself to get the most out of your glide. A red dragon board motivates everyone to keep going. The Dragon is an excellent way to learn SUP. Every one gives what they can and no one is left behind. It also gives you more balance, and teaches you to be soft on your feet!!!