Return to blog
Red Original's Guide To Urban Hiking
Posted by Alex Clasper
The pandemic forced us all to reconsider our exercise habits and find ways to stay physically and mentally healthy closer to our own doorsteps. Walking around cities and towns surged and these habits seem to have solidified themselves in modern life, leading to the emergence of the term 'urban hiking'. But what exactly is urban hiking, and why is it worth making a fuss about now? To help you understand the phenomenon and discover everything you need to know about this easy way to keep active and enjoy the outdoors, we've collated the ultimate guide to urban hiking.
What Is Urban Hiking?
Urban hiking is a recreational walk or hike that takes aims to recreate the experience of a traditional long-distance hike in a city. Instead of exploring mountains and trails, urban hikers navigate and seek out all of the unique and varied experiences that an urban environment can offer.
Where Can You Go Urban Hiking?
Urban hiking can take place in any kind of urban area, though these types of adventures tend to span long distances of at least a couple of miles. This means that urban hikers tend to navigate a wide variety of different neighbourhoods and locations, ranging from waterfronts to inner-city pedestrian paths.
Of course, sensible rules apply to urban hikers and you should use your common sense when setting off. If you're not allowed to go somewhere as a pedestrian, you shouldn't venture there as an urban hiker either. While the phenomenon does promote venturing into the unknown or forgotten areas of your local area, it's not about breaking rules or trespassing.
What Are The Benefits Of Urban Hiking?
Urban hiking has a great range of benefits making it no surprise that it is such a popular way of keeping active. Just like traditional hiking, urban hiking encourages busy people to stay active and improve their physical health. However, the benefits of urban hiking extend way beyond fitness alone.
Great way to socialise
Urban hiking is a great way to spend some contemplative time alone, but it's also the perfect excuse to get together with friends and catch up on the move. You can even join in with urban hiking tours and revel in the knowledge and experience of others as you move through the city.
Opportunity to discover new places
While it can be tempting to try and get around new places as quickly as possible on public transport, urban hiking is the perfect opportunity to really discover different environments. Cities can have a very different feel on foot, so make the most of being able to get a different perspective and appreciate the urban space.
Makes hiking accessible to all
Traditional hiking can feel like an exclusive and alienating activity if you are not lucky enough to live closer to conventional nature spots. Urban hiking lets people from all walks of life enjoy the experience of hiking regardless of where they live. Simply lace up your trainers, step out of your front door, and see where the city streets take you.
Essential Red Original Products For Urban Hiking
Urban hiking tends to require less specialist equipment in comparison to traditional hiking as you can usually set off and return to your own home and are always close to other people or places if something goes wrong. However, to enjoy all of the benefits of urban hiking to their fullest, there are a few key Red Original items that we recommend you have to hand.
Waterproof Backpack
Billed as the ultimate adventure backpack, it's no real surprise that the Red Original waterproof backpack is an urban hiking essential. With a 100% waterproof inside compartment, you can be certain that your snacks and supplies will stay dry and safe throughout the whole duration of your urban exploration, no matter what kind of conditions you have to navigate.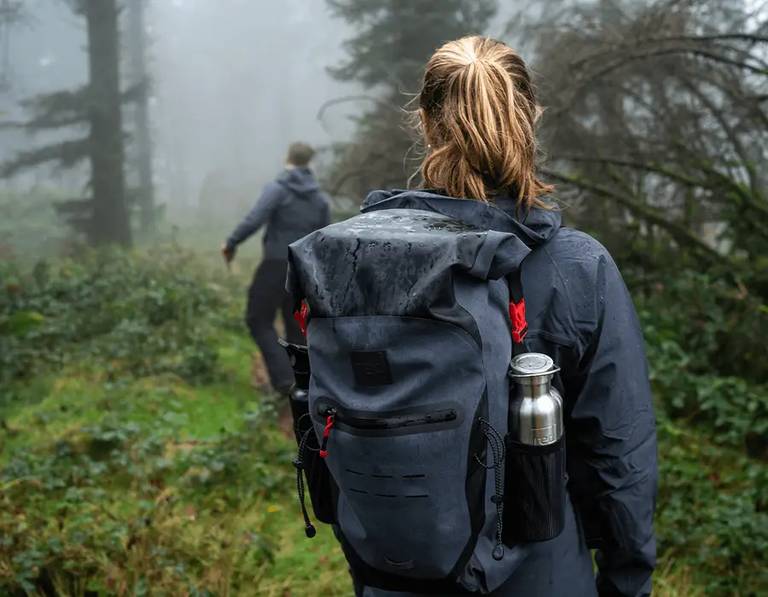 Insulated Water Bottle
Staying hydrated is vital if you are going to go on any kind of long hike. Red's insulated water bottle can handle everything that city life might throw at it. Not only is it anti-rust, this bottle is also anti-corrosion. Plus, it's suitable for both hot and cold drinks so you can stay refreshed no matter what you enjoy.
Waterproof Active Jacket
Unfortunately cities are not immune to showers and you'll want to be wearing the right clothing to stay comfortable when urban hiking. Our waterproof active jacket for men and women is a fantastic multi-functional layer that will keep you dry without bogging you down. When the sun comes out again, you can simply pack the jacket into a small pocket compartment for easy carrying.