Return to blog
South Island SUP: Exploring Victoria and Beyond
Posted by Lydia Burdett
Red Ride Out
Do you want a chance to paddle with South Island SUP? Join us for 2 days of SUP adventure on the West Coast of Canada!
Join us as we embark on an unforgettable adventure along the stunning Victoria coastline.
Over the course of two days, you'll have the opportunity to explore the beauty of Victoria's red rock cliffs, pristine beaches, and turquoise waters. Our experienced guides will lead you through some of the most breathtaking scenery in the region, providing you with an up-close and personal experience of the local marine life and ecosystems.
Whether you're an experienced paddleboarder or a beginner looking to try something new, the "Victoria Red Ride Out" has something for everyone. Our team of expert instructors will provide you with all the necessary equipment and training to ensure a safe and enjoyable experience.
So, grab your board and join us for an epic adventure on the water. The "Victoria Red Ride Out" is a not-to-be-missed event that promises to leave you with memories that will last a lifetime. Don't wait - book your spot today and get ready to paddle your way to adventure!


Day 1 - Saturday - Coastal Celebration
We are stoked to be hosting the 2023 Victoria Red Ride Out! On the first day of the event, we'll meet at the designated launch site at 10am, where our team will provide you with all the necessary equipment and training before hitting the water.
We will start with a meet and greet and warm-up on the beach before launching into the emerald waters of the Pacific Northwest. Along the way, our experienced guides will share their knowledge of the complex marine ecosystems of the region and help you spot local wildlife. Our journey will take us along the stunning coastline and to small islands, all at a relaxed pace. We'll make frequent stops for snacks and water, with a lunch break at a scenic beach. We plan our trips to take advantage of wind and current and seek out locations to increase our chances for wildlife sightings.
Throughout the day, our team will capture photos and videos of your adventure that can be shared with your friends and family after the paddle. The shorelines and islands around Victoria are truly spectacular, and wildlife sightings are common.
On the way back to Victoria, we'll have enough time for a stop at one of Victoria's many watering holes, where we can relive the day's highlights and plan for tomorrow's adventure.
Day 2 - Sunday - Bring on the Day
On the second day of the "Victoria Red Ride Out," we'll meet at the launch site at 9am, gearing up and warming up at 8:45am. This day will be a shorter paddle, but no less exciting! We'll explore a new area, with enough time to get away from civilization and be back on land for lunch. Bring a coffee/tea or other beverage and we will provide fresh baked muffins and scones for a scenic "coffee break" on the ocean. Your board will be your table, and your view will be truly spectacular.
At the end of the day, we'll have draw prizes from Red Paddle Co, Blackfish Paddles, Vaikobi, Coastline Surf, South Island SUP, and Mer Tales Ocean Journeys! Drybags, hats, cellphone cases, and more will be up for grabs.
We recommend taking part in both days of the "Victoria Red Ride Out," but it's also okay to sign up for just one day. We are hoping for a one-way tour for Day 2, following the shoreline and island hopping for a diverse and exciting experience. Carpooling will be arranged to get us back to our cars at the end of the day.

Join us for two days of ocean adventure in wild places on the west coast of Canada. Find out why the west coast is the best coast!

We sat down with Victoria's first mobile SUP business to learn what they are all about.
Q: Tell us a little bit about South Island SUP.
A: South Island SUP is a mobile business offering tours, rentals, and lessons in Southern Vancouver Island. We specialize in custom events, corporate team building, and local tours throughout the year. Our local customer base, some of whom paddle up to 100 times a year, helps us operate through the winter. We cater to a variety of clients, including first-time paddlers and expert-level paddlers seeking adventurous day trips with instructions. Additionally we offer SUP surfing, mostly on beaches west of Victoria and in Tofino.
Q: How did you personally get into paddle boarding?
A: Initially, I discovered paddle boarding while in Hawaii in 2011, where I saw someone riding a wave on a board in Hanalei Bay. I was amazed by the experience and decided to purchase my own board and learn how to paddle board. Eventually, I found a way to turn my passion into a business and transitioned from working full time to running a paddle boarding business.
Q: What makes South Island SUP unique?
A: The uniqueness of South Island SUP stems from several factors. Firstly, the business offers year-round paddling opportunities in various locations near Victoria. By remaining flexible and shifting locations based on weather, currents, and wildlife patterns, South Island SUP is able to provide customers with a unique and eco-friendly experience. With 90% of their business being within 5 kilometres of their home base, we keep our carbon footprint low. Additionally, our flexibility increases the chances of encountering wildlife, such as whales, sea lions, and harbour porpoises all adding to the excitement of the experience. We definitely benefit from the vast shoreline and numerous islands to explore in the greater Victoria area.
Q: Tell us about the paddling club?
A: Our paddling club offers discounts to members on all tours, rentals, and lessons, and we have many locals who take advantage of this. Some clients have even gone out with us up to 100 times in a single year. Additionally, we organize the Victoria SUP Challenge, a local race with various distances and courses that attracts paddlers of all skill levels. The event is held at an ocean location and everyone who participates has a great time.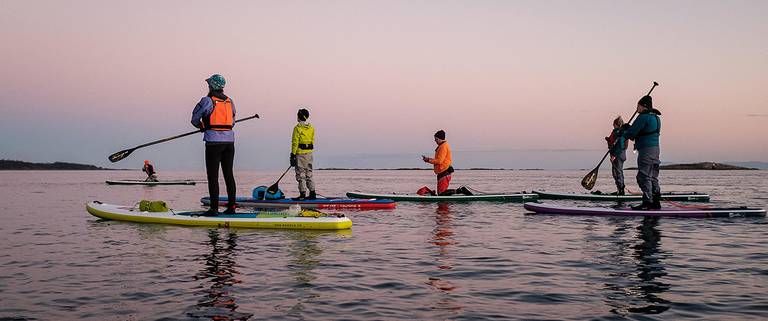 Q: And will you bring the SUP Challenge to Victoiria again this year?
A: Certainly, we have already planned the SUP Challenge at Thetis Lake on May 27th this year. However, due to the negative impact of COVID, we had to reduce the number of races from the previous 6 per year and are gradually working towards rebuilding the race series.
Q: Why do you choose Red Paddle Co boards?
A: I initially had hard boards and was not impressed by the first iSUPs I tried. A friend recommended Red Paddle Co boards. As a Paddle Canada instructor, I received a discount and decided to try them out. I now own almost every board they make and use them for different activities and with different people. The boards are durable and everyone who uses them likes them. Red Paddle Co has a good variety of boards, and they often release new ones that address specific needs. I have provided feedback on boards I'd like to see, and some have been produced, which is great. It's rewarding to be a part of the community surrounding Red Paddle Co boards.
Q: South Island SUP offers a bunch of tours, which is your favorite?
A: It's a difficult choice, but I particularly enjoy the Wild West Coast Experiences tour, which usually takes place in the Port Renfrew area. This location is home to many caves, arches, wildlife, and waterfalls, especially during the rainy season. The tour provides an authentic West Coast experience that is truly remarkable, as you feel as if you are completely isolated in the wilderness. This feeling is enhanced by the complete lack of noise, boats, or people on the ocean, especially during fall and winter when I usually go. The beaches in this area are breathtaking, and the unique coastline makes it a special destination. The location is only two hours away from Victoria.