Return to blog
The 8 Best Places To Paddle Board In Hawaii
Posted by Lydia Burdett
Hawaii has some of the most beautiful locations to stand up paddle board in the whole world on offer, so if you're lucky enough to be going on a SUP trip in paradise then you're sure to have an amazing time. Blue skies, pristine crystal clear waters, palm trees, white sand, and lots and lots of sun. As a destination for stand up paddle boarding, Hawaii's shores are nothing short of magnificent, and being the birthplace of modern paddleboarding, Hawaii holds a special place in the heart of the SUP community.
In this blog, we'll take a look at some of the incredible locations that Hawaii has to offer for SUP enthusiasts that'll leave you with amazing memories for the rest of your life. Without further ado, here's our list of the top 8 places to stand up paddle board in Hawaii.
Waimea Bay
First up on our list is the beautiful Waimea Bay. During the summer, Waimea Bay is one of the premier locations you definitely need to visit to paddle board in Hawaii. While the waters at Waimea Bay can be treacherous during the winter months, the tranquil and clear waters in summer are unparalleled. The stunning scenery to be found here makes it incredible for a relaxing stand up paddle board tip surrounded by some of the most incredible natural beauty in the world.
If you're around the area in winter, head on over to Haleiwa Park instead. You'll be able to avoid the extreme swell that comes around this time of year and enjoy your SUP experience in far calmer waters.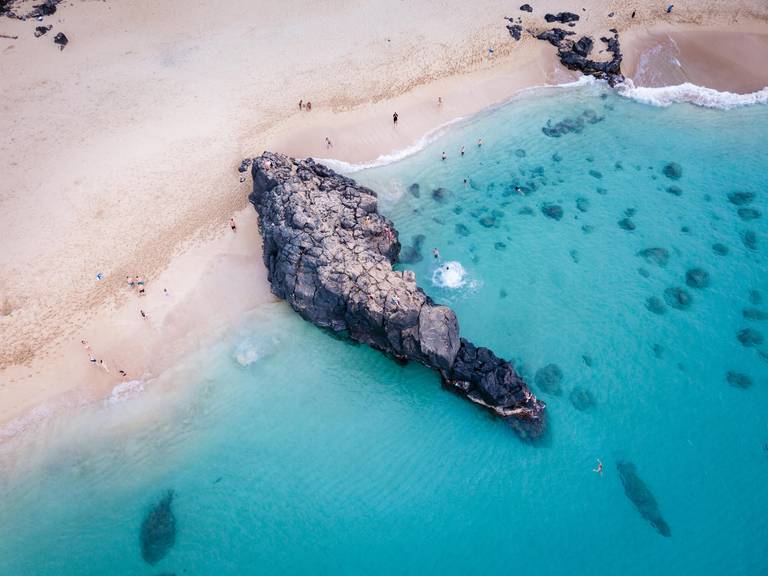 Mokoli'i Island
Mokoli'i Island, also known as 'the Chinaman's Hat', is the next stop on our digital tour of the best places to paddle board in Hawaii. Mokoli'i boasts an incredibly beautiful environment to immerse yourself in while also being a very easy paddle between the island and Kualoa Regional Park. During low tide, the water lowers to around waist deep so it's even possible to visit on food. When paddle boarding during low tide, it's important to be aware of your fins and avoid hitting any rocks in shallow areas.
Hiking enthusiasts will also be able to embark on a quick 10 minute hike to the top of the island. Just be sure to keep your board away from the shore to avoid it being pulled out to sea by the tide.
Sunset Beach
Found on Oahu's northern shore, Sunset Beach is aptly named. Watching the sunset on Sunset Beach is one of those must-do experiences that Hawaii has to offer. It also happens to be a great place to paddle board in Hawaii.
While the winter gives surfers the opportunity to catch some massive waves, summer at Sunset Beach is prime time to stand up paddle board, go swimming or for a spot of snorkelling.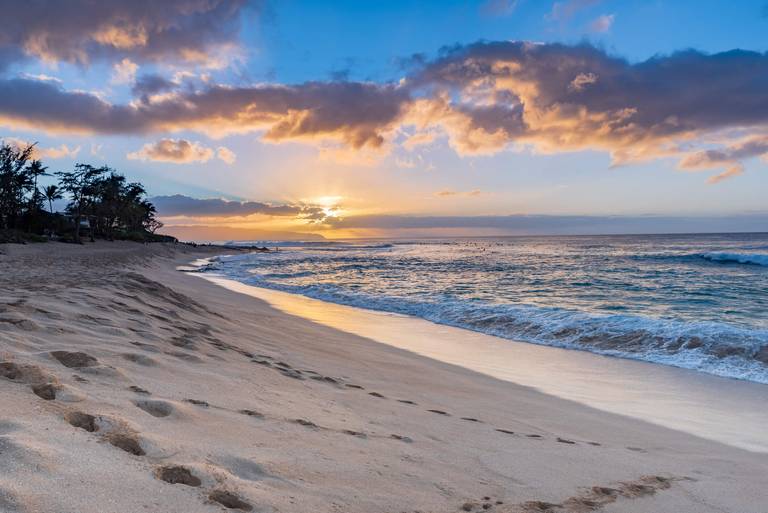 Hanalei Bay
You can find a great place to paddle board in Hawaii in Hanalei Bay, on the north shore of Kauai. Featuring almost a full two miles of beach sand and an incredible lush green mountain backdrop, the sheer natural beauty of this SUP spot can't be overstated. Hanalei Pier makes for a fantastic spot to launch your SUP trip from, allowing you to take advantage of the calm waters in the area while soaking in the tranquil environment provided by the beautiful mountains and waterfalls in the area. The Pier makes for a great spot to watch the sunset as well.
Lanikai Beach
If you're after somewhere to paddle board in Hawaii that offers a bit more of a challenge, then Lanikai Beach might just be for you. Often praised as one of the world's most beautiful beaches, Lainikai tends to be quite packed by the afternoon so it may be wise to set an early alarm and catch the incredible sunrise. Meaning 'heavenly sea', Lanikai Beach certainly lives up to the name.
The paddle from Lanikai Beach to Mokulua Islands is a mile long, so it's certainly not for the beginner paddler. But if you're up to the challenge the abundant beauty of the crystal clear waters is a prize that makes it more than worth the trip.
Kewalo Basin
Kewalo Basin is home to a commercial boat harbour and located next on Oahu's southern coast. If you're looking for a spot to paddle board in Hawaii, it's worth noting that waves here can be a bit bigger than a beginner will be used to. You can dodge the crowds on the beach by launching your SUP trip from the rocks in Kewalo Basin Park and paddling out into the ocean from there. The vista at Kewalo Basin are truly a sight to see.
Waikiki Bay
Waikiki Bay is a name you're probably familiar with - it's the most famous beach in Hawaii. It also happens to double up as a phenomenal paddle boarding destination. This spot can obviously get very crowded very quickly, but the atmosphere is simply incredible. It's just brimming with pure Hawaiian energy.
In terms of Waikiki as a destination to paddle board in Hawaii, it has a lot to offer. There are often big waves to challenge more experienced paddlers, but for the less experienced the waters nearer to the shore are much easier to handle. It's got something for everyone.
Kapalua Bay
On the northwest shore of Maui, there's an incredible spot you can go to paddle board in Hawaii. Kapalua Bay is a stunning cove with a lovely sandy beach. It's protected from large swells by its natural "C" shape. As it is surrounded by resorts, it can often get quite crowded in the afternoon so we once again recommend hitting the water earlier rather than later and soaking in the Hawaiian sunrise. Once you're finished paddle boarding, make sure you hit the Belle Surf Café for some incredible crepes and coffee.
If you need any tips when it comes to finding the perfect SUP for your paddleboarding adventure in Florida, don't hesitate to get in touch with the expert team here at Red.