Return to blog
The Best Places to Paddleboard in Florida
Posted by Ethan Gyseman
Florida's abundant aquatic paradises offer unparalleled paddleboarding opportunities for SUP enthusiasts across the world. Whether you're seeking serene, crystal-clear waters or an adventure through lush mangroves, Florida has it all. Join us as we explore the best places to paddleboard in Florida, each destination promising unforgettable experiences and stunning natural beauty that will leave you in awe every time.
1. St. Augustine
St. Augustine, the oldest city in Florida and the United States as a whole, offers a wonderful opportunity to discover its historic charm while taking a SUP trip to one of the best places to paddleboard in Florida. Enjoy a charming exploration of the nation's oldest coastal city along the Atlantic Ocean as you cruise past the iconic Castillo de San Marcos and admire the beautiful Spanish architecture. To maximize fun on your Florida paddleboarding adventure, be sure to visit SUP hotspots like Trout Creek and Lighthouse Park. With stunning historical landmarks and paddleboarding spots galore, what's not to love about St. Augustine?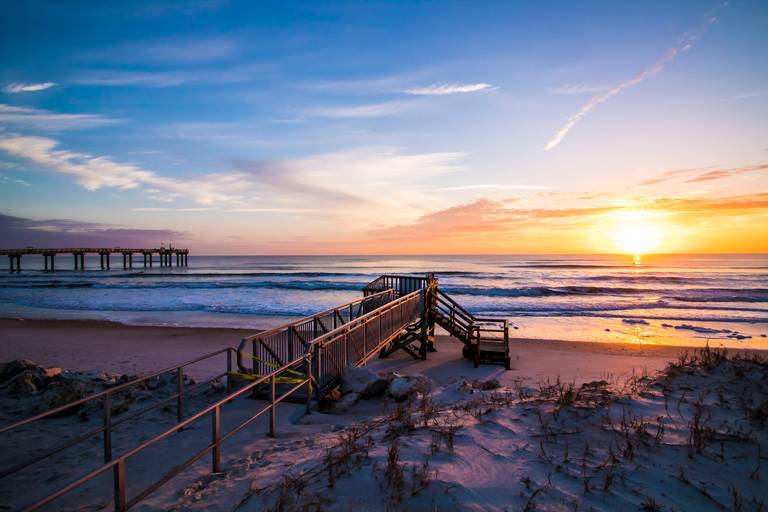 2. Destin Harbour
Situated on the Gulf of Mexico, you'll find one of the best places to paddleboard in Florida - Destin Harbor. Thanks to its friendly atmosphere and vibrant nightlife, Destin Harbor attracts tourists year-round. It's a prime destination for stand-up paddleboard (SUP) fishing enthusiasts, especially given Destin's reputation for hosting the largest charter fishing fleet in the nation. Along the harbor, you'll discover numerous fantastic locations to try your luck at catching the freshest seafood. But if you're not into SUP fishing, no need to panic; it also offers fantastic opportunities for recreational paddleboarding and wildlife observation, including encounters with various sea turtle species or exploring the inland freshwater bayous where alligators can be spotted. For the SUP enthusiast, Destin Harbor provides an incredible experience.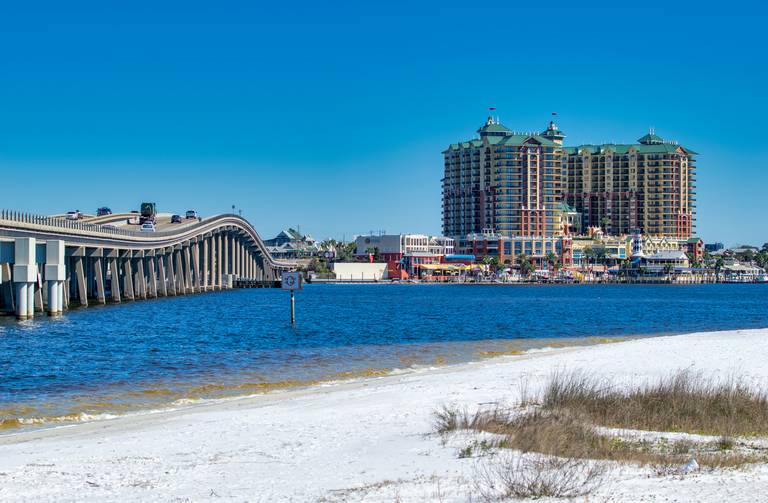 3. Holmes Creek
Holmes Creek offers a range of routes for paddleboarding enthusiasts, each one unveiling more and more of the diverse flora and fauna of Holmes Creek and you paddle further. For a beginner, or an enthusiast that simply enjoys a more relaxed paddle, the Creek is one of the best places to paddleboard in Florida; its gentle current allows for leisurely paddling, providing ample time to soak in the natural beauty that surrounds you. Just make sure you're staying vigilant for underwater debris, as the creek is more shallow than your typical Florida paddleboarding destination.
Not far off from Holmes Creek, you'll find the refreshing Cyprus Springs, a cold spring boasting crystal-clear waters in stark contrast to Holmes Creek. While paddleboarding in the springs, don't forget to peer below the surface to spot turtles and vibrant fish. If the weather is scorching, take a dip and relish the lush, enveloping nature.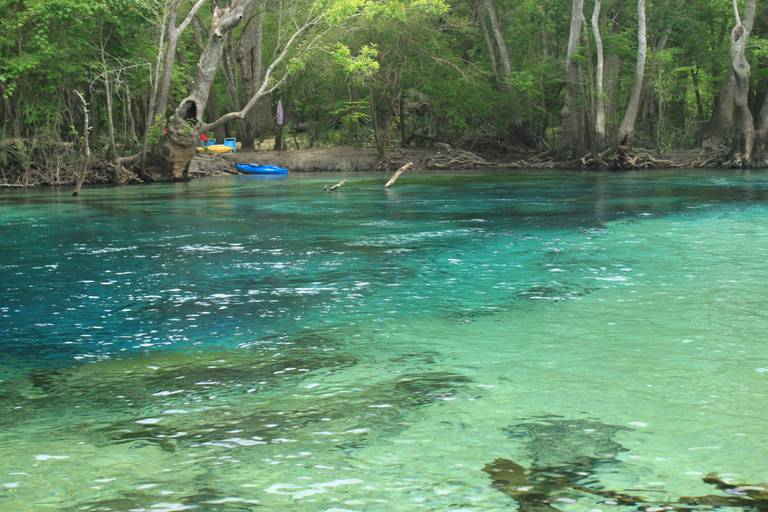 4. Everglades National Park
To the south of the Ten Thousand Islands lies Everglades National Park, distinct for its unique ecosystem. Everglades National Park stands as the largest tropical wilderness in the entire nation, including 350 species of birds, 300 species of fish, 50 species of reptiles, and 40 species of mammals. This rich and diverse tropical wonderland makes the Everglades one of the best places to paddleboard in Florida for SUP enthusiasts. If you wish to fully immerse yourself in the Everglades experience, consider camping at one of its 48 campsites with your paddleboard. However, it's crucial to note that, of all the destinations featured in this blog, this one demands a higher degree of self-sufficiency.

Within the park, you won't have access to cellular service, and there are no stores where you can purchase food and water so make sure that you come fully prepared with all the necessary supplies packed in advance.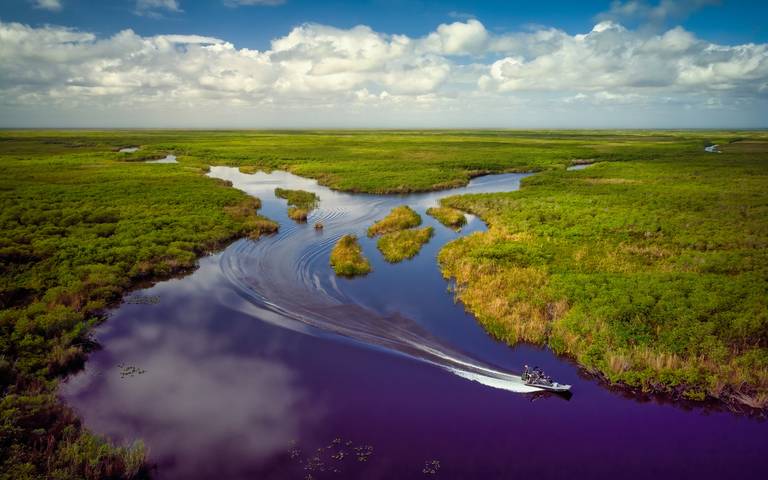 5. Bahia Honda State Park
The waters found at Bahia Honda State Park take the fifth spot on our list of the best places to paddleboard in Florida. Within the park's boundaries, you'll encounter several tranquil waterways that are ideal for leisurely stand-up paddleboarding sessions or exploration. The park's diverse wildlife can be observed in various locations, while its stunning beaches and crystal-clear waters make it an ideal choice for beach enthusiasts. You can savor the beautiful waters of the Florida Keys without having to be worried about any strong tides.
Please take note that there are no stand-up paddleboard rental services within or in close proximity to the park, so it's essential to come prepared with your own SUP gear.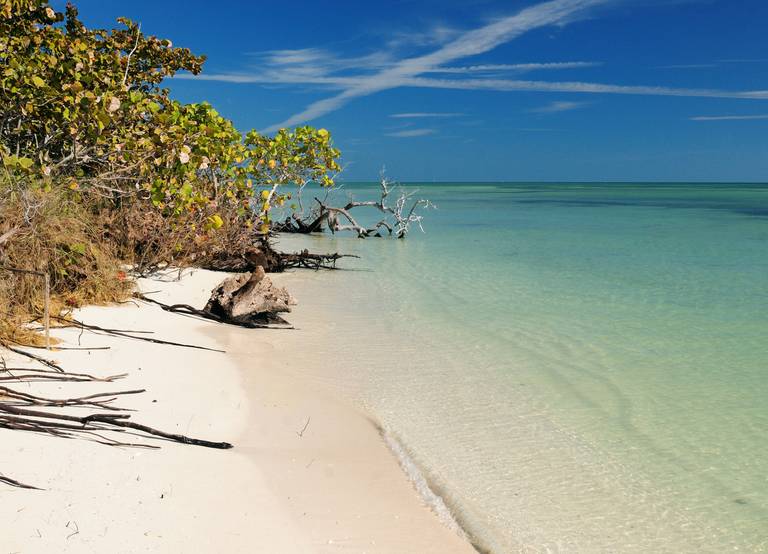 6. Clearwater Beach
Clearwater Beach stands out as a renowned tourist destination, celebrated for its vast expanse of powdery white sands, the stunning clarity of its waters and a rich array of marine life. Notably, Clearwater Beach has received prestigious accolades, being crowned the No.1 Beach in the southern United States by USA Today, and it has repeatedly clinched the title of the best beach in the entire country.
The breathtaking natural beauty of this locale offers an idyllic setting for a Florida paddleboarding adventure under the sun. With its pristine shorelines, inviting waters, and the promise of memorable encounters with marine creatures, Clearwater Beach really lives up to the name. Whether you're a seasoned SUP enthusiast or a novice looking to dip your toes into the crystal-clear water, Clearwater Beach remains one of the best places to paddleboard in Florida, period.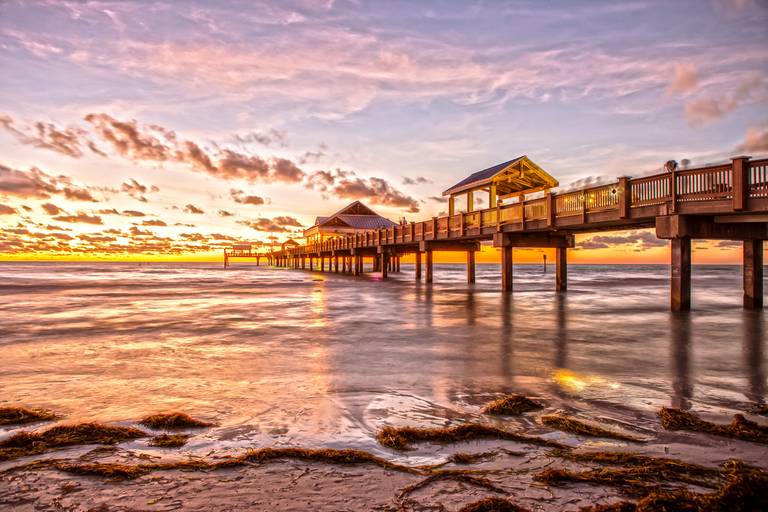 7. Pensacola Beach
Awarded with similar accolades to Clearwater, Pensacola Beach is a popular choice for stand-up paddleboarding enthusiasts thanks to its tranquil waters and unspoiled natural scenery. Having been awarded the title of the best beach in Florida on multiple occasions, you can be sure that Pensacola Beach has a lot in store for you. Paddleboarders have the opportunity to venture through the calm shallow flats, navigate the sandy sandbars, and even paddle out into the Gulf of Mexico. It's got a little bit of everything for everybody and the scenery is simply stunning, which is why it makes it onto our list of the best places to paddleboard in Florida.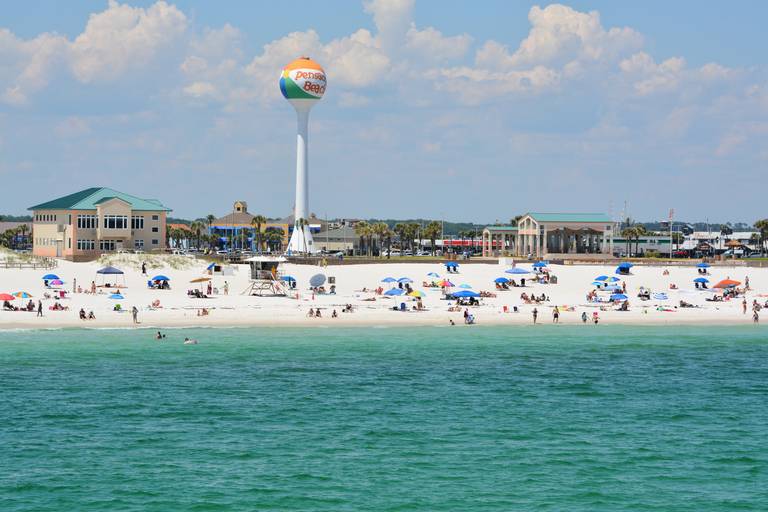 8. Naples
Naples, a luxurious yet laid-back destination on the southwest coast of Florida, offers an ideal setting for beginners to learn and create unforgettable experiences. It boasts expansive beaches, tranquil waters, easy accessibility, and ample parking. Whether you wish to rent your own paddleboard or arrange for delivery, there are numerous options to enjoy stand-up paddleboarding at various beach locations. Some of the popular spots include Naples Pier,; Barefoot Beach, Delnor Wiggins, and Tigertail Beach, a calm and shallow area perfect for first-time paddleboarders. With the variety of accessible and beginner friendly options available, Naples is sure to make anybody's list of the best places to paddleboard in Florida.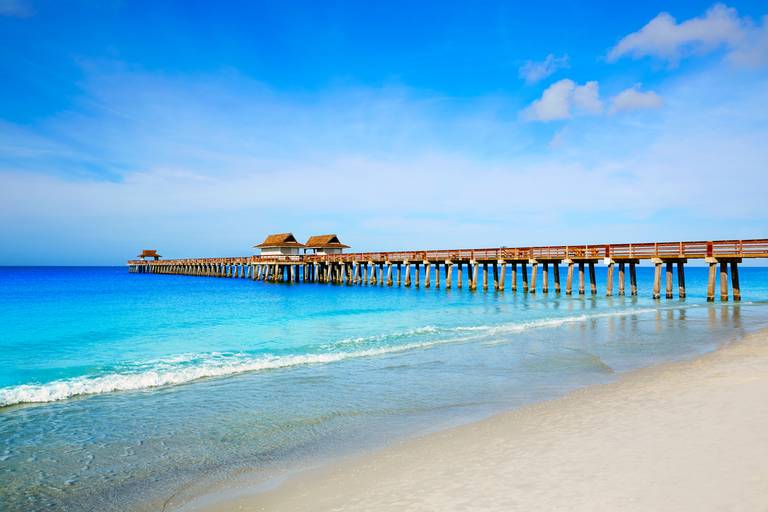 9. Cocoa Beach
Cocoa Beach stands out as a beloved destination for stand-up paddleboarding, offering the perfect combination of calm waters and breathtaking scenery. While it's renowned as the "small waves capital of the world", making it a top choice for surfers, Cocoa Beach has even more to offer. When the surf is placid and the waves are just right, stand-up paddleboarding becomes a fantastic way to soak in the sights, immerse yourself in the water, and enhance your balance skills.
Beyond the classic beachfront settings, Cocoa Beach opens up exciting opportunities for paddleboarders to explore. The Banana River and the Indian River Lagoon, both within reach, provide picturesque and thrilling locations to launch your paddleboard adventure. These river destinations boast lush surroundings, and one can often spot manatees and dolphins while there. The winding rivers extend to inland creeks and lakes, typically accessible through paddleboard tours.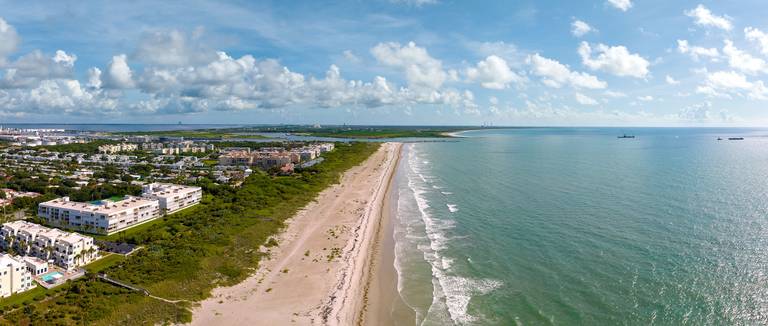 10. Wakulla River
Just south of Tallahassee lies the 10-mile Wakulla River Paddling Trail, offering a tranquil and effortless journey along a pristine, spring-fed waterway teeming with a wide array of wildlife, including manatees, wading birds, alligators, turtles, and an abundance of fish. For those looking to embark on a Wakulla River adventure, TnT Hideaway provides paddleboard rentals and all the necessary equipment. Additionally, they offer guided tours and shuttle services.
The officially designated paddling trail commences immediately downstream from the State Park at the CR 365 bridge and concludes just beyond the US 98 bridge. Manatees are a common sight throughout the year, both within the State Park and along the trail. Just be aware that on warm days it's known to sometimes get crowder here, so make sure you plan accordingly.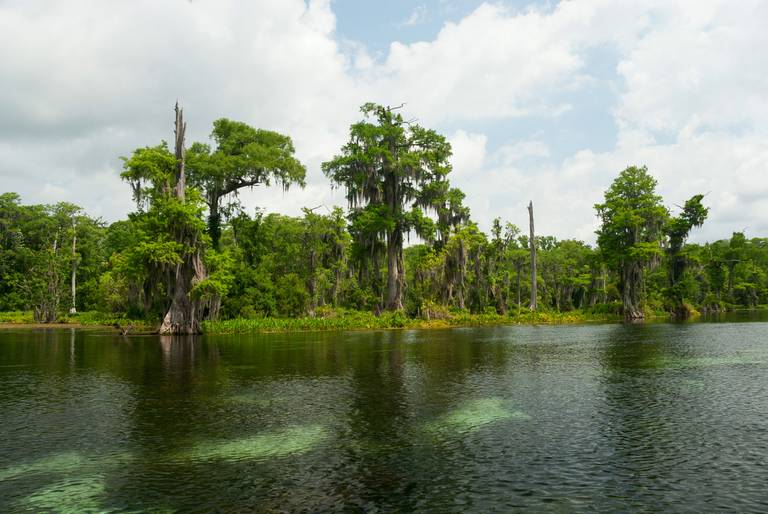 11. Crystal River
Boasting its reputation as the world's ultimate manatee sanctuary, the Crystal River region presents a multifaceted haven for paddlers, encompassing seven rivers and an abundance of pristine springs, expansive bays, and freshwater lakes.
Unforgettable experiences await on an eco-tour paddling adventure leading to Three Sisters Spring, where paddle-craft are permitted from April 1 to Nov. 14. These tours, offered by various local guides, provide not only insights into the thriving ecosystem but also the opportunity to spot an array of wildlife, including bald eagles, owls, dolphins, pelicans, tarpon, turtles, and otters. Of course, the region's cherished gentle giants, the manatees, are also a highlight of these tours.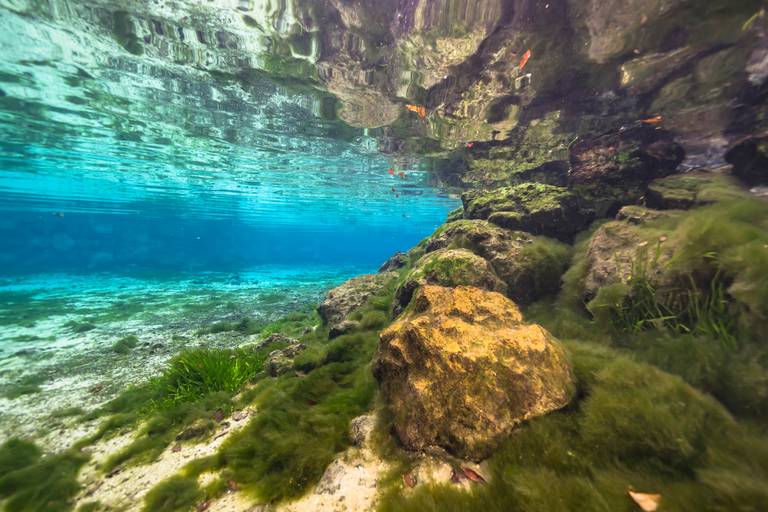 12. Florida Keys Flats
Embark on your journey at mile marker 77.5, located to the southwest of Islamorada, and set sail across the expanses of the Florida Keys flats. Your destination is the Indian Key Historic State Park, which can only be reached by boat. Here, paddlers are have the opportunity to explore the remnants of an nineteenth-cectury wrecking colony, meander through the intricate maze of mangroves, and catch glimpses of marine life, including manatees, dolphins, rays, and sharks. If that isn't a unique and unforgettable SUP experience, we don't know what is!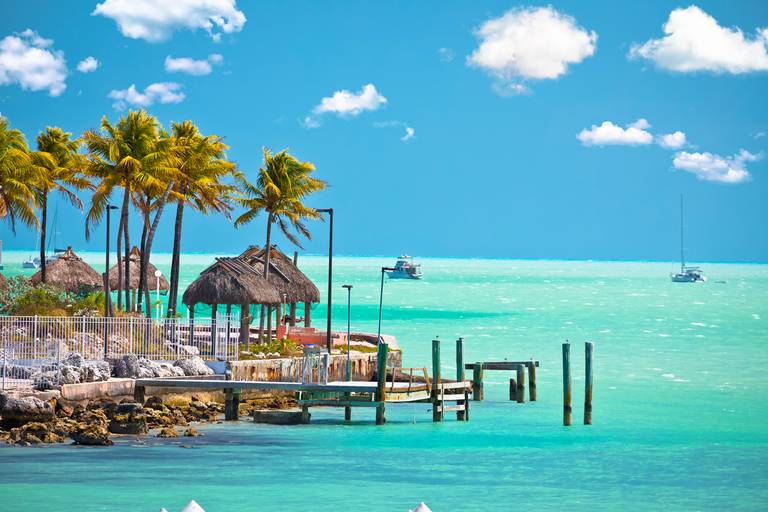 So that's our list of the best places to paddleboard in Florida, made just for you SUP enthusiasts! Now get yourself geared up and out in the sun for an unforgettable Florida paddleboarding adventure! You can check out our collection of awesome paddleboards we have available here, or if you need any paddleboarding assistance, you can get in contact with the expert members of the Red team for help. Our staff are available to help weekdays from 7:30AM PST to 3:30PM PST