Return to blog
What Are The Benefits Of Red's Racing Paddleboard?
Posted by Alex Clasper
Thrillseekers will be well aware of just how exhilarating taking part in a paddleboard race is. Whether you're simply playing around to see whether you can go faster than your friends, or actively competing against the best of the best, the sensation of gliding across the water as fast as you can is like no other.
While there's no reason why you can't hone your technique and start ramping up your competitive spirit on your standard Red paddleboard, a specialist racing paddleboard is what will take your next race day to the next level. The more seriously you take SUP racing, the more challenging the conditions will be and you'll need a reliable board like Red's Elite racing paddleboard to complete your next challenge quicker than ever before. Here's why…


Enhanced Stability
One of the biggest challenges posed by SUP racing is changing conditions. Races can take place in a variety of locations, from rivers to the sea, and these environments can shift throughout the course of a race. Despite being inflatable, the Elite range has the feel and performance of a rigid SUP thanks to our Forward Flex Control (FFC) technology which prevents the nose of the board from flexing when the water gets choppy. By utilising such innovative technology, Red's racing paddleboard is stable and adaptable no matter what race day throws at you.


Improved Stance
With board technology designed to keep you stable, the last thing you want is to slip, trip and unbalance yourself. Fortunately, Red's racing paddleboard includes raised rails that make it incredibly easy to assume the correct paddling stance and dig your feet into the board. This keeps your body grounded and your centre of gravity low to not only stay upright and balanced but also maintain a competitive advantage and be able to propel more energy into each and every stroke.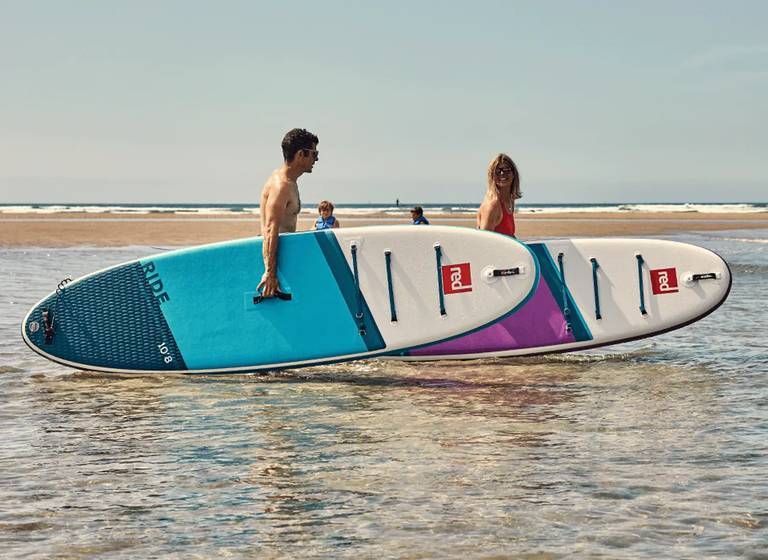 Increased Speed
Stability and control are undoubtedly essential elements of any winning race performance, but even the most perfect technique is unlikely to come out on top when competing against a board that is designed to go much faster. However, the Red racing paddleboard is actually the fastest inflatable SUP available on the market.
In addition to the inclusion of technology that improves board stiffness and therefore glide, the speed of the Elite range is enhanced by a cleverly drawn-out tail shape. A narrower tail reduces drag and water resistance to maximise the amount of speed you can create in an environment where every second most definitely counts.


Easy To Transport
When it comes to speed, being able to move quickly out of the water is just as important as gliding quickly on top of it. Particularly if you're heading to arranged races in other parts of the country or even across the world, you'll want to make sure that your board can be transported as quickly and as effortlessly as possible. That's why we have designed our racing paddleboard to pack away almost as quickly as you reach the finish line!
The elite range comes with our new ATB transformer bag, offering a totally unique bagless carry system. This means that you don't have to worry about squeezing your inflatable SUP into a tight space or carrying unnecessary add-ons and accessories, just pop what you actually need in the boot or on the plane and you're good to go. Once you're at the start line, the racing paddleboard itself is just as easy to carry too. Just grab one of the multiple and conveniently located carry handles and you'll be in the water in no time.


Multiple Sizes Available
Paddleboard races are typically grouped into different classes depending on the size of the SUP being used and serious racers will always need to meet race regulations and requirements. The Elite range has been specially designed to cater to the most common of these categories and is available in both 12 '6 " and 14'0" sizes. Not sure where to start or new to racing? We suggest going for the smaller size as it is slightly wider and easier to balance on.
With the best racing paddleboard on your team, remember that the right technique and a heavy dose of winning spirit will certainly help propel you to victory. Should you require any advice about getting into racing or want to discover the best kit for your next SUP race, don't hesitate to get in touch with the friendly and expert team here at Red.