Return to blog
Meet The Paddlers - Urban Paddle Boarding In Chicago With Kirsten Lefeldt
Posted by Robyn Dawson
Following the recent launch of the latest Red Paddle Co Compact, our US team packed up their bags and put the new 12'0 Compact touring board to the test with a spot of urban paddle boarding in Chicago. Located on the shores of Lake Michigan the team met up with a few local paddlers and explored the bustling metropolitan city by SUP. One of those paddlers was Kirsten Lefeldt, who fell in love with paddling just under 8 years ago. Since then she's become an avid urban paddler who regularly takes part in SUP races and has become a key member of the growing SUP community in Chicago…
Hi Kirsten, thanks for showing us around your city! If you had to pick, where is your favorite place to paddle in Chicago and why?
Lake Michigan at sunrise. Looking at the skyline of this big city from out there, all by yourself or with maybe a few friends, it's special. We live in a city of over 9 million people,but we still have this sanctuary. You paddle out and leave the hectic city life on the shore.
What is the paddling community in Chicago like?
There is a small group of core paddlers who go out paddling no matter what, even in winter, armed with drysuits. There is also a growing number of people who paddle recreationally, either renting boards or showing up with their inflatables. The pandemic has brought many new people into the sport because everyone was looking for new things to do outside. Lake Michigan is our playground, other than basic SUP safety, there are no rules where you can or cannot go.
Why do you participate in SUP races?
Training for races gives me focus. I always need a goal to work towards. If I don't have that I will start a million things without any direction. I also love the science behind training and improving performance. I love learning all the things I can do to become a better athlete. Lastly, I love the race atmosphere. The SUP community is unlike any other, they are all so supportive. We area small sport and have to stick together to create great things.
How has paddling helped you physically and mentallyover the years?
Physically I have never been stronger. Paddling has shown me that the limits I had in my mind were far below what I can actually do. Had you told me 8 years ago I would be paddling ultra-endurance events like the SUP11 City Tour (137 miles in 5 days) I would have thought it impossible. I had never thought of myself as an athlete but when I started SUP racing it occurred it me: "Maybe this is the thing I can be pretty good at".I haven't stopped training since.
Ultra-distances in particular have taught me to stay in the moment and accept everything you feel, even if you suffer, knowing that it will pass. All you can do is focus on the next stroke and do the best you can until you get to the finish line. If you had a bad start, don't dwell on it, if you have still 30 miles ahead of you, don't feel discouraged. There is just now that you have to work with. Isn't that like normal life?
I have made many friends paddling and travelled to many places I otherwise would have never visited. Saying paddling has changed my life is an understatement.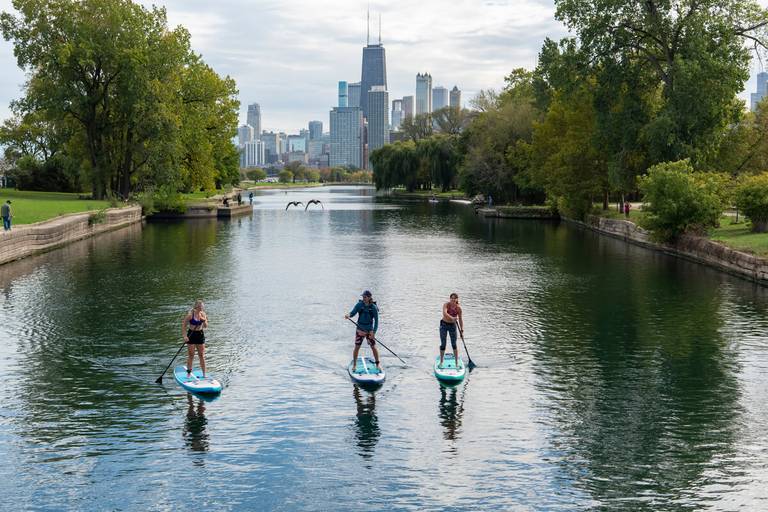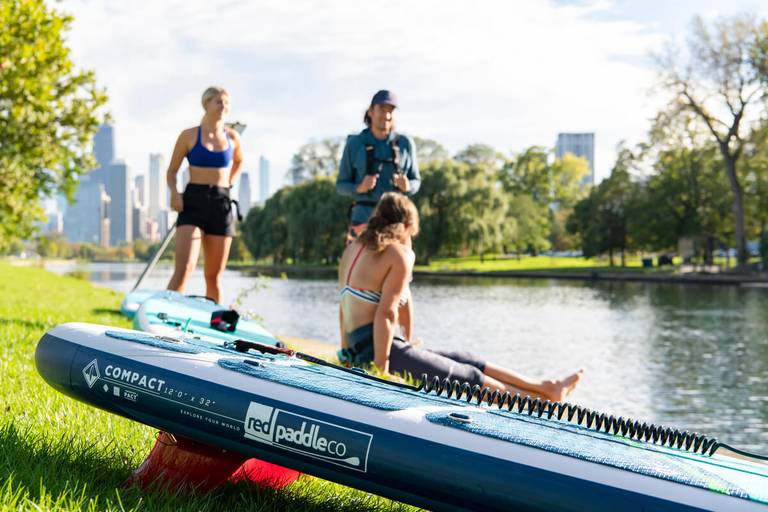 What are your SUP goals for 2022?
This year I want to continue to improve my ocean skills, something obviously hard to do in Chicago. I just returned from San Diego where I was able to spend some time in the ocean. Next month I will be travelling to the Canary Islands for a downwind camp.
Once back in Chicago my big goal is to prepare for the season with Chicago SUP. I am organizing a small racing team, plus I am teaching my regular 4-week camp SUP classes. It's so rewarding getting new people into the sport and watching them grow as athletes and enjoying the water as I do.
Come fall, my big goal is racing in the SUP 11 City Tour in the Netherlands again. Last year I placed 4th and now I want to see how far I can take it and how much I can improve.
Do you have any SUP adventures planned this year?
Tenerife Downwind Camp in March and SUP 11 City Tour in September. Also, there are several road trips to races in the Midwest. The community around the Midwest Paddle league is great and I am sure there will be lots more adventures in the area this year!
A big thanks to Kirstenfor sharing a few tips about paddling in her home city, we wish her luck with the training and can't wait to follow her in action on the SUP 11 City Tour!